The Working Life of Gwyned Filling, the 'Career Girl' of 1948
by AC Bern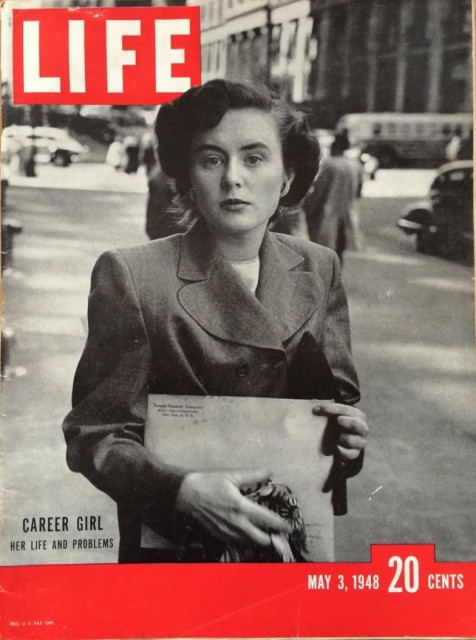 On a recent sleepless night around 3 a.m., I bought a bunch of mint-condition LIFE magazines from the spring on 1948 on Ebay. Reading about stuff that was going on in 1948 is good for my 2014-era anxieties, which are currently off the charts. When I consume a news magazine from 1948, I already know what's going to happen in 1949 and 1950, and beyond; being a detached, omniscient observer feels weirdly reassuring. Also reassuring is the evidence that the world has always been a huge mess, and that maybe some things are improving (very, very slowly). Reading these old LIFE magazines feels so poignant because the writers and subjects within have no idea what lies ahead — they're all struggling to make some sense of their time and place.
Enter Gwyned Filling. She is the intelligent and ambitious star of my very favorite issue of 1948, the May 3 "Career Girl" issue. The cover article/photo essay caused a big stir at the time: LIFE magazine plucked a random 23-year-old copywriter and NYC transplant out of obscurity and followed her around Manhattan for three weeks. They photographed Gwyned everywhere: at the office, going on dates with various men, fighting with her roommate, and in the bath. The issue sold out almost instantly and was reprinted within the week; LIFE did six different follow-ups with Gwyned.
The essay opener tells us Gwyned was pretty cool, and the kind of girl who today might read The Billfold: Gwyned Filling came to New York last June to begin a career. Because she wanted to feel independent, she borrowed $250 from a local bank rather than from her father.
With the $250 loan (nearly $2,500 today after adjusting for inflation) and a bachelor's degree, Gwyned moved from St. Louis, Missouri to Manhattan and started knocking on doors. After five weeks, she landed an entry-level position at Newell-Emmett Co., an advertising agency. Her starting salary was $35 a week (about $350 in today's dollars). She shared an 11 by 15-foot furnished bedroom with a roommate in Chelsea for $75 a month ($750 today). Like many New Yorkers, myself included, Gwyned's rent was a little more than half her income. Not much has changed, except a room of that size in Chelsea can cost more than $1,400.
While parts of the LIFE article feel dated, there is a sexist tone that's unfortunately still pervasive in most media coverage of career women today. LIFE asked of Gwyned, "When should she marry, and will she jeopardize her chance by trying to close her eyes to everthing but her career?" Ugh, she's 23, LEAVE HER ALONE. But some of LIFE's questions are universal and timeless: "How much of her time and nerves must she sacrifice for success?"
Most of the people I know are still figuring that last part out. Below, some of the beautiful photographs.
Gwyned's landlady wakes her up every morning — this is definitely different than my living situation. My landlord and I have incredibly awkward encounters in the hall about once every two months. Once he invited me to a performance of his noise band.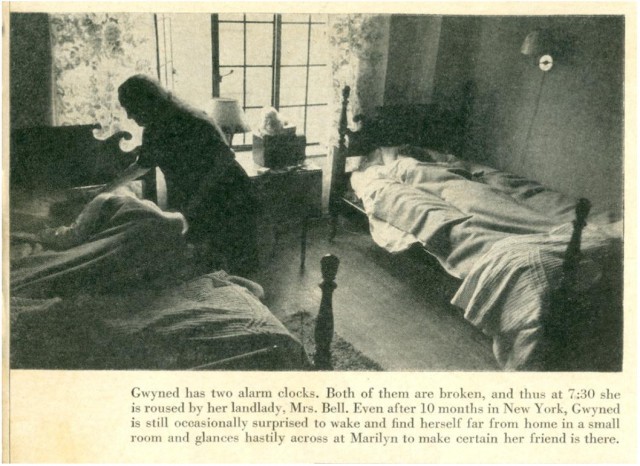 I feel like this bathtub picture could be a screengrab from an episode of Girls, minus the newspaper.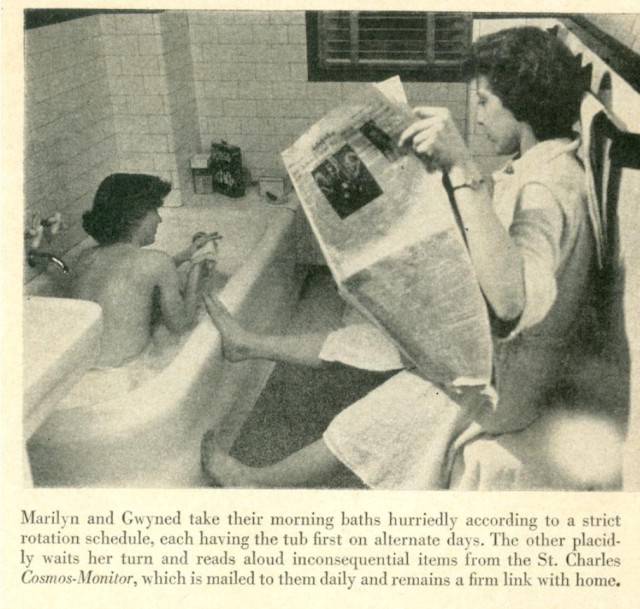 I have this exact exchange every morning, except instead of baby, my pal at the bodega calls me "mamacita" and hands me an egg and cheese sandwich for $2.50. My coffee is a dollar.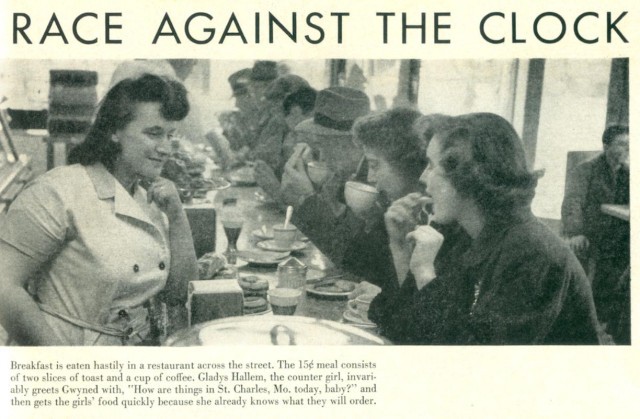 Gwyned at work at Newell-Emmett. Here she is at one of "an endless series of major and minor conferences, at which advertising layouts are discussed, changed, accepted and rejected." LIFE claims Gwyned is "overawed and nervous" because the managing partner is present.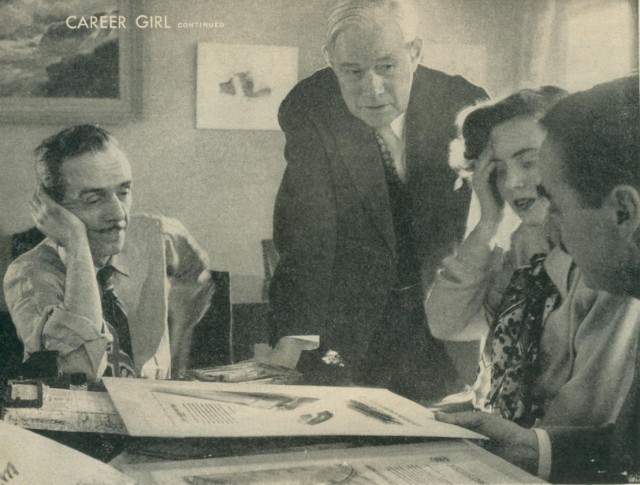 Here's something that hasn't changed one bit since 1948, at least in my social circle.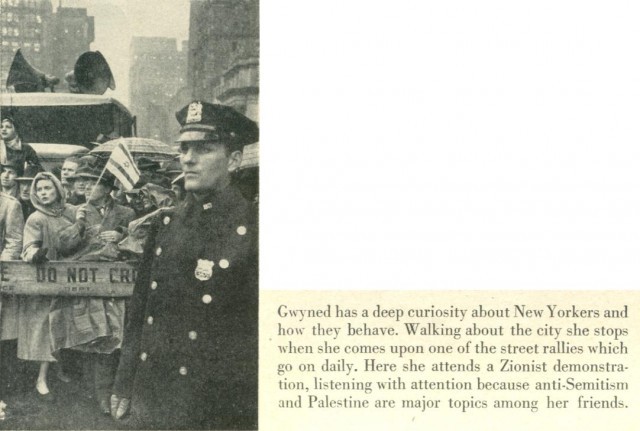 Gwyned's colleague Margery Paddock makes an obnoxious remark that Gwyned's promotion to copywriter and a $17 a week raise is due to her dating around. I can't believe LIFE actually printed the comment, but I'm obsessed with the smoking lady's reaction to Margery's lame, sexist joke!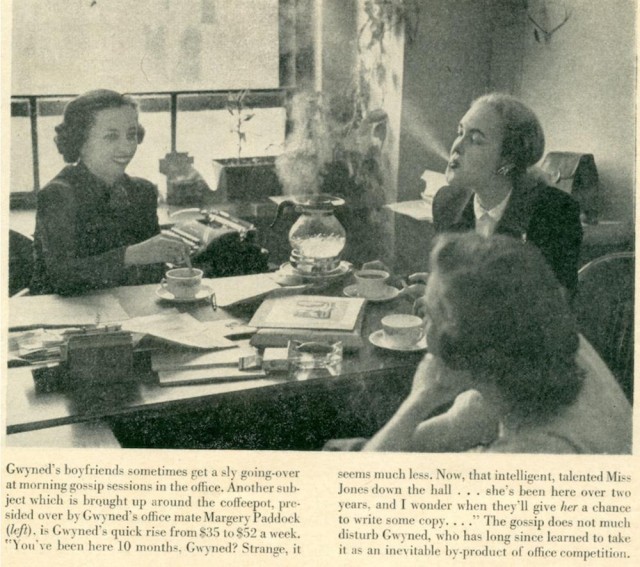 Margery Paddock is an idiot. Gwyned got promoted because she's a go-getter who takes work home. (Hilariously, LIFE says that her roommate Marilyn never brings work home, so she "sits on the bed nearby making…acid comments").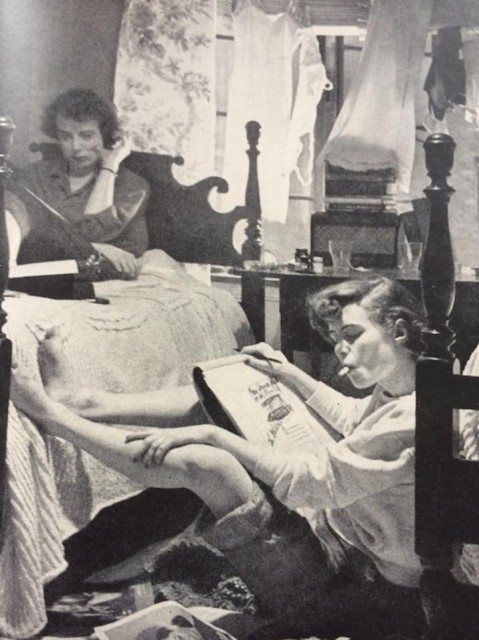 Gwyned on a date with the cute copywriter she would marry only six months later, Charles Straus.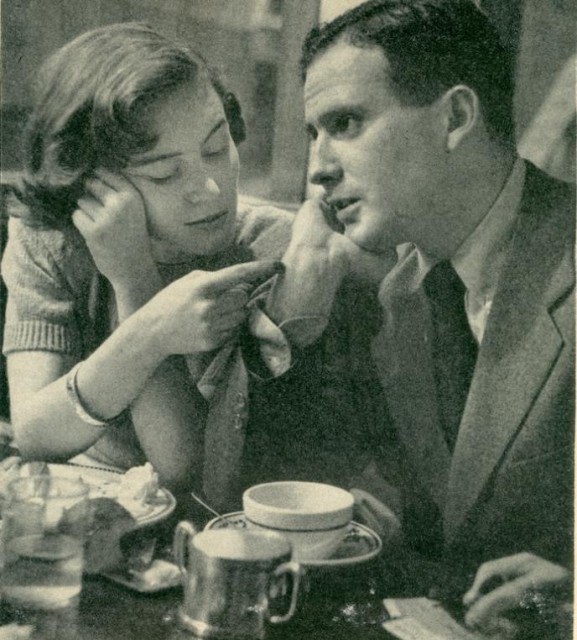 I feel so conflicted about that last photograph. According to an online obituary from 2005, Gwyned and Charles Straus had a long and happy marriage. That's wonderful and all, but in the LIFE photo essay, Gwyned says she wants to concentrate on her career and put off marriage for at least five years. She didn't even make it six months. Apparently, she had to leave her job after the wedding, because Charles also worked at the Newell-Emmett Co., and the firm didn't allow married couples (pretty common for the time). LIFE also makes multiple references to Gwyned's ambition and work ethic, so it's upsetting she didn't get to continue on in advertising.
I also wonder if Gwyned was affected by the backlash to the piece — all the sexist, critical Letters to the Editor, which LIFE printed in their May 23, 1948 issue under the headline "CONTROVERSIAL CAREER GIRL."
Most of these readers were the horrible internet trolls of their day: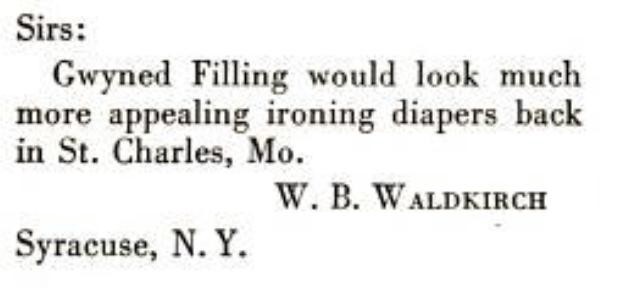 (DID ANYONE EVER IRON A DIAPER? WHY?) And here's another: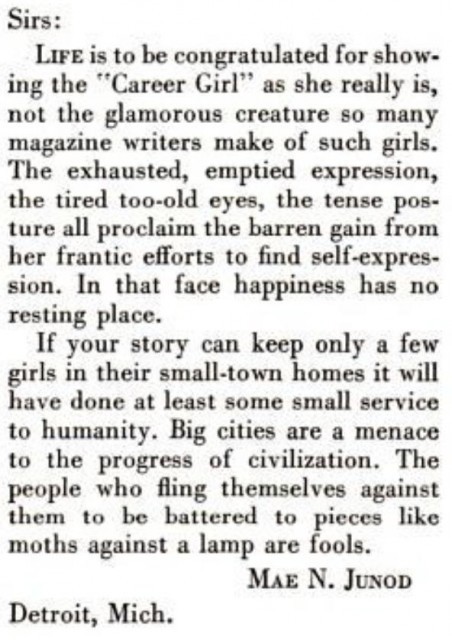 I love this Detroit woman's hyperbolic letter, especially the insanely dramatic last paragraph. I feel like both these responses get to the crux of why people are so obsessed with career girls: Independent women have always seemed a threat to the social order, as have big cities themselves. The letter-writer is disguising her fear for and of Gwyned as a judgment, but she's really just afraid of change.

Today in the city it's rainy, windy and cold, and my landlord just raised my rent. I do feel a little like a battered moth flinging myself against the lamp of New York. I can move further out in Brooklyn to Bensonhurst or Coney Island. I could just work more side gigs, or rent my living room couch out to a Albanian exchange student. I could move into an old school hippie commune in Ridgewood, Queens. This city is full of possibilities! Many of them are horrible or bizarre, but they're always interesting. Looking at Gwyned's face on my coffee table makes me want to stick it to everyone, and stick around.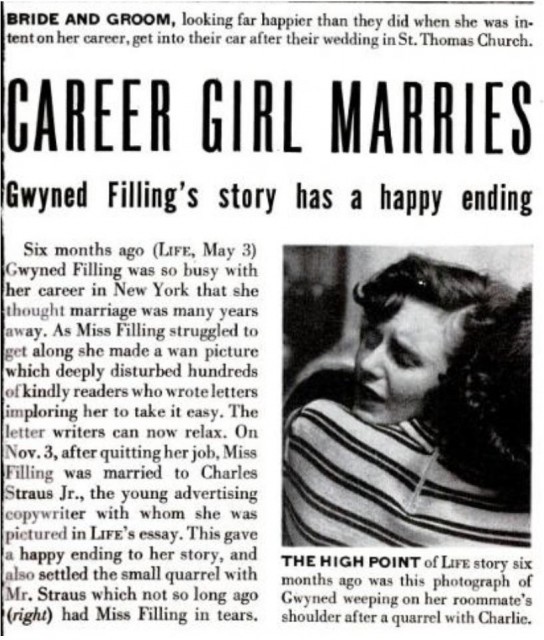 AC Bern is an artist who lives in New York.
---
Support The Billfold
The Billfold continues to exist thanks to support from our readers. Help us continue to do our work by making a monthly pledge on Patreon or a one-time-only contribution through PayPal.