Shopping With and For My Dying Mother
by Rachel Mack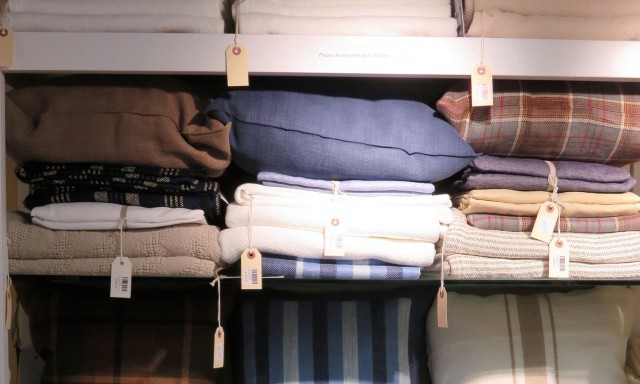 If you were an anthropologist and you observed my mother's last months, you would inevitably conclude that spending sprees are essential to the dying process. About six hours after she died, my father and I stood together at the kitchen sink, unwrapping individual pieces of silverware with shiny mocha-colored resin handles and dropping them into a large bowl of soapy water. It was a job because there were two tiny rubber bands securing the wrapping to each piece. There was similar set with ivory-colored handles in the pantry, customarily used on holidays and other special occasions.
"So, why did she buy these?" I asked.
"I don't know," he replied, his voice going a little low on the end, and we laughed.
It was just a little bit of nesting. She couldn't leave unless she was sure we'd have a way to eat our food.
Behind us on the counter, there was a bulk box of decaf Earl Grey tea K-cups, which I'd ordered for her from Amazon. We already had a large box of assorted coffees, but Mom preferred caffeine-free teas for herself. The Keurig machine was a recent acquisition, one she'd insisted was necessary for serving coffee to the many guests who'd been coming and going over the last four months. I'd been slow to order her tea, and the credit card was maxed out, so I had to order again, and by the time the box came she was no longer interested in drinking anything. No one else wanted to drink caffeine-free tea. This box remained on the top shelf of the pantry for three years, until I "donated" it to my workplace.
Two weeks before, her last trip out of the house had been to the furniture store, where she chose a bedroom suite for my sister Regina: a large platform bed, nightstand, dresser, desk, and two tall, narrow wardrobes. It is the kind of furniture you have for life.
As early as November, Mom had me wrapping presents for Regina's birthday on February 21. The doctors had predicted she would be gone by the New Year, so she was planning ahead. Hidden away in the corner of her closet, there was an amethyst rosary and a ceramic pie plate with a little pie weight in the shape of a red bird. She continued to accumulate gifts over the months, ensuring that Regina would have the array of birthday presents that she'd grown accustomed to.
Birthday and Christmas shopping were made easier because of my sister Mary Jo's job at Nordstrom. She became a kind of personal shopper and would come home from work with suggestions; Mom would grill her about prices before deciding what was worth buying. She'd be off to work the next day with the credit card and come home with a bag full of boxes. Some boxes went under the tree, while others were opened on the spot. Mom indulged in a pair of soft, sturdy Uggs slippers to keep her feet warm. Mary Jo convinced her to buy an assortment of soft, beautiful sweaters in blue, coral, and lime green to wear in bed. She bought me a stack of new underwear after seeing me fold laundry one day.
Even my grandmother, a careful saver and judicious spender, got caught up in the spree. For years, she'd been despairing at the powerlessness she felt to help my mother. One morning, I went over to her house and she declared we were going to Target. Her nervous energy was palpable as we walked into the store.
"Get whatever you want," she said, waving her hand in the air. "No limits."
I was on a spending freeze due to my small AmeriCorps stipend. After paying rent, my car payment, and utilities, I was out of money every month within days of being paid. Everything else was credit card debt, so I'd learned quickly to buy only absolute necessities. I didn't know what to do when my grandmother told me to put whatever I wanted in the cart. Whatever I wanted? I didn't want anything, really. I'd trained myself to think only in terms of need, and only when the need arose. No buying ahead. The one luxury I missed, a hair product, wasn't sold at Target. So, instead, I helped her pick things for Mom. Gift options are limited for a person who's bedridden. We chose a new sheet set, high thread count, in mocha, and some new pajamas. Grandma's hand reached for her own favorite color, a mild cornflower blue, but I directed her instead to the same set in a rich plum, a cotton waffle-knit shirt and matching pants with a snowflake pattern.
Later, at home in the living room, mom opened her pajamas and a smile spread across her face. "My favorite color!" she murmured, and ran her hand over the fabric. I hadn't really known that when I pointed them out, but I was glad I did. Grandma smiled too, a smile of relief and achievement. The Target trip was motivated by helplessness and anxiety, but the end result of was adding a little bit of joy into her dying daughter-in-law's life.
I was aware that we were spending too much time and money on material goods. I worried about what that meant for my mom as her life came to an end. In the moment that her face lit up over a pair of cotton pajamas, I remembered that thoughtful gifts, given with intention, transcend crass commercialism.
As Christmas came closer, I encountered my own gift-giving anxiety. The previous year, when I'd still had a regular job, I'd gone to New Orleans for Thanksgiving and gone completely overboard on presents for my family. My monthly payday happened mid-trip and I practiced no self-control whatsoever in the art galleries and shops of the French Quarter. I'd seen it as a personal achievement that I could afford to spend that much on my family. Now, if I bought any presents at all I wouldn't be able to pay my rent.
My lack of funds was worrisome; more so was the question of what to buy a dying person for Christmas. In early November, I'd hoped but doubted she would make it to Christmas. Six to eight weeks, the doctors had said, and Christmas was week seven. We ticked off week after week and she kept living.
When we got to week five, I realized I needed something to put under the tree.
Buying expensive jewelry or clothes that she would hardly (or never) wear seemed foolish, but not buying her something nice would send the message that her life was already over. In the end, this is what I gave my mother for her last Christmas:
• A thirty-two ounce bottle of unscented Nature's Gate lotion.
• A Mead spiral notebook with a decorative cover.
• Two five-ounce Vosges chocolate bars.
This is a far cry from the handcrafted brooch I'd brought her from New Orleans the previous year, but I'd applied my new outlook — what do I need? — to shopping for her. We'd been together all day, almost every weekday, for the last seven weeks, so it was easy for me to make a list of things she needed. Scented anything made her sick. Her skin was dry and her one bottle of lotion was almost empty. The lotion I chose was exactly what she wanted and needed. I have a picture of her holding up the bottle, her gold wedding band on her index finger because she'd lost so much weight. Her face is puffy from tumor-taming steroids.
She'd been making lists and notes in a notebook my father brought home from work. Most of the pages were pulled out or written on, and the cover was hanging off. I picked through a rack of spiral notebooks and found one with a damask-like decorative pattern in the same ocean blue as the walls of her bedroom. When she unwrapped it, everyone commented on how pretty it was and how nicely it matched her surroundings. She felt a sense of accomplishment when she made a list or a plan, and she liked aesthetic harmony in her environment. The notebook was a tool for the kind of thinking that made her happy.
The chocolate was a last-minute impulse buy, because deep down I still hated buying such utilitarian presents, no matter how appropriate they were. We'd read that sugar metabolizes cancer cell growth, so she mostly avoided sweets. The chocolates were small and decadent, a high-quality treat. I don't think she ate them.
What she gave me for Christmas:
• A Fuji point-and-shoot digital camera, which she'd sent my father and brother out to buy at a Black Friday sale.
• A new set of bed sheets.
• An oversized green stone ring, the trend that season.
I'd done careful research and bought myself a camera for my birthday eighteen months before. I loved it and took it everywhere, including to the beach, where it was ruined by sand that blew into the casing. I insisted that I only wanted the exact camera I'd had, and that she needn't bother buying me a different replacement. I really wanted a bulk bottle of the miracle hair product that I couldn't buy at Target.
"You'll just wash that down the drain," she said, and continued on with her plan.
We had this conversation over and over.
"But I LIKE it. It's worth it."
"No. You don't need that."
It infuriated me, because no matter what changed, she was still convinced that she knew what was best for me at all times. Her taste overrode mine when it came to buying me gifts, always.
When I was in second grade, we were perusing the earring rack at the neighborhood drugstore. There was a line of small, sparkly studs for little girls and I had my heart set on the pink stones. She sniffed at the pink earrings, insisting I should have them in blue.
That day, I went home with the pink earrings, confident that I'd accomplished a major victory. I was a dress-up doll for her, and I often chafed against the outfits she chose for me. Winning an argument about what I wore was unheard of.
A few weeks later, it was Easter. Mary Jo and I bounced out of bed early and rushed to the living room to see what the bunny had left for us. I dug into my basket and there they were — the blue studs my mother had insisted on. At that moment, it all unfolded before my eyes. There was no Easter Bunny. My mom was the Easter Bunny. She was the Tooth Fairy. She was Santa. Santa! There was no Santa!
Second grade is a reasonable age to figure all of that out. If not for those blue earrings in my basket, I would have gone on believing, and I felt cheated for years.
One of her great shopping joys was to buy coats on clearance in springtime. Two years before, I'd stopped by the house to find her in bed with the laptop. She handed it over to me.
"Look at the favorites. There's a coat I'll buy you."
Intrigued, I found the link and clicked. It was a pumpkin-colored trench coat. It was pretty, but after clicking through to look at similar items I found another coat I liked better.
"I like this one." I turned the laptop in her direction.
"No. The one I picked."
"But I like this one."
"You can buy it, then. I'm only buying you the one I picked. If you want it."
Of course, I did not turn down a free coat. And she was vindicated: the pumpkin trench coat is legend. I can't leave the house in it without getting a compliment.
…I love your coat…That's beautiful with your hair color…where did you GET that…it looks like it was custom-made for you…
The fall after she died, I wore it to my new job for the first time. As I walked out the door that afternoon, one of the women I worked with said that she loved my coat, it looked so good with my hair color, etc.
I blew into a little ball of comic rage.
"My mom bought me this coat years ago, and I wanted another coat, but she insisted on this one and I always get compliments on it. And she's dead now but she's still winning. She's winning from beyond the grave!"
This was the first I'd spoken of my dead mother to my new coworkers, and they made faces of shock and sympathy, then laughed uneasily. I stormed out the door, truly infuriated. How could she be showing me, even now, that she was right?
Christmas passed and still, she kept on living. She got worse, but she still needed something to do. We shopped online for dresses for my sisters and I to wear to her funeral. I chose a sleeveless shift in a houndstooth pattern, mainly because it reminded me of my alma mater, the University of Alabama. I figured it would be good for me to have any connection I could to faraway friends and happier times. After placing the order, I started browsing cardigans. It was winter and I would need something to cover my arms.
"It's cold. I need to order a sweater."
"You can get that yourself. What shoes are you going to wear?"
"I don't know. I have boxes full of shoes; I don't need shoes. I need a sweater."
Her "I'm right" forcefield had gone up. No convincing that I would be cold in a sleeveless dress in winter when she had her heart set on buying me shoes I didn't need.
When the dress came, I modeled it and both of my parents noted that it looked a little tight across the stomach.
"That's okay because I will be wearing a sweater. Okay? I will wear a sweater with it."
The day before the wake, my father gave me sixty dollars and I went to the mall. I found a black scoop-neck cardigan with three-quarter sleeves and white buttons. At home, I tried it on over the houndstooth dress and modeled again, this time for one parent. The outfit was complete: dress, sweater, tights, black mary jane heels I'd had for years, and a red bead necklace my mom had made. "See?" I said. "The sweater makes it perfect."
My dad is a quiet guy. "Mmhm." He smiled a little and went back to reading the newspaper.
What I needed that day: to look like my mother's daughter. I had everything I needed to do so.
Rachel Mack lives in Louisville, Kentucky.
Photo: Didriks
---
Support The Billfold
The Billfold continues to exist thanks to support from our readers. Help us continue to do our work by making a monthly pledge on Patreon or a one-time-only contribution through PayPal.