The Allure of the Free Thing
by Megan Reynolds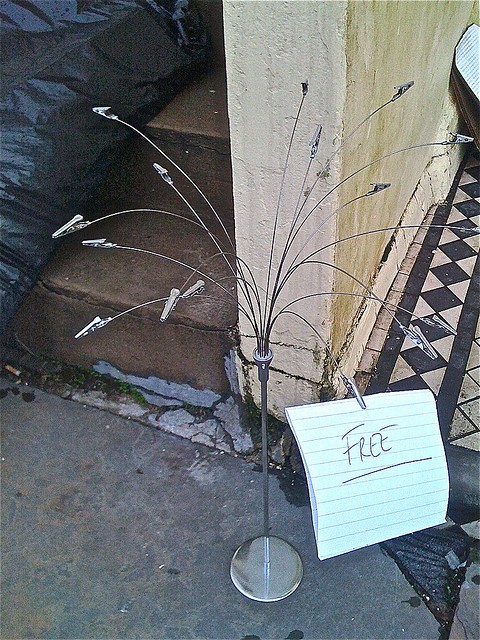 Nothing feels as good as the free thing. Leaving your apartment and stumbling across a box of free books, or kitchenware, or a sofa that you find on the street that is hopefully not full of bed bugs is like finding treasure when you were just trying to go to the grocery store. I stop and look at every single dresser, or chair, or mirror that's left out on the street, pausing and envisioning how it could fit in my room at home. "I need one of these," I tell myself. "Who can help me carry this home," I wonder, as I scroll thru the texts on my phone.
One sunny day, I texted a picture of a $300 cat tree that was sitting next to the garbage cans on the side of my apartment building to my roommates. It looked clean, relatively unused. It was free. "Who will help me carry this upstairs?" I asked. "That has bed bugs," one of my roommates texted back. "Just because it's free doesn't mean we have to take it."
I've never really met a free thing I didn't like. This is the reason my bookshelf is groaning with books that have gone unread, and my closet contains clothes that people have given to me, and that I've taken, in excitement. Free is awesome, because you don't have to work for it. I probably get this from my mother, a woman who steals lemons from other people's trees even though she lives in California and the citrus there is cheap. "They're free!" she tells me, as she shoves lemons into her bag.
I work for a large website that publishes an astonishing amount of beauty content. The beauty editors sit at their desks surrounded by boxes and bottles and jars of creams and brightly colored things; people send them these things for free. Then, they put them all on their face, and then maybe write about it, possibly put it in the beauty closet or, when no one's looking, take it home. When they've assessed and decided they don't want the free thing, it goes on the free table in the kitchen, a magical free-for-all space that houses a cupcake or two and the kind of stuff you'd find in a bargain bin. Sometimes, it's beauty products. Those go the fastest, greedy little hands swooping in to grab strangely-colored mascara and nail polish the hazy color of a polluted night sky. Usually, what's left is a bunch of weird books, various celebrity memoirs, and once, a shrink-wrapped, 6-DVD set of a Kettleball Pilates workout routine. The other day, I scored the Moosewood Cookbook, which felt like a big win, but I looked around the kitchen and really, no one seemed to be coming for it.
Celebrities get free things because they are celebrities. People send them coats or self- tanner or handbags, with the expectation that they'll hopefully wear them in public and be photographed by a photo agency and splashed in the tabs of various gossip sites, or on the pages of magazines. Sometimes, people whom others assume have sway over the culture get free stuff, too.
Getting stuff for free assumes that you're someone important, an "influencer" (barf), someone whose opinion matters enough to sway the normals out there to buy the thing you got from a PR flack who really wishes they had found another profession. When people offer to send you things for no money, it means that you've ascended to some weird micro-level in life where whatever you could possibly say about the thing you just got will actually matter. It's the implied influence that tells you, Yes, you are important. Your words matter. Review this eye cream, and maybe I'll send you more. For me, being adjacent to the rewards of this terrible system never gets old.
A lot of people I know won't take something just because it was given to them, and just because it wasn't paid for.
"I don't need another beach towel or Mike's Hard Lemonade branded picnic basket," they'll say. "I have enough things."
"It doesn't go with the stuff I already have. I have enough stuff as is."
Turning this down seems crazy. Of course you need this thing, because it'll come in handy someday. Beach towels serve multiple purposes, draping nicely over your air conditioner when the first cold night of the season comes along and you haven't decided whether or not you want to take it out of your window. A picnic basket is something you'll certainly use more than that one time you go to the park and remember to pack it full of beer, cheese, snacks and ice. Take the free things, because you never know when it will go away.
Megan Reynolds lives in New York.
Photo: Yandle
---
Support The Billfold
The Billfold continues to exist thanks to support from our readers. Help us continue to do our work by making a monthly pledge on Patreon or a one-time-only contribution through PayPal.