Job Of The Day: Holiday Dog Sitter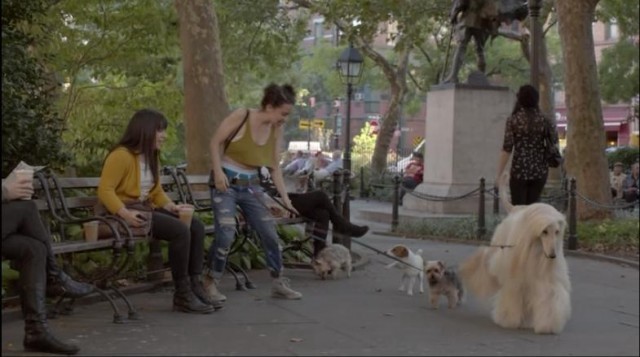 I got the most adorable postcard in my mailbox yesterday. It featured four model-thin white people in expensive sweaters, bending over to pet what appears to be a Bernese mountain dog.
"Earn up to $1000/month watching puppies this holiday season!" The words "up to" were in tiny print, but they were there.
This postcard came from DogVacay, tagline "Dog boarding just got awesome!"
How does it work? Why not watch this 90-second video to find out?
(This animation, by the way, still only features skinny white people.)
DogVacay lets people connect with gig economy pet sitters online and book nights for their dogs either in your home or in their home. But how much do the pet sitters get paid? Well, if you sign up with DogVacay, you get to both create your own profile and set your own rates. The sample profile charges $25/night for dog sitting; most of the DogVacay sitters in Seattle are charging between $40-$60.
This means that if I charged $50 a night and wanted to earn $1,000 a month, I'd need to book 20 nights' worth of dogs (or 10 nights' worth of two dogs). Except DogVacay takes 15% off the top as a service fee, so I'd really only earn 42.5 per night, so… 24 nights' worth of dogs. That's essentially a full-time dog sitting job, and that's when I'm charging twice as much as DogVacay's sample rate.
If I only charged $25 a night, my apartment would be full of dogs all the time. It would be like a hilarious movie about me and a bunch of dogs. But hey, I'd earn $1,000 a month, which is totally enough to live on, no problem.
As a dog sitter, you also get the benefit of DogVacay's insurance:
Each Vacay booked through DogVacay.com or our mobile app is covered by our comprehensive Premium Insurance plan. Highlights include $3 million in commercial general liability, plus $25,000 of veterinary coverage for pups in your care, custody and control. Unfortunately, personal property is not covered, so make sure to prepare your home and store valuables in preparation for an upcoming Vacay.
At its core, DogVacay sounds like a decent-enough startup and yet another way to capitalize on the gig economy business model that is all the rage these days.
But I don't think its users are actually going to earn $1,000 a month dog sitting. Who knows? Maybe they'll prove me wrong.
---
Support The Billfold
The Billfold continues to exist thanks to support from our readers. Help us continue to do our work by making a monthly pledge on Patreon or a one-time-only contribution through PayPal.