Every Job I've Had: Four Coffee Shops And Job Training in French Lick
by Kelley Gardiner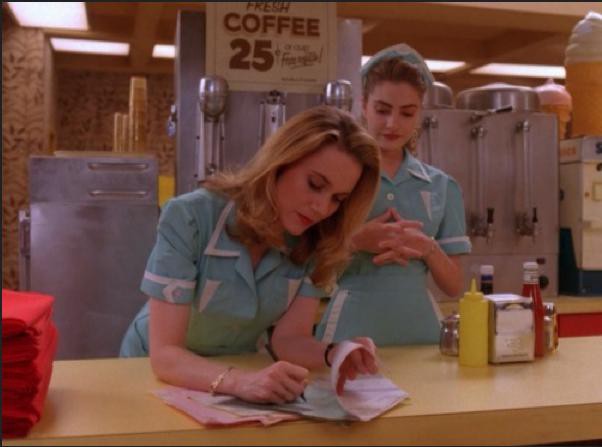 As a 34-year-old woman with a college degree and a solid history of being promoted and beloved by supervisors, it's a little sobering to look back and realize how little of my job history is fulfilling work designed for grownup people. Temp jobs not included.
Dairy Queen: There was a convenient bus line from this location to downtown Portland, Oregon, so a 15-year-old me could IN THEORY say she was going to work, go downtown to meet boys from other schools, come back, and then call her parents to pick her up. A "no visible hickeys" rule had to be implemented. This was not entirely my fault.
Small Movie Theater That Has Since Been Demolished: Some people do high school; others drop out and get their diplomas from the community college. I was the latter, and the movie theater was my social hub. We dated each other, threw things off the roof, got drunk and ran around at 1 a.m. — you know, the usual. A manager tried to pin me for money missing from a deposit, but it turned out this other guy stole it to pay for his girlfriend's abortion.
Sam Goody: There are certain albums that came out in 1999 with which I cannot even. You think you're tired of that Santana album with "Smooth"? "Now You Really Know What It's Like" to go slowly insane.
Coffee Shop One: My roommate, in her infinite wisdom, suggested that I apply to the coffee shop next door to our apartment. In the morning all I had to do is roll out of bed, walk next door, grab a cup from behind the bar, and help myself to a coffee on the way to class. My co-worker was best buds with a minor indie rock star. We listened to cool music and gossiped and my diet consisted largely of day-old muffins. I graduated from college with my valuable Bachelor of Arts in English and moved to Eugene, Oregon, where my boyfriend was in grad school.
Coffee Shop Two: A buddy set me up with his old apartment (cheap, great location, terrifying landlord) and a cafe gig with a grating boss. That boss was really awful, but the pastries were good, and I learned a lot about food. I was there for maybe six months until I found a new gig.
Coffee Shop Three: Being 22 and working in a big coffee shop with other 22-year-olds in a college town is a lot like college, but with no homework and getting beer is easy. Getting promoted to Assistant Manager kinda stressed me out sometimes, especially when my boss left to cover for another location for a month. Quit eventually to Be A Writer.
Freelance Writer: Or, person who mopes over a journal and pays for her groceries with a credit card.
Ticket Sales, Events, Etc., at Music Non-Profit: Eventually, I needed actual money to pay that cheap rent, so got a gig working events at this non-profit venue. After a while, I got "promoted" to a position with more hours and the same pay. I talked to Dave Brubeck on the phone. Joan Baez waved at me. I stood near Cyndi Lauper, etc. Once in a while, I got to pick up a Lincoln from the rental place and drive around town and maybe get famous jazz drummers' names wrong when picking them up (whoops). When boyfriend moved to the Midwest for his doctorate, I moved back to Portland.
Coffee shop Four: Was the economy any better for an English grad in 2004 than it was in 2002? Probably not much, not that I tried very hard to get a professional gig. I worked at a coffee shop that was owned by Starbucks but was not Starbucks. They had insurance and all. One time, I called 9–1–1, which makes a pretty good party story. I got promoted pretty quick. Then my boyfriend proposed, and seven months later, we got married and I moved to Indiana with him. Starbucks announced that they were closing all the stores in this small chain a few weeks before I left.
Proofreader at Sketchy Alumni Directory Provider: My new husband was at grad school for 12 hours a day. We knew two people in Indiana. I'd just quit smoking. I spent eight hours a day proofreading alumni directories, making sure addresses adhered to the style guide. We were discouraged from talking. When winter was approaching, we got a memo encouraging employees to wear parkas inside on cold days because heat is expensive. Obviously I wanted to gouge my eye out with a pencil, but I was an excellent goddamn proofreader.
Community College Office Assistant: My first "real" office job was as an assistant in a workforce development department. I did paperwork and answered phones. Sometimes I got to go to Big Lots and buy out their candy aisle for trainings in French Lick. I learned a lot about French Lick.
Continuing Education Program Manager: My application for this promotion had a typo. The Chancellor of the Community College was deeply disappointed in me, and hired someone else, who soon walked off the job. A few months later, I was brought on to help revamp the entire program and it was SO FUN. I got to actually do stuff! With my brain! I was in charge of a kids' program in the summer, and I had my own office with a door and a window with a view and my new boss said stuff like, "Hey, I don't watch the clock, go ahead and leave if you want," at 3:30 on a Thursday. It was a glorious job. Alas, it was in Indiana, and as soon as my husband finished his course requirements for his doctorate, I pushed for the move back to Portland.
University Department Paper Shuffler: 2009 wasn't great for jobs, either. However, I had a baby with that sweet, sweet public employee insurance plan.
Freelance Writer: After baby and writing a book, I took the freelance leap again. We can all hope that there's a wide gulf in maturity and professionalism between a 23 year-old and a 34-year-old.
Ask me in six months if I'm working for Coffee Shop Five.
Kelley Gardiner is the author of Roller Derby for Beginners. She writes and tweets about roller derby, manatees, Damian Lillard, and food. Especially sandwiches.
---
Support The Billfold
The Billfold continues to exist thanks to support from our readers. Help us continue to do our work by making a monthly pledge on Patreon or a one-time-only contribution through PayPal.