Aspiring To Be An Effortlessly Cool Woman With a $20 Flip Phone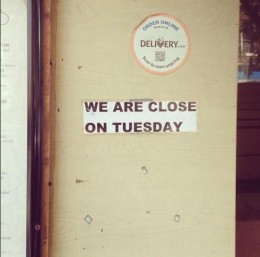 Chiara Atik has written a very convincing ode to cool women who who eschew smart phones. They flirt without emojis and move about the world without announcing their place in it or taking photos of particularly apt graffiti.
A flip phone represents the ultimate luxury: inaccessibility. The most alluring thing about people with flip phones is the vote of confidence they are giving themselves (and their social lives) by not giving people a 24/7 way to reach them, across multiple platforms. It's like they have an innate trust that the people who really want to talk to them will seek them out, will still want to talk to them three hours after sending an email. They can go off the radar without worrying that people will forget about them while they're gone. And by not tweeting, Facebooking, and Foursquaring their whereabouts, they're leaving their everyday lives open to interpretation. As if at any given moment, they're probably doing something much cooler than we are.
By the end of this essay I was almost ready to throw my phone in the nearest sewer. I say almost because I spent the past weekend with my flip phone-carrying mother, who recently walked into a river with her iPhone in her pocket on a camping trip. Um, do you guys remember what texting with a flip phone is like — hitting every number button like 3x to get the letter you want? Tiny screen? No photos?
Here are some of the texts I got from my mom over the weekend:
Just on the farry call when back
OK just got ur txt was on ferry will see u @ russ 215 ish
@10 we r @ variety
We are shopp, we will come gddt key in an hr
Inside amd through sddcurity. Lobe u…Ma
My mom got lost, was late, was early. She showed up unannounced. She spent the weekend telling me what to take photos and videos of, and which of them to post to Facebook. She suggested we check out the garden of a Thai restaurant in our neighborhood to weigh its potential as a wedding venue.
Okay that last one is unrelated but I just wanted to share.
My point is, if you have a flip phone and you want to be my friend, you better be REALLY fucking cool.
---
Support The Billfold
The Billfold continues to exist thanks to support from our readers. Help us continue to do our work by making a monthly pledge on Patreon or a one-time-only contribution through PayPal.