The Cost of Bringing a Person Into The World Via C-Section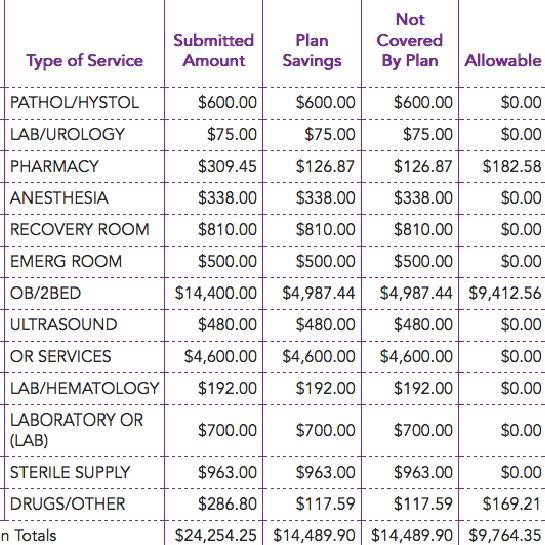 The claims section for my personal account on my health insurance provider's website gives me great anxiety lately. This is why.
CLAIM ONE: $24,254.25
$14,489.90 Allowable
I OWE: $500 Copay
A few notes:
Did I go to the emergency room ($500)? I did not! I went to triage in Labor & Delivery, which is I hope what they mean. I'll give them the benefit of the doubt, though I have no idea why I would do that.
Did I get an ultrasound ($480)? Okay I did but it was for like two seconds in triage when they checked to make sure he was still head down. That should have cost like, $20 tops.
Anesthesia, $338? My first epidural didn't work so they had to give me another one. Then they did more stuff to me in the OR, don't really know what. This relatively conservative amount only makes me fear there is another claim coming from the anesthesiologist, and that the anesthesiologist doesn't take my insurance. If you pray, pray for me.
The line item I take the most umbrage with has to be $14,400.00 for three nights in a 8'x5′ section of a hospital room, cordoned off by puke green curtains. My neighbor — yes I shared a room — did not want to use air conditioning, as it was presumed to be bad for the baby. She wailed to the nurses when visiting hours were over, not that I blame her, and demanded that her husband be allowed to stay. They said no but he stayed anyway. No one had the energy to forcibly remove him. I told the nurse, who insisted I could say no, that I didn't care. I wanted my person there, too, desperately, but I am, I guess, more desperate to follow the rules. In the middle of the night, after days of no sleep, I'd wake up and hear her husband snoring. The curtains would billow open and various family members of hers (of which there were many) would catch sight of me, sweaty, wrestling with my sweaty baby, tits out, on the verge of tears. $4800/night. Cool.

CLAIM TWO: $9,000
$0 Allowable
I OWE $0
There we have another claim by my OB, for type of service it just says, "cesaerean delivery" (no capitalization! I don't deserve it!) and it is $9,000.
I guess this is her going rate for performing a c-section, which hey, people charge more to design websites, I'm fine with it. Fine with it as long as I don't have to pay for it, that is. My insurance company, however, has this to say:
Info submitted does not support services rendered
They are paying $0. Dear universe, please do not tell me this means I will somehow end up having to pay for this.

CLAIM THREE: $8,845.00
$5,572.35 Allowable
I OWE: $500 copay
There is yet another claim for the baby. This is in addition to this pediatrics bill for $627.00. And in addition to another bill I got recently, from the pediatrician herself, for $795.00.
The biggest expense here is $7,950.00 for a three-night stay in the Level 1 nursery. i.e., a room full of babies in plastic bassinets where my poor little baby spent the first couple nights of his life while I recovered from surgery and cried with guilt that I wasn't "rooming in." Maybe I should have been crying that it was costing $2650/night for him to sleep for a few hours under horrible florescent lighting.

CLAIM FOUR: $350
$350 Allowable
I OWE: $0
This one is my personal favorite, titled "tissue exam by pathologist." What tissue was examined by this pathologist? And what was it examined for? Who took my tissue? Where did they put it?
There is no co-pay for this mystery claim, which I enjoy. I only hope the tissue that was examined was the (my? our?) placenta and not some part of my body I still need.
Remember when I was thinking about encapsulating my placenta and taking it in pill form? That was funny. I never even saw it. Regrets: I have a few. None of these regrets, however, center around paying my monthly insurance premiums in exchange for not having to pay for this shit out of pocket.

TOTAL HOSPITAL BILLS: $43,871.25
TOTAL CO-PAYS: $1,000.00
TOTAL UNRESOLVED BILLS WHICH I BETTER NOT HAVE TO PAY BUT I MIGHT HAVE TO PAY AND I STILL HAVEN'T CALLED ABOUT AND THEY'RE THREATENING TO SEND TO COLLECTIONS BUT EVERY TIME I GO TO CALL THE BABY WAKES UP: $1422.00