Producing a Beyoncé-themed Burlesque Show on a Budget
by Amanda Green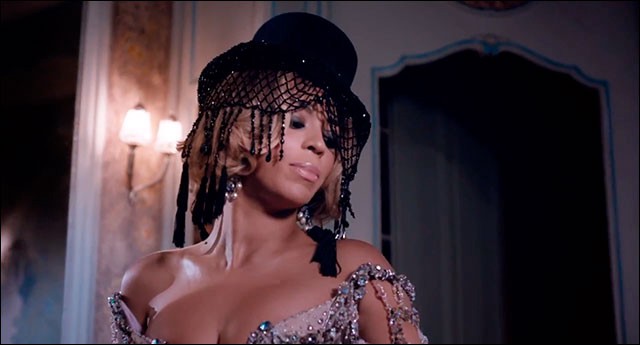 Part one of a series, wherein the author attempts to answer the question, "Can I produce A NYC burlesque show without losing my shirt?"
It wasn't long after I became friends with burlesque star and producer Calamity Chang through freelance work that I came up with the idea for Beylesque, a Beyoncé burlesque show to take place on or around the pop diva's 33rd birthday. "It could be huge!" I said. "It's underground meets mainstream pop. You could serve birthday cupcakes and have a dance-off/twerkout during intermission."
See, I'm great at coming up with ideas that I absolutely, 100% guaranteed will never follow through with — TV commercials, reality shows, a jewelry line — and then pushing said ideas onto people who might actually be able to pull them off.
Calamity wasn't sold on my Beyoncé burlesque idea at first, but that didn't keep me from suggesting it a few more times. And then she said, "Okay, we're doing it." We? I haven't planned an event involving more than a handful of friends since my debauchery-free, free pizza-ful days as a college RA.
Long story short, Beylesque is now a real thing and it's happening Saturday, September 6, at 11 pm! Here's how we're pulling it off, so far.
The Name:
Calamity and I needed a show name that would scream "Beyoncé" without warranting a cease and desist letter. We also thought of our target audience. "All the Single Ladies" it was. Runners-up: "Crazy in Love," "Bootylicious," and "We Bey All Night."
The Place:
So far, the biggest lesson I've taken from this experience is to team up with someone who knows what the hell she's doing. Calamity has relationships with a number of venues in NYC. We ultimately chose Parkside Lounge on the Lower East Side, because 1) it's a good location with lots of foot traffic, and 2) Parkside Lounge has been a long supporter of the burlesque community and is very considerate of production costs. We wanted All the Single Ladies to be accessible to independent women on a budget. Some venues want a 40% to 50% cut of the doors, which would require a door cover of $35 or more to break even. Parkside typically takes 20%, but occasionally negotiates on a case-by-case basis. So we set our ticket price to $10 for general admission, which is about how much you'd pay for a single mixed drink most Saturday nights out in NYC, not to mention a fraction of a fraction of how much Beyoncé's cheapest weave costs.
The Time:
11 pm. Is it just 30-going-on-75 me, or is this sort of late? Parkside Lounge had already booked a show for earlier, so everyone's just going to have to take a disco nap, pre-game, and then come out to Beylesque. We promise it'll be worth it.
The Budget:
I've attended a number of events in NYC, from grimy open mics to swag-laden movie premieres, and never considered how much it costs to put it all together. When I tried stand-up comedy a few years and a much stronger ego ago, I was surprised to learn that rookie comedians have a two-drink minimum, just like everyone else. It's hard to get five minutes of stage time in NYC, much less five minutes of paid stage time.
But guess who does get paid for five minutes (or fewer) of performing? Any burlesque dancer worth her pasties. And as a freelance writer all too familiar with "the opportunity" to write for exposure, not dollars, I'm happy to pay dancers for exposure in dollars. (Not to mention the fact that burlesque dancers spend a lot of time and money assembling their costumes and getting in character with hair and makeup.) Calamity and I set a budget of $800 maximum on this show, because paying $400 each doesn't feel too painful. We agreed on $60-$80 per act for nine acts and then needed to have money left over for our MC and the stage kitten who will be picking up clothes and sweeping up glitter between acts. I made a playlist of songs, and Calamity sent them to all the performers she knows. There were a few challenges. No one wanted to perform this number, for example, and dancing to Beyoncé can feel as foolhardy as doing karaoke to Whitney Houston. But within a week or so, we had a full cast, including an MC who sings.
So far, the only other money we've spent is $25 on Ring Pops for our audience members who want to "put a ring on it." (This might be my one chance to justify such a purchase. I had to go for it.) We also need to print flyers and are looking to hire an event photographer. To keep expenses low, Calamity and I will handle the rest. I'm (wo)manning the door the day of the show, and she'll be running the music.
Total expenses to date: $690.
You might be wondering if this show's actually going to break even. So are we. All the Single Ladies probably won't make us any money. We're just trying to pay the show's Bills, Bills, Bills.
Next post: Sponsors to the rescue?
Amanda Green is a freelance writer and editor in New York City. She's written for Mental Floss, Popular Mechanics, Marie Claire, and various other print and web publications.
---
Support The Billfold
The Billfold continues to exist thanks to support from our readers. Help us continue to do our work by making a monthly pledge on Patreon or a one-time-only contribution through PayPal.