Job of the Day: Staff Announcer for Saturday Night Live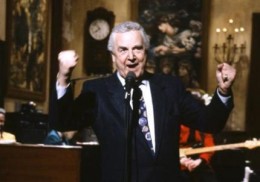 Don Pardo has been SNL's legendary announcer since the show began in 1974, but he died this week at the age of 96. He never retired from the show and would fly into New York from Tuscon every week. He began his career as a radio announcer in 1944:
In those days, staff announcer was such a prestigious job that members of the profession, in another holdover from radio, typically wore tuxedos while on the job, even though the audience hardly ever saw them and they were mainly confined to an "announce booth" in or near the studio. Even simple station breaks — "This is the National Broadcasting Company" — were done live from those close quarters.
…To cast members over the years, hearing their names spoken aloud by Don Pardo was an important part of initiation into the institution that "SNL" has become. Molly Shannon (who joined in 1994 as a "featured player") was so thrilled at the idea of Pardo uttering her name that she would say a little prayer to herself each time she heard him do it. When she told that to Amy Poehler, who joined the cast in 2001, Poehler adopted the same practice — a kind of good-luck charm linked to Pardo's unmistakable voice and all it represented.