Job of the Day: Spokesperson For Death Row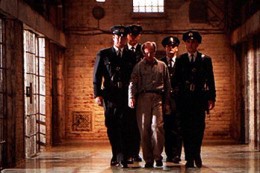 On days when an execution was scheduled to take place, Michelle was responsible for putting together press materials for the media, including a description of the condemned's crime, his last meal request, and a meticulous report, which was culled from guards' logs, of his final 36 hours ("12:32 a.m.: Inmate sleeping. 4:30 a.m.: Inmate drinking milk. 8:55 a.m.: Inmate escorted to visitation"). During the execution itself, Michelle would carefully copy down each word of the inmate's final statement on a yellow legal pad. Afterward, she would provide the media with a record of the execution, which detailed the exact moment when the lethal drugs began flowing and the official time of death.
Michelle Lyons worked for the Texas Department of Criminal Justice, in Hunstville, Texas, for more than a decade, and the decade George W. Bush was governor, at that. She worked for the Hunstville witnessed the death of 278 inmates on death row. Pamela Colloff chronicles Lyons' career for Texas Monthly. It is tough to read at points but, as you can imagine, incredibly fascinating. And sad. And surreal. Ugh.