How Much More Are You Spending at the Grocery Store?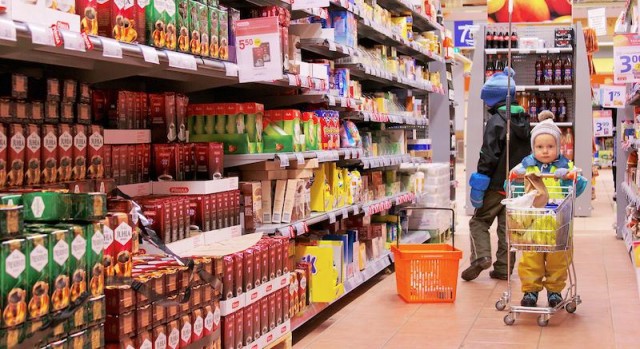 On Aug. 11, Mary Ellen Burris, a senior vice president of consumer affairs for Wegmens, a family-owned grocery chain in upstate New York wrote a blog post titled "Sky High Beef" to explain to customers why beef prices have risen lately:
We get used to ups and downs in meat supply but current costs for beef are higher than I've ever seen in my 41 years at Wegmans. Our meat experts tell me the current inventory of cattle in this country is the smallest in over 60+ years! Small supply of course translates to higher costs and retail prices. The supply is especially tight for dairy cattle, the traditional source of lean beef for making ground beef.
Sustained droughts in the West in recent years made the price of corn go up, which affected feed costs and discouraged farmers from expanding their cattle herds. For families who rely on beef as a quick and easy source of protein, Burris suggested buying their "family pack" to get "the best value in the meat case."
It's more than beef. The Wall Street Journal reports that diseases among pig populations have caused pork prices to rise. Bacterial infections have affected shrimp populations. Dry weather has affected fruit, vegetable and coffee prices. (Remember the Great Spring Lime Shortage?) One grocery shopper the Journal talked to noticed she has gone from spending $130 a week at the grocery store for her family of three to more than $200 a week.
"I don't even buy chips, snacks or any pre-made salads anymore," she told the Journal. "What is going on?"
All of this prompted me to go through my bank statements to examine grocery spending for the past few months, and sure enough, what used to be $40-$50 grocery store trips have risen to $60-$70 grocery store trips. Shoppers who've made attempts to save have tried buying cheaper cuts of meat, buying in-season produce, and shopping the sales (here's a cereal tip!).
And what about you? Noticed any increases while grocery shopping?
Photo: Jaro Larnos
---
Support The Billfold on Patreon
The Billfold continues to exist thanks to support from our readers. Help us continue to do our work by supporting us on Patreon.