Spending Three Years in College, Rather Than Four, to Save Money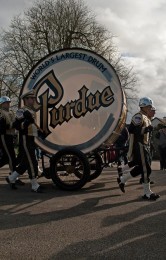 Former Indiana Gov. Mitch Daniels is now the president at Purdue University, and rather than raise tuition to make up for state cuts on college funding and rising administrative costs, he's frozen tuition for the first time in 36 years and looking for ways to save (it should be noted that as governor, Daniels cut millions in state higher education funding, so he knows that to keep tuition from rising, he'll have to find savings from the inside). Daniels has started by cutting the cost of student food by 10 percent and consolidating administrative jobs, but according to the Wall Street Journal, Daniels is also considering what students actually get out of college and encouraging departments to devise a program where students can graduate within three years, instead of four:
Mr. Daniels says he is consolidating administrative jobs where prudent and leaving jobs unfilled where the duplication of effort makes that possible. He has jettisoned 10 university cars, consolidated hundreds of thousands of feet of off-campus rental storage and introduced a higher-deductible health-care plan.
He has also created two, half-million-dollar prizes for the first department that devises a three-year degree or a degree based on what a student already knows, not the number of hours he or she sits in a class. This summer, the school offered 200 more classes than last year in an effort to speed time to degree and generate more income for the school.
"There's lots of opportunities" to cut costs, he said.
Do you think you would have gotten the same out of your college education if you graduated in three years, rather than four? As an undergrad, I took summer school classes in additional to a full-time course load and working part-time so that I could spend my fourth year focusing on completing my senior thesis (which was a completely optional undertaking). If I had decided not to work on a thesis project, I probably could have graduated in three years, but I was also in school on a partial scholarship and paying reasonable in-state tuition at a public university at the time, so the cost of college wasn't so much of an issue for me.
Photo: David Bergin
---
Support The Billfold
The Billfold continues to exist thanks to support from our readers. Help us continue to do our work by making a monthly pledge on Patreon or a one-time-only contribution through PayPal.