CEO Wins Chance to get Killed By George RR Martin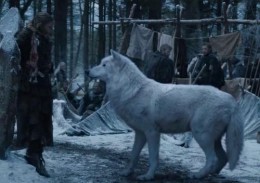 In a perfect confluence of events, a wolf-loving Michigan CEO has won the right to be killed off by renowned wolf-aggrandizing author George R.R. Martin. Responding to a competitive fundraising call, Dr. Dave Cotton's family made a $20,000 donation to a wolf-related charity in his honor — for father's day. (Aww!)
Mike Cotton, chief operating officer of Meridian Health Plan and one of Dr. Cotton's three sons, said his father had an affinity for wolves before he started reading Martin's fantasy series, "A Song of Fire and Ice," which was first published in 1996.
"We saw this crowdfunding come up online and we thought it would be perfect for his love of wolves," Mike Cotton told ABC News. Mike's brother, Sean, who is an administrative officer at the family-operated company, said their father loves the books and watches the HBO series "avidly."
"He's always referred to himself as a lone wolf," he said of his father.
Everything about this is adorable: writers using their powers and popularity for good; sons making extravagant, creative gestures of filial piety; $20,000 going to support wolves which, though not the Direwolves of Martin's fiction, are still pretty cool beasts (check out the terrific story about "the Angelina Jolie of wolves" from the Snap Judgment podcast, episode: Legendary); and the fact that the Cotton family is in health care and the patriarch's prize is to get killed off, in print, in some sort of brutal, unexpected fashion. Reading that might feel cathartic to anyone who's felt screwed over by the health care industry. Overall, an excellent use of funds.
If you could get written into the Game of Thrones universe, what would you want to happen to you? I'd want a direwolf and maybe get to say a couple of quiet words to Arya, and then slip into the shadows before she killed me.