14 Years Old and Trying to Survive in Three of Cincinnati's Roughest Neighborhoods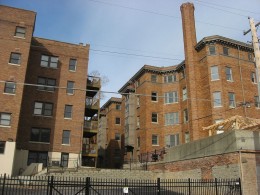 Reporter Krista Ramsey and photographer Cara Owsley have a really terrific feature in the Cincinnati Enquirer looking at 14 different 14-year-olds living in three of Cincinnati's roughest neighborhoods. Nearly all of them have witnessed or experienced violence. Some have stolen to feed their families. And some are holding on to the hope that the future will be a better place:
One of Jamir's big dreams is getting his mother out of Evanston. He'd like to be a professional athlete, or maybe join the U.S. Army or start his own sporting goods company. "The first paycheck I get is going to my mother."
Kids at school joke about selling weed to make money. Jamir says it's something he'll never do.
"I won't because my dad did it — he sold drugs. I haven't seen him half my life. He should be coming home (from prison) in a couple months or a year. I remember a couple times of seeing him."
But his mother, he says, has always been there. "We talk all the time. I tell her everything I do in school — if I do something stupid or get in a fight. And I tell her what I'm going to do in my life so I don't turn out like my father."
Read their stories and see their photos here.
Photo: Wikimedia Commons