Working as a Tax Preparer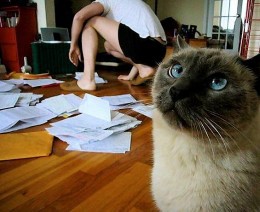 The Times has a short interview with a 66-year-old tax preparer in Illinois named Charlotte Ogorek, who has a business with her husband, a C.P.A.:
What is tax time like?
It's exhausting. We start at 8 a.m. and some nights we work until 9:30. We prefer to stop at 7 or 7:30 p.m. because our concentration level sinks if we work late too many nights, and it's too easy to make a mistake. I try not to work Sundays. I volunteer as a member of my local Rotary Club, which provides a break. We visit people in a group home who are mentally handicapped. It's nice when someone is just happy to see me instead of telling me I may have missed a deduction.
What happens after tax time is over? The couple gets to spend more time with their grandchildren and garden. The rest of us get to relax until next year (unless you've filed an extension which is a different story).
Photo: BonBon