Walking While Working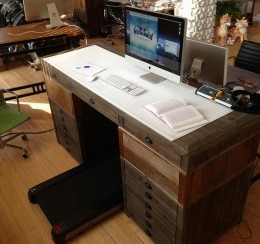 New York Times reporter Amy Harmon has been working at a treadmill desk and logging about five miles a day:
After a few false starts, I began to learn to adjust my speed to the task at hand. Sometimes I was walking too fast to concentrate, but sometimes a slow pace seemed to be a drag on my work. So when I felt my body getting in the way of my brain, I just pushed the treadmill's up or down buttons.
When it comes to synthesizing a lot of information into a coherent article, the hardest part of my job, I still have the powerful urge to sit. And I pause when editors come by to talk, because it seems rude to burn calories while they stand still. But ideal email-writing speeds range from half a mile to 1.5 miles per hour, and the perfect balance for phone interviews is closer to two miles per hour. Not all of my colleagues share my tread-desk enthusiasm. "I have enough trouble doing my job as it is," a Metro reporter told me. Others saw it as a multitasking slippery slope. One hums the marching song of the flying monkeys from "Wizard of Oz" when he passes by, roughly in time with my own footfalls.
Various studies have shown how detrimental sitting is for us — even if we're active outside of work (where we do the majority of our sitting). Besides the health benefits, Harmon wonders if walking while working will also make her into a better writer: "Could those punchy but profound endings that I invariably conceive when I'm out exercising but can't remember when I'm in front of the screen be channeled by the tread desk?" We'll find out soon enough.
Photo: Juhan Sonin