The Cost of Building a Micro-Housing Village for the (Formerly) Homeless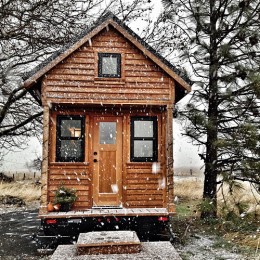 Via (yep) Apartment Therapy, a tiny house story that is more than a tiny house story.
Quixote Village is a community of formerly homeless adults in Olympia, Washington, who until recently lived in a self-governed tent city that rotated between church parking lots. Now these 29 adults live in 29 separate 144-square-foot tiny houses, arranged in a horseshoe shape. Each house has room for a bed, a desk, and a tiny bathroom with a sink and a toilet. There is a shared garden and a community center with showers and a kitchen shared by all the residents. If residents have income, they're asked to pay 30% of that income towards monthly rent. Otherwise, living there is free.
Quixote Village's own website is a great resource. Most interesting for our purposes is the section of the FAQ which outlines the costs of building and maintaining the village, as well as where they mone came from:
What did the Village cost to build?
The total cost to build the Village was $3.05 million. (This includes permits, fees, required road improvements, infrastructure, etc.) The cost for each cottage was about $19,000. The cost per unit, including all development costs, materials, labor, the community building, infrastructure, permits, and required road improvements was $87,789. Thurston County leased us the land for $1 a year for 41 years. (The value of the land is about $333,000.) We had substantial donated services from our architect, our civil engineer, and others. IF we had to buy land and pay in full for all the services we needed, the total cost would have been $101,567 per unit. The average cost for studio apartments for low-income people is about $200,000.
Where did the money come from?
$1.5 million in the state capital budget, which came through the state Department of Commerce's Housing Trust Fund $699,000 from federal Community Development Block Grant funding that came through Thurston County and the City of Olympia $170,000 in Thurston County funding from state document recording fees $215,000 in community donations, including the Nisqually and Chehalis Tribes, the Boeing Employees' Fund, and individual donors
For more background on the project and the people who live there, Michael Tortorello wrote about Quixote Village for the Times a few weeks ago.
Photo: RowdyKittens
---
Support The Billfold
The Billfold continues to exist thanks to support from our readers. Help us continue to do our work by making a monthly pledge on Patreon or a one-time-only contribution through PayPal.