The Career of a LEGO Builder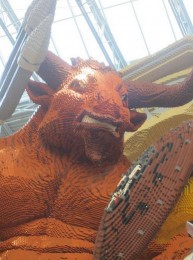 At Priceonomics, Zachary Crockett looks at "Life as a LEGO Professional" and it is fascinating.
The road to becoming a master model builder for Lego is excruciating and arduous — and the monetary payoff is less than exciting. To give you an idea of how selective this group is, there are only 40 Lego master builders in the world, 7 of whom are Americans.
These builders are hand-picked by Lego, and are employed at the company's Discovery centers, and its seven LEGOLAND theme park locations (Billund, Denmark; Windsor, England; Günzburg, Germany; Nusajaya, Malaysia; Florida, California). But in most cases, they have to start from the bottom and work their way up: only the most skilled Lego artisans achieve the honor of master builder.
Typically, a new hire starts as an apprentice builder — essentially a "glue minion," according to a young "peon" who works at LEGOLAND Florida. They spend long hours adhering thousands of individual pieces together and work on maintaining the parks' various sculptures and exhibits. From there, a promising apprentice builder is promoted to a senior builder, where the pay may bump from $10 to $12 an hour, and additional duties are assumed: constructing models, overseeing daily procedures, and shadowing the master builders.
Becoming a LEGO master builder has more prestige than money: The salary is $37,500 a year.
According to Crockett's piece, LEGO looks for candidates with a bachelor's degree in architecture or design, or an engineering degree — mechanical, aeronautical, or structural.
Here's Andrew Johnson, who at 23 became the youngest master builder ever hired by LEGO.
Really talented builders become "Lego certified professionals" — there are 12 of them in the world — and can charge more than $100,000 for commissioned work that takes weeks or months to build.
And then there are the speculators who buy limited run sets like "Star Wars" and hide them away to sell to collectors years later. One seller says he recently sold a "10030 Imperial Star Destroyer" set originally priced at $300 for $999.
I didn't have a ton of toys as a kid, but LEGOs were definitely one of them. I doubt I would have become a master builder, but I would have dreamed about it.
Photo: Ann