It Was Peggy All Along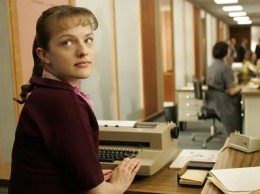 When Mad Men, AMC's 1960s advertising drama, began, probably the only person who knew the clueless secretary with the unflattering bangs would become the show's hero was its creator, Matt Weiner. The first episode was Peggy Olson's first day on the job, her ears sticking out, her clothes ill-fitting, her ambitions un­formed. But with each season, Mad Men's own girl Friday has ascended the corporate ladder, gaining power, sophistication, and better haircuts, only to arrive at the end of last season in her mentor Don Draper's chair, finally wearing the literal (houndstooth) pants.
Willa Paskin's profile of Elisabeth Moss for New York Magazine is 1. great and 2. affirms the years many of us have spent deeply and actively relating to Moss' character on Mad Men. "Don may be the show's dashing face, but Peggy has always been its point-of-view character, "our Virgil," in the words of Hamm, "leading us through this hellscape of '60s advertising."
For the time being, Moss, who goes by Lizzie, is still most closely associated with Peggy, so much so that strangers often tell her how much the character inspired them to change jobs. TV has many ambitious women, but Peggy stands out among them for navigating a working world — with glass ceilings, boys' clubs, and take-me-seriously work clothes — that feels, despite its period detail, remarkably contemporary. Peggy is "the one we relate to, the one that's us," Moss says, and the legions of essays and blog posts and tweets celebrating her extraordinary ability to lean in are proof of her connection to the audience. (Peggy Olson is easily the most GIF-ed feminist icon of all time.)
But as Mad Men's fans continue to produce both Peggy Olson scholarship and Peggy Olson mash notes, Moss herself has a much less heady relationship to the character. "I don't actually work in advertising in the '60s. I'm an actor," she says, laughing. "I'm just a normal person who worries and stresses about stupid shit. I like to sleep in. I like sushi. I love what I do. I think acting is super-fun. I don't think it's something super-serious."
---
Support The Billfold
The Billfold continues to exist thanks to support from our readers. Help us continue to do our work by making a monthly pledge on Patreon or a one-time-only contribution through PayPal.