Homeless Woman Arrested For Leaving Kids In Her Car During Job Interview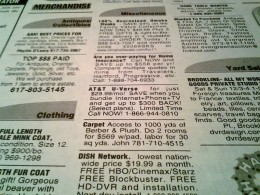 Well, this is sad as hell:
Shanesha Taylor, a woman from Scottsdale, Arizona, is homeless. So when she got asked to come in for a job interview last Thursday, she must have been excited by the prospect. But when you're homeless, there isn't always an easy way to take an hour off from watching your kids to be at an interview. That's how Taylor, 35, wound up losing her children to Child Protective Service — and losing out on the potential job.
Taylor was charged with two felony counts of child abuse for leaving her six-month-old and two-year-old in a car with the windows cracked last Thursday for at least 45 minutes as she sat in an interview for a potential job. She told officers that she was homeless, so she couldn't leave her children in the house, and she had no one else to watch them.
Taylor was released from jail early this morning, thanks in part to a local Scottsdale woman who set up a fund to raise money for Taylor's bail. "I'm just a 24 year old girl struggling like Shanesha," she writes on the fundraising page.
"It's reasonable to turn the lens back on us," Shahera Hyatt, Project Director for the California Homeless Youth Project, told ThinkProgress. "What did we do to not help her find childcare when she had that appointment?"
…[Arizona] has cut 40 percent of its total child care budget, $81 million, which led to an estimated 33,000 children who would otherwise be eligible for subsidized care to go without it. (By the numbers, that's less than California — but Arizona's population is about one fifth of the Golden State's.) Between 2012 and 2013, there was a decrease in the number of children served for every single child care program in the state except for Child Protective Services.
But even when child care programs are available, the system to help out parents like Taylor isn't always responsive enough. "There's not really a great infrastructure to provide things like that, like child care. Mom got an interview this week? She might be on a waiting list for a really long time. She can't do it at the last minute," Hyatt said.
I honestly have no idea what I would have done if it were me in this situation. Leaving a six-month old baby in a car does not seem ideal, obviously, but neither do unemployment and homelessness. I want to say leaving the kids with another person would have been better, but if you don't have someone you can trust? In some ways that would be even riskier, if not more 'acceptable' and non-criminal. And of course we can speculate all we want about what we would have done or what would have been best, but the reality is the situation sucks. As Think Progress points out, securing childcare is just one of many hurdles facing homeless people who are looking for work. Add to that an internet connection, transportation, a place to put their belongings, then having an ID or birth certificate, and it all starts to feel like one big trap.
Photo: Ian Lamont