Five Women
by Carmen Aiken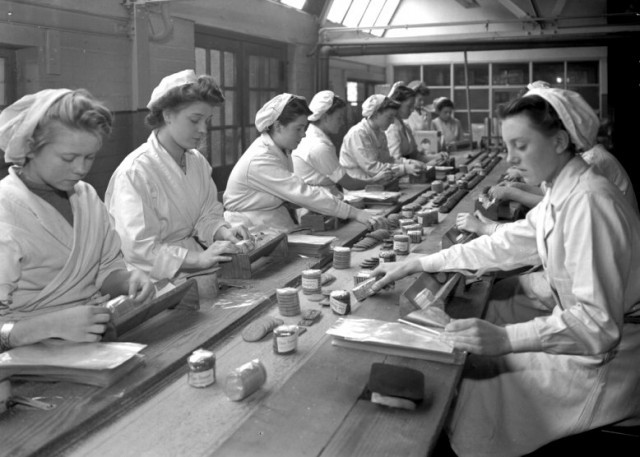 In honor of Women's History Month.
Cheryl
After doing the quintessential work of babysitting and accompanying choir soloists at auditions, Cheryl is my first real boss at my first real job — obnoxious state taxes, name tag, and all. The first weeks I am deferential and easily spooked by weekend rushes, realizing that I will always be battling to show up on time in the mornings.
Cheryl runs a tight bagel shop ship, but moves languidly and makes everyone who walks in feel like a regular, even though we all figure out who we're supposed to be comping, quick. Even though she might yell at me in the mornings when I can't pull mochas fast enough or screw up a turkey sandwich slathered in chive cream cheese, by the afternoon she tells me to sit down and just eat something, wouldja? while she leans against the POS register.
Cheryl trusts me and my high school coworkers not to eat all of the vats of icing for cinnamon twists or sit on the shelves when she adjusts the patio furniture out front smoking long light cigarettes. After a few months of her calling out, "Good moor-ning!" from the tiny manager's station in the back of the house after I careen into the parking lot, burst through the front door, and skid across tile to clock in, she fixes my timesheet so I'm always making my full hourly rate.
From her I learn how to count down a drawer, to keep people jocular when they line out the door for a dozen bagels, to close in a half-hour. I can't quite tell how old she is. Cheryl keeps her short, sandy hair styled and spiky, always seems to be leaning slightly and gets along with the toddlers sticky-ing up the tables and the old people who sit over cups of coffee for way too long. She's cozy with the suburban cops, too, which comes in handy when I get a parking ticket after staying out past curfew at a boy's house.
When I get this boy a job working alongside me, Cheryl is the one who corners him and patiently explains why he has to take me to the prom, if only so I will stop moaning over fountain raspberry iced-tea every afternoon I stop in during the weeks before I graduate. She hires me back the next summer I'm home from college when I resent living at home and fight with this boy. By this time, my closing routine is ingrained in me — I'm starting to clean the line and prep for the next day hours before the doors lock. When Cheryl walks by as I wipe down the line, she doesn't even look up from inventory but says, "Good girl." The last time I give her notice because I'm going back to school, she shakes her head and sighs like she did the first time I quit for two months due to speech team finals and the second time I left for school and says, "Why do the good ones always leave?" She then goes to shuffle the schedule around.

Sandy
I figure out pretty quick Sandy's name is probably not actually Sandy but never think to ask if it is something different in Cantonese. In hindsight that's probably the right decision. I take a job in my college's dining services because I'm not a bad barista. Something happens about a month in where the longtime lunch line cook hurts her wrist and the temps from culinary school are less competent than my fly-by-night skills. I become the student mascot of the café in the center of campus, whereas the rest of dining services rules from the top of the hill caféteria.
Sandy gets sent down from the hill to help get the café into shape. There's a corporate takeover and longtime employees are paired up with the new people and the tension won't abate until a year later. I don't remember exactly when I start to call out, "Sandy!" when I barge in the screen door into the kitchen, but my entire senior year she smiles big when she sees me then furrows her brow and makes sure I remember her orders when I do Friday morning inventory. She's always at the tables in front of the kitchen stoves, conveniently near the walk-in freezer. Every time I go in without my hoodie she tells me how she got trapped inside and couldn't shove the door open. "Don't worry, Sandy, I'll scream," I promise.
For a time I work with her on Sundays when they try and keep the café open as an experiment. I get my best friend a job and she, too, falls under the kitchen's wing, as she's been queen of back of the house for years. When it gets slow while I wait for girls to order chicken fingers or curly fries, Sandy teaches us how to make fried noodles on the flattop and how to form egg rolls. She starts to call us Eggplant and Tofu, because it is one of my friend's favorite dishes, and: "Always together! Like Eggplant and Tofu!"
Sandy always says we're the hardest workers there — that we take care of too much. She pretends to burst into tears when I have to leave to go to class, but on nights when we all close she makes us laugh by pulling the bag of compost over her shoulder and hauling it to the dumpster, yelling, "HO HO HO!"
On Lunar New Year she grins and presses a red envelope into my work-shirt pocket, helps me repeat, "Kung hei fat choi!" The other workers repeat this — her approval has allowed the rest of the women in the kitchen, Cindy, Man Ying, Mei, to joke with me. Every morning I say hi to everyone and know that Mei always needs more labels for her prep salads, and that Lan needs help taking the eggs out of the steamer. When I ride home on the bus I find the little envelopes full of cash and almost cry.
Sandy tells me about her daughter who works hard at her Minnesota college, her son who won't move out of her house, her tiny dog named Happy she worries her son's snake might eat. During a rainy and cold Sunday morning, we take the bus to Oakland's Chinatown and meet all of the ladies. They take us upstairs and treat us to dim sum, all of them pushing plates at us, laughing when I eat more than enough of the bowl of glossy red chicken's feet. In the car Sandy tells us the gossip in the caféteria, how when they all eat lunch they can watch a terrible affair play out in the café across the quad.
Sometimes she sidles up to me and conspiratorially asks for extra orders when I'm doing inventory, or for me to get another student to just do a little bit more work, and when I tell her its no problem, she hugs me around my shoulders. At commencement she and the ladies drape the college's flower necklaces they've bought for us around my neck and tells my parents their daughter works hard and is so nice.

Roselia
I'm a prep cook, not a line cook. I'm a barista, not a manager. These are the things I tell Roselia at first but she shrugs and after a year I bang through the screen door, throw my backpack in her office and say, "Hiiiiiiiiiii Roselia!" before pulling on an apron and checking how many bags of onion rings are in the freezer drawers.
Roselia's been captaining dining services at my college and knows everyone: the longtime caféteria cooks and the professors, the president of the college and her dog walker. She shields me and the rest of the workers through the corporate takeover, charming the hell out of the completely out of touch operations people the offices send over while talking smack about them as I finish making her a turkey burger.
She laughs long and sweet and loud and never says anything if I'm running late from the bus to the kitchen. The fall I return for my last year at college and thus my last year in the kitchen she's not there yet — she has gone to Burning Man, coming back with stories that makes me widen my eyes. Both years we work together she wears red and goes around shaking everyone's hands for International Workers and International Women's Day, causing the Cantonese ladies to burst into laughter. We both swoon over Joe Strummer and I love to burst into the kitchen when she plays "London Calling" on the prep stereo, loudly dueting, "Aaaaaa-what are we gonna do nooooow?"
The night before Thanksgiving she invites me to Geo Kaye's bar where we talk sex and the future and how I should just drop that boy already — she's tired of seeing me looking tired and sad in the mornings. She's always inviting us over or out, bringing tamales she's made and sending us home with them in our backpacks. She doesn't care if we drink the half-bottles of wine after catering events or golf-carting up the hill with me to grab better dinner in the caféteria without a dining plan.
Most of the time she gives advice in stories, talking to me while I count down drawers, asking about the good gossip around campus. No matter how coronary-inducing the lunch rush is or how annoyed I am at corporate or classes or what on earth I'm going to do after I graduate, Roselia calms me down or makes me laugh. At the last big party I throw before leaving she shows up with beer and a hotel pan of steaks from the cooks, and laughs at the plastic containers I "borrowed" to fill with sangria and fruit salad, shaking her head.

Sue
My best friend/roommate gets me a job at his bike shop and tells me not to be afraid of Sue. If you do your job and you're not stupid, I'll be fine. Her voice is low and she talks slow, like nothing could ever get under her skin, and her hands are soft and smell like the cucumber lotion she leaves in the office.
Somehow due to clashing personalities, I end up with more authority and get swapped into my roommate's receiver job at the shop catering to the more posh customers north of the river. Each morning I do the books and panic because one of the idiot sales guys loses a bike worth four months' rent, or the credit card sales come up short. I call Sue (if she's not already fixing the mess) at the other shop. "Helloooooo," she murmurs into the phone. "Hi Sue," is all I have to say. She sighs. "How much?" she asks.
I know I'm in good with her when she starts letting me get her coffee and lunch. I'm quick to haul the bikes in boxes up the stairs and into the hot second floor warehouse, managing to check them in fast and get them off the floor. I fix all my screwups and admit when I'm wrong, which seems like all the time that sticky summer. When she senses I'm about ready to kick over the boxes of padded shorts and single-speed chains she sends me to get her a beef and cheddar croissant, fries (no salt) and tells me to take my time.
The local bike shop empire I reconcile credit cards and order components for stretches across the city and has held solid for 40 years or so. Sue's worked for the family-man head honcho for most of it, she says, and rules the south stores. Whenever we complain about him, she shushes us but rolls her eyes every time he comes in to turn off the air conditioning or inspect the new Gatorade cooler. She likes to page people on the PA even though the office is within yelling distance of the shop or the front counter, using a sweet voice, freaking everyone out who might have screwed something up.
Her hours are her own. She drives her elderly neighbor to the hospital some mornings, or has to run to the big boss's house to pick up paperwork, or get the mechanics to shove a bike in her backseat because someone forgot to send a picky customer's order on transfer. Afternoons when we shoot the breeze with the mechanics she'll swan through the doors with her reflective sunglasses on and purr, "I'm not here." After hours when we clear through thirty racks of bad beer in the shop, anyone who even feints at complaining about her immediately gets yelled down. Sue keeps an eye out on each and everyone one of us, of "Youze guys," and when she says that we all laugh. Her South Side vernacular keeps me on my toes. "Honey," she shakes her head and bark-chuckles, "You could do that, you could sell ice to the eskimos."
When the season ends and I go to start graduate school she tells me to call her next spring — that she'd take me back. "I'll come visit!" I promise.
"Ha!" she laughs. "That's what they all say."

Ma
All the work I've done I've at least had the option to commiserate with my mother. When local bigwigs I bring Crown 7's to at my private club cocktailing job slur sloppy, she shakes her head. When I rant and rail about inventory, she gets it. She's been working her whole life, knows how to pack a grocery bag, how it was to patiently wait for someone counting food stamps at her discount grocery store cashier job she worked throughout high school.
My mother is kind, patient with people in the service industry, writing letters to their corporate offices with a commendation for how gracious they always are when they get her coffee. In store lines she'll apologize for how crazy some people can be, or at restaurants when a drink is slow. When out with my father she'll harangue his tight-tipping skills, makes me double check he's leaving enough money.
I don't appreciate this until I'm older and have continued to work in service jobs. It embarrasses me as an adolescent. What embarrasses me now is how out of depth I've been in understanding how my mother went from scrappy, brilliant high-schooler at the Big Ten Warehouse Grocery to MBA graduate and small business owner. There are so many things I can't put together outside of my conception of enormous consulting firms and auditing until I grow up, until graduate school shows me how many moving parts there are to money and finance and getting by — to the entire world.
My mother was younger than me when she climbed up grain elevators and public housing projects for work. She teaches me to do good work for people, tells me stories of being a tiny skinny gringa talking to high schoolers at the predominantly Puerto Rican Benito Juarez High School, proving to the young women they could be career women, punching calculators and computers, overseeing enormous cash flows. "We dressed like men, then," she tells me, big boxy blazer shoulders to try and battle off the lecherous and idiot bosses ruling over most of corporate America. The girls she tried to mentor cited this as a reason they might not be interested in that particular future.
These stories hit me harder now while navigating graduate school after being in a traditionally women's college with the men who run ram shod over everyone else, watching young men with connections jump into wonderful jobs, their disdain for community service or altruism. A perennial extrovert, she's still friends with women from the battle days. My mother tells me they worry about young women my age, how she thought things might be getting better, but maybe they aren't. I tell her there aren't Boom Boom rooms anymore but worry she might be right, leaning in or not.
But she has taught me how important it is to keep trying to help other people out, connecting them with the people you know. I've gotten so many people jobs this way, love to connect people to each other because I can. When people are surprised at the odds and ends of my knowledge — the gossip, the people, the opinions on U.S. tax code, the ability to do my own taxes, I smile and think about calling my mother.
Lately I find myself saying to people, "My ma always says, 'It's better to be lucky than smart.'" With all of the women who looked out for me, I'm absolutely certain this is true.
Carmen Aiken is a writer and city policy graduate student living in Chicago. Photo: Wikimedia Commons