Slashing Our Grocery Bills and Cooking on a Budget
by Beth Moncel
Earlier this month, one of our favorite food bloggers, Beth Moncel of Budget Bytes, released a new cookbook with more than 100 recipes geared towards helping people slash their grocery bills. Beth and her publisher were kind enough to give us an excerpt of the intro to her book as well as one of her favorite recipes.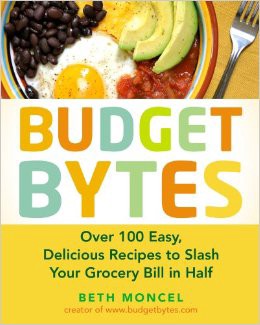 Budget Bytes is available at many of your favorite booksellers.
• Indiebound
• Amazon
• Barnes and Noble
• iTunes
• Books A Million
I had just earned a degree in nutritional science for which I'd spent considerable time learning how to create healthy meals on low-income budgets. I dutifully employed the basics, like brown-bagging my lunch, avoiding convenience foods, and cooking meals at home, but it just wasn't enough. Not only was I bored with the food that I ate, but somehow I always seemed to spend more money and waste more food than I meant to or could afford. Certain that I could do more to ease my money problems, I decided to buckle down and crunch the actual numbers . . . like down to the penny. I had taken many foodservice management courses and, while I didn't particularly enjoy them at the time, the lessons suddenly flashed through my mind. I thought about how commercial kitchens managed expenses by planning menus, calculating recipe costs, and always repurposing leftovers. Maybe I could do the same thing in my kitchen, I thought. I knew it was going to take some effort and serious dedication, but hey, I love a good challenge and I desperately needed to save some money! I can't lie — the data geek in me was a little giddy with excitement about the project. So, I started planning, cooking, and calculating.
I initially started with the goal of eating on less than six dollars per day, using Excel to track the cost of every single thing that went in my mouth. It was pure nerdy fun and I was totally into it. The calculations were extremely insightful from the start. I quickly learned which ingredients burned through my food budget and which helped stretch it.
Putting my newfound knowledge to work, I was soon cooking twice as much food for half the cost.
At work, my delicious home-cooked lunches started to make my coworkers jealous.
While they ate soggy submarine sandwiches, I indulged in stir-fried ginger beef and fragrant jasmine rice. The ooohs and ahhs that erupted as I heated my homemade lunches let me know that I was onto something. On one particular occasion I was so excited about my low-cost creation that I posted about it on Facebook. Friends started asking for the recipe and that got me thinking . . .
Should I start a blog?
Honestly, I barely knew what a blog was, but I did know that the economy had just tanked and I wasn't the only one who might need low-cost recipes. I also knew that the art of cooking had nearly been lost on my generation. When manufacturers start selling microwavable cups of macaroni and cheese because boiling water is too complicated, you know that there is a need for basic cooking instruction. Maybe I could help, by posting my simple, inexpensive recipes and step-by-step instructions. I decided to go for it.
And thus, Budget Bytes was born.
As it turned out, I severely underestimated the number of people who were in need of easy, delicious, and inexpensive recipes. Just a few short months after I started the blog, comments began to pour in. I got e-mails from all sorts of people who were, like me, struggling to make ends meet, but not willing to sacrifice good food or their whole paycheck to get it. College students, recent graduates, single parents, bachelors, military families, people struggling with medical conditions, and more were all looking for great food on a dime. With every e-mail, every comment, every "thank you" from a reader, I was motivated to create more. The more I created, the more I learned, and the more fun
I had sharing what I learned.
Although my budget today is not nearly as tight as it once was, I continue to live and eat by my Budget Byting philosophy and share my experiences with anyone who is interested.

Budget Bytes: Easy Pad Thai recipe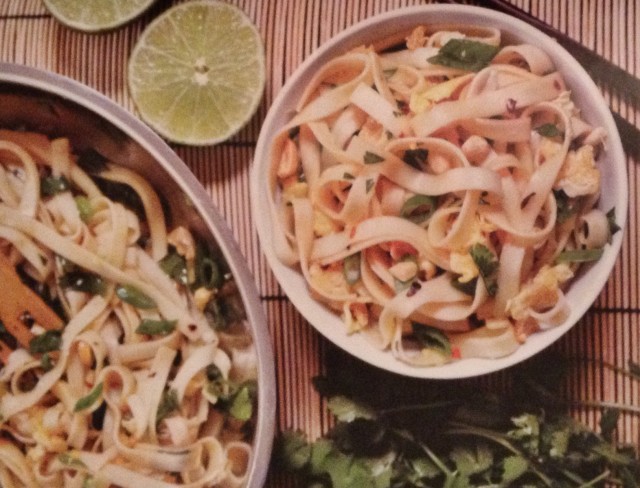 Serves 4
I'm probably not supposed to play favorites, but this recipe is definitely my favorite. Pad thai is the epitome of simple ingredients creating dazzling flavor. It's fresh, light, exotic, and faster than any takeout (unless, of course, you happen to live above a restaurant that delivers). Fresh lime is key to creating the unique flavor, but one lime should be enough for a single or even double batch of this noodle dish. Fish sauce, which you can find in the Asian section of most major grocery stores or at Asian markets, gives this pasta a more authentic flavor, but if you can't find any, skip it; this dish will still rock your world.
INGREDIENTS
8 ounces pad thai or lo mein noodles
2 tablespoons vegetable oil
1 clove garlic, minced
2 large eggs
1 1/2 tablespoons soy sauce
2 tablespoons fresh lime juice (from about 1 medium lime)
2 tablespoons brown sugar
1 teaspoon fish sauce
1/8 teaspoon red pepper flakes
3 green onions, sliced
1/4 bunch fresh cilantro, leaves only, roughly chopped
1/4 cup chopped, unsalted peanuts
INSTRUCTIONS
Bring a large pot of water to a rolling boil. Add the noodles and cook for 7 to 10 minutes or until tender. Drain the noodles and set aside.
In a large skillet, heat the vegetable oil over medium heat. Add the garlic and cook for 1 to 2 minutes, or until tender.
Whisk the eggs lightly with a fork. Pour them into the skillet and cook just until they solidify, but are still moist, moving the eggs around the skillet slightly as they cook so that they lightly scramble. When the eggs are cooked, remove the skillet from the heat and set aside.
In a small bowl, stir together the soy sauce, lime juice, sugar, fish sauce, and red pepper flakes. Pour the sauce into the skillet with the scrambled eggs. Add the noodles and toss to coat in the sauce.
Sprinkle the green onions, cilantro, and peanuts over the noodles. Toss lightly to combine. Serve warm.
BUDGET BYTE: Pad thai noodles have a unique flavor and texture, but if you can't find them in your area, try substituting another flat pasta like linguine.
CHEF'S TIP: To get the most juice from your lime, roll it on your countertop while applying pressure before cutting it open. This causes the juice capsules to burst and release more juice.
Reprinted by arrangement with Avery, a member of Penguin Group (USA) LLC, A Penguin Random House Company. Copyright © BETH MONCEL, 2014.
---
Support The Billfold
The Billfold continues to exist thanks to support from our readers. Help us continue to do our work by making a monthly pledge on Patreon or a one-time-only contribution through PayPal.