Martha Stewart's Daily Beauty Regimen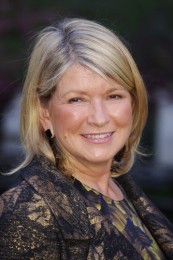 There is slathering, and then there is SLATHERING. The internet / the universe / humanity received a beautiful gift yesterday via the New York Times, and it came in the form of Martha Stewart sharing a painstaking list of every single product she puts on her face and body. Behold:
I slather myself with serums. First, it's a toning lotion. Right now it's either the Yon-Ka Lotion or a more specific spray, like the rose spray from Mario Badescu. I spray my whole face and body and then its Susan Ciminelli Marine Lotion from head to toe. I use the same products on my body as I use on my face. I don't think there's really any difference between the two, so the more moisturizers and serums you use, the better off you are. Then I might use a vitamin B or SkinCeuticals C E Ferulic serum. I'll also put on Clé de Peau or SkinCeuticals moisturizer. With all of these serums, I find I don't have to put on an eye cream, although my facialist insists I put one on. Sometimes, I will and the Clé de Peau is good or Caudalie has one — it's the fancy one from their high-end line — and it's very good, too. At the end, before any makeup, I use SkinCeuticals Physical Fusion UV Defense. If I'm not going to use foundation, I'll use the tinted version, or if I use foundation, it'll be the white one. Otherwise, I do my best to stay out of the sun. That's very important. I do a lot of outdoor activity like gardening and I try to cover up and do SPF. Actually, I just bought a new sun hat that goes over your riding helmet. It's pretty ugly, but it works.
If I'm traveling that day, I'll be sure to have my Yon-Ka Lotion with me, which is a spray. On a recent plane ride to L.A., I sprayed myself five times. It's hydrating, so I don't look like a prune after flying.
Emphasis mine, because I want to see a photo of that.
Now after you read the whole thing and are finished lying prostrate and rending your garments, you may have a few questions. Namely, "Hey how much does this shit cost anyway?" Lucky for us, Jolie Kerr, hero, has already done the legwork. Over at Jezebel she has done some detailed accounting of the cost of everything listed, and honestly, the damage is not as bad as I suspected.
Totaling about $2,000, some of these products are "Girl you sprayed that how many times a day?" expensive, but some are "I just got paid and am gonna buy some nice lip gloss" expensive (Buxom lip gloss, $19, anyone recommend it, and if so what color should I get?). Though that means $2,000 to buy all of it once so like yeah that eye cream is $250, but it is only 15 mL, and apparently 15 mL is ONE TABLESPOON, so even if you are only supposed to apply "a single grain of rice" to each of your eye bags every day (I guess have your pet spider take care of this step for you, if available), you are going to be re-upping on some $250 Clé de Peau on the regular.
WORTH IT.
Photo: david_shankbone