Questions to Ask Yourself While Shopping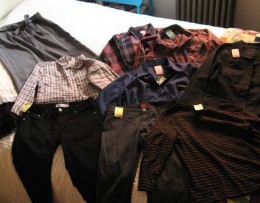 My high-risk situation? The mecca of teen shopping: Forever 21. Chandeliers hang from a gold-painted ceiling, pop music is blasting, and there are racks and racks of dangerously cheap clothes. On a recent visit, inside the dressing room, I played back in my mind the six questions Benson suggests her patients ask themselves before making a purchase.
"Why am I here? How do I feel? Do I need this? What if I wait? How will I pay for it? And where will I put it? And if you can answer those questions, preferably in writing, to your satisfaction," Benson says, "it's probably not a compulsive purchase."
Youth Radio took on the question of, How do you know if you have a shopping problem?, and talked to a psychologist about compulsive shopping.
"Where will I put it?" is probably the question that has prevented me from buying things the most, though I'd still really like to have a Kitchenaid stand mixer.
Photo: B.