Don't Forget Your Change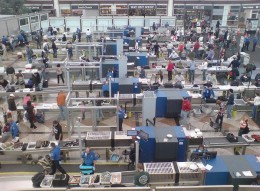 TSA outposts at hub airports, such as John F. Kennedy International in New York or Dallas-Fort Worth International in Texas, collect cash from smaller regional airports, then forward it to TSA headquarters in Arlington. Passengers entering Miami International Airport left the largest amount of change at security last year, $39,613, while people leaving Las Vegas — perhaps flush with slot machine winnings — forgot $26,900.21.
Passengers left $8,207.21 behind at Baltimore-Washington Thurgood Marshall International Airport, $5,247.56 at Reagan Washington National Airport and a whopping $16,536.92 at Washington Dulles International Airport, the report said.
According to The Washington Post, Americans left about half a million dollars in forgotten change while going through airport security last year. My plan of action of going through airport security is to dump everything I have in my pockets into one zippered compartment of my carry-on rather than in the bin, though I suppose if you don't have a bag or carry-on with you, it makes it easier for you to forget (I also imagine people rushing to their gate and leaving their change behind on purpose).
But the most interesting part of this story is that the TSA hasn't figured out what to do with the money besides fix some signs at the cost of $6,000 because the cost of spending that money could be greater than the money collected:
A similar measure Miller introduced in the last Congress, H.R. 2179, would have awarded the money to United Service Organizations, Inc., the nonprofit that runs in-airport lounges for military personnel. The Congressional Budget Office estimated [pdf] that collecting, accounting for and transferring the money to the USO would cost $1.2 million — $700,000 more than the actual amount collected.
Makes sense.
Photo: Dan Palushka
---
Support The Billfold
The Billfold continues to exist thanks to support from our readers. Help us continue to do our work by making a monthly pledge on Patreon or a one-time-only contribution through PayPal.