Employee Discounts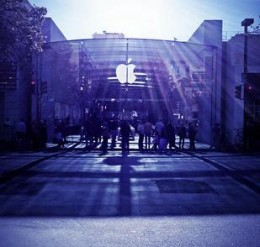 When my friend Nate meets someone new and they hear he's a doctor, he dreads when they ask, "What kind?" Because when he says he's a dermatologist, they show him their moles.
When someone finds out you work in an Apple Store, you brace yourself for two questions. First, they ask if you get an employee discount. Since you do get a limited number of purchase discounts to share, you have a decision to make.
I'm really enjoying J.K. Appleseed's column at McSweeney's about what it's like working at an Apple store (and this one is mostly about figuring out what's wrong with people's iPhones when they come into the store), but I particularly liked the opening of this one because of the "What do you do?" factor, and because when someone discovers you are working retail and it's a store they like, the discount question can hang in the air.
I've worked at two retail locations — one in high school and one in college. I worked at a baby store in high school as a cashier, which meant none of my friends wanted discounts, and I worked at a bookstore in college, but again, no one wanted discounts because they shopped on Amazon.
Appleseed shares some customer service stories, and I have a bunch of those, but perhaps I'll save that for another day.
Photo: Cdweber
---
Support The Billfold
The Billfold continues to exist thanks to support from our readers. Help us continue to do our work by making a monthly pledge on Patreon or a one-time-only contribution through PayPal.