The Loaded Question of "What Do You Do?"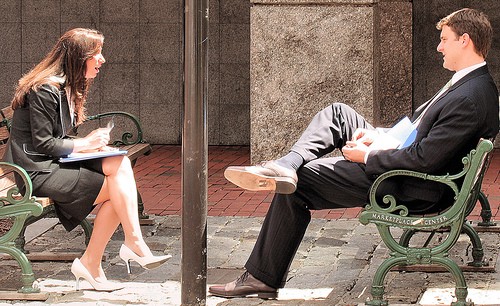 "What do you do?" is the mother of loaded questions. According to Elizabeth Spier, former editor-in-chief of the New York Observer, the traditional conversation-starter comes with a whole lot of other implicit questions, like "How much money do you make?" "Is what you do significant?" and "Do we have anything in common?"
For those who take pride in their title and the organization they work for, the question may come as a welcome opportunity to assert their status, and a chance to align who they are with the prestige of what they do. And for those who don't, it's simply a bad way to start a conversation.
Is asking "What do you do?" a conversation killer? Elizabeth Spiers says that when she meets people, she would almost prefer to answer questions like "How do you feel about your mother?" and "What's your favorite sexual position?" because people may read less into the answers to those questions than the answer you'd give to "What do you do?"
What you do does not always define who you are, and I don't mind answering that question so much because I enjoy what I do and discussing some of the stories I'm working on can carry a conversation if I'm not sure what else to talk about. But when I worked in jobs I didn't particularly enjoy or when I was unemployed, that question was met with dread — I'd rather talk about my favorite TV shows, or interesting stories in the news. Anything other than work, basically. In addition, the connotations of being a "writer living in New York" aren't always so flattering, because sometimes people read things like elitism and destitution in it.
Of course, we also can't help being defined by what we do. Spiers brings up the example of Tim Hetherington, a photo-journalist who often worked in war zones. Hetherington was widely known for the work he did, but a documentary by Sebastian Junger also revealed other sides:
Just before he left for Libya, he expressed reservations about continuing to work in conflict zones. It had cannibalized other parts of his life. He wanted to pursue a long-term relationship with his girlfriend. He wanted a family. He wanted to explore doing different kinds of work. But he decided to go back into the field one last time and didn't come back. It would be disingenuous to argue that Hetherington's work wasn't part of who he was, but as Junger's documentary so beautifully illustrates, it wasn't all there was of Tim Hetherington.
Here's another question asked with multiple layers: "Where are you from?"
Photo: Search Engine People Blog
---
Support The Billfold
The Billfold continues to exist thanks to support from our readers. Help us continue to do our work by making a monthly pledge on Patreon or a one-time-only contribution through PayPal.