A Carny Dream Deferred
by Evan DeSimone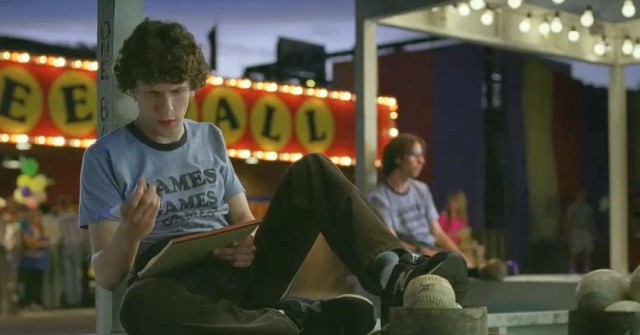 Some kids dream of running away to join the circus. I'm from New Jersey, so my dreams were decidedly more low-rent. When I was I kid, I decided that the ultimate in carefree lifestyles was that of an itinerant carnival worker, otherwise known as the carny. I had absolutely zero interest in learning the trapeze or taming lions, all of which seemed dangerous, and frankly, a bit limiting from a career perspective.
Instead I dreamed of becoming one of the grizzled few who harangued teenagers into playing deftly rigged games of skill, one of the wizened operators of hastily assembled thrill rides, or at the very least, a convivial purveyor of deep fried fair foods. To be fair, my conception of the carny life was mostly a mashup of circus roustabout and old-timey cartoon gypsy. Even after I grew into my teenaged cynicism and realized that carny life involved approximately 90 percent fewer quirky fortune tellers and 95 percent more illegal drugs, the life still held a vaguely mythic appeal.
The first time I considered becoming a carny was the summer before my junior year of high school, and like the reticent overachiever that I was, I had managed to avoid getting a summer job by committing to a complicated scheme of enrichment programs, volunteer projects, and sundry nerd-centric sleepaway camps that would later pad my college resume. In that spirit, the first two weeks in August were dedicated to volunteering at the county fair. On my very first volunteer day, I was offered a gig working in the funnel cake booth. It felt like winning the proverbial brass ring, but my parents had their eye on the bigger prize; in their minds a scholarship for all my good deeds would be inevitable and would help to defray the exorbitant cost of higher education, but for me, there was only the siren song of extruded deep-fried dough. Unfortunately, I was outvoted and so my dream was put on hold, transforming into a postgrad fantasy.
I ran face first into the Great Recession when I finished college in 2008. Undaunted by the unavailability of jobs and the unraveling of the global economy I decided that my best bet was to follow through on a plan to travel abroad for month or so with friends. All was well until I found myself sweating in the heat of the Jersey summer with $200 in my bank account and no immediate prospects for gainful employment.
Fortunately summer in New Jersey meant that the county fair would soon appear like a mirage on the horizon, tempting me with a deep fried adventure. This time, I was far more resolute than I had been as a teen. I perused the website of firm that specialized in operating carnival midways, game booths, and food concessions. I figured since most of my friends were biding their time waiting tables or working retail jobs, I could do worse than to find a job that allowed me to travel across the mid-Atlantic states of our great nation bringing joy and semi-hygienic food products to the masses.
I was on the verge of following through on this plan when a long forgotten application somehow produced a full-time job offer, and looming student loan deadlines forced me to accept it. My dream would once again lie dormant until it was awakened by corporate ennui.
Two years later, I found myself clambering slowly up the corporate ladder, and suffering from that most common of millennial afflictions: not feeling loved enough at work. When the hazy days of summer rolled around, my thoughts once again turned to the midway. This time, I had a more fully realized vision for my dream. I would quit my job and become a ride carny; they were the most adventuresome and worldly types, often missing fingers or perhaps even an eye due to a rogue Ferris Wheel engine or a runaway Tilt-A-Whirl car. I would travel with the carnival for a finite period of time, all the while cultivating a popular carnival blog. My pithy observation of the carny subculture would invariably lead to a book deal, which would then lead to an appearance on This American Life where I would immediately become best friends with Ira Glass.
All the pieces were in place. I had even contacted a midway management company and submitted an application when my quarter-life crisis was unexpectedly wrestled into submission by my desire to have health insurance and not live in a van.
"What happens to a dream deferred?" I'm pretty sure it becomes your post-retirement employment plan. I have not contributed to my 401(k) this year, but I have researched the price of industrial frying vats and RV's. By the time I'm retired, I will probably have neither the physical vitality of a ride carny nor the rampant social aggressiveness of the games carny, so I'll have to resort to becoming a food carny, the most gentle of the three carny tracks.
Assuming that deep frying Oreo cookies hasn't been outlawed by the year 2053, I think this sounds like a totally valid second act.
Evan DeSimone is a full-time corporate sellout and part-time internet scribbler. He tweets nonsense here and is not yet best friends with Ira Glass.