My Landlord Ratted Me Out to the Cops
by Michael Hobbes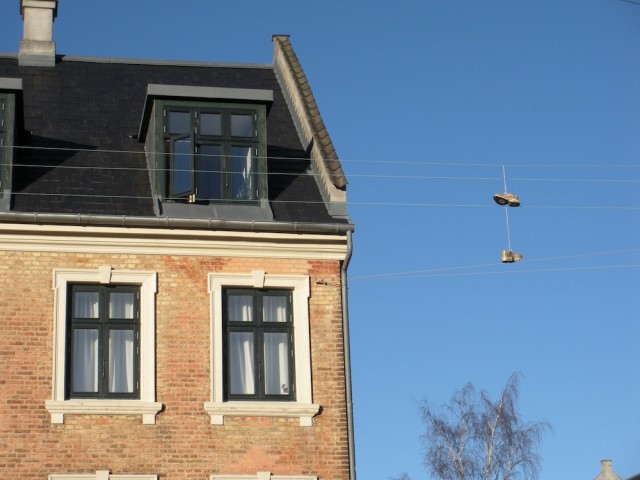 The door buzzer rings at 7 a.m. on a Wednesday.
"Politi!" the intercom shouts in Danish.
"What?" I say.
"Police!" English this time. The buzzer rings two more times.
I have been renting a room from Inge for four months now. She is in her mid-60s, tall and blond and slender, the glowing grandmother in a Nivea commercial. The only thing that shows her age is her voice, a Beverly D'Angelo baritone that hides consonants behind long vowels. "Be here tomorrow at seven," she said yesterday. Be hee tomohh at seh-hen. "We need to go over some house things."
"What is this about" I ask the intercom. Inge's not even here, her door is open and her bed is made. She must have slept at her boyfriend's last night.
"Police!" it says again. "You have to let us in."
I buzz them in and crack the door.
As I listen to two pairs of footsteps coming up the stairs, I make a mental list of crimes I have committed recently. I bought a bike from a flea market. I downloaded a torrent of Ratatouille. I regularly throw away wine bottles I should recycle. I know Denmark is socialist and everything, but do they really send cops to your house for stuff like this?
We only live on the second floor but they're panting from the climb, and I can smell that they've been outside smoking cigarettes while they waited. They have matching denim jackets and beer bellies, both in their mid-40s, both massive, but one is slightly rounder than the other and has a fake tan. They look like they just came from the stands of a soccer game.
I'm wondering if they are even cops until they show me their badges. They push past me and then invite me into my kitchen.
"Have a seat," the one with the fake tan says in Danish.
"Can we do this in English, guys?" I say in English. I've only lived in Copenhagen for a year, my Danish vocabulary is somewhere between kindergarten and George of the Jungle.
"Your Danish is fine," he says in Danish. "You know why we're here, don't you."
"I lost my wallet last week, did someone find it?" I say, struggling to get the words out in Danish.
"You stole credit cards and ordered a bunch of shit online," fake tan says. "We know it was you."
"Wait, what?"
This is the point where, later, my coworkers at the human rights NGO where I'm working tell me I should have stopped the conversation. "Why didn't you ask for a lawyer?" "You had the right to an official translator!" "Did you get their badge numbers?"
But there, at the kitchen table, this accusation is so outlandish, so obviously some sort of misunderstanding, that I forget all about my rights and my shitty Danish and why these cops are even here. I just want to convince them that it wasn't me and for them to go away.
"… Nuh-uh." I say.
"Yes you did," fake tan says. "We traced the crime back to this apartment."
"We need to confiscate your computer," the paler one says. It's clear they're already convinced I'm guilty. Being here is just a technicality. "Where is it?"
I lead the cops to my room.
"Two computers," fake tan says like David Caruso. Gotcha. Paleface takes out a notepad just to write that down.
"I bought a new laptop in January," I say. "I just haven't gotten rid of the old one yet."
"You sure about that?" fake tan says, as if I have just told him I can walk through walls.
"What exactly do you think I did?" I ask.
"You've been stealing credit cards, ordering movie tickets online and then returning them to the theaters for cash," he says.
Huh?
"The transaction was done from the wireless network in this apartment."
"But our wireless network is unsecured," I say. Inge asked me to put a password on the Wi-Fi ages ago, but I couldn't read the Danish on the configuration well enough to set it up.
"And you're the only one who has the password," paleface says. He might as well have put on shades. Case closed.
"Wait, no, there's no password," I say. "Anyone could use it. All of our neighbors, anyone at the café downstairs." I sit down and open up my laptop. "See, there's our network. No little padlock icon next to it."
"No. The internet doesn't work that way," fake tan says. "You need a password."
Their certitude is not cracking. Either this is a tactic, the Danish version of good cop bad cop, or they genuinely didn't know that open Wi-Fi networks exist. I don't know which possibility is worse.
"Our network is unsecured," I say, trying to italicize as I speak. "Do you guys really not know what an open wireless network is?"
"What were you doing the night of November 15th?" Fake tan says, changing the subject. Paleface makes a kind of "booya!" face. We'll ask the questions, punk.
"That was four months ago," I say. "I have no idea."
"If you can't prove what you were doing that night, we're arresting you right now."
This is where I remember about my rights and stuff.
"No you're not," I say. "I am not stealing credit cards online. I have a steady job, a decent salary, savings in the bank. It makes no sense I would go through some amateur-hour scam just to make, what, an extra few days' pay? I don't have to prove I didn't do this. You have to prove I did."
Except that my Danish was hella shitty, so what came out was more like, "No, you never. I no steal. I have job, lot money. I no prove, you prove."
The cops looked confused.
"Your whereabouts on November 15 please," fake tan says.
I sit down to check my e-mails, scrolling through November to find a concert ticket, a dinner invite, something indicating where I was on some random weeknight last year. I'm still hoping I can just make this go away.
The cops are standing behind me, watching my screen.
"Wait," fake tan says. "You said you bought that computer in January?"
"Yeah."
"So how are you checking your e-mails from November?" Bam, the jig is up. Paleface starts writing furiously in his notepad.
Oh my god it's not a tactic.
"Are you kidding?" I say. I try to express the situation, but my Danish isn't cooperating. "Mail no lives on computer. Lives on Internet."
"We're taking these," he says. "And your router. Now: Where's Inge's computer?"

Inge.
That's why they're here.
I can imagine the conversation: The cops contact her, tell her there's suspicious activity on her internet. "That's strange," she tells them. "The only person with the password is this random 25-year-old foreigner…"
No wonder the cops think it's an open and shut case. They must have asked her to serve me up to them. That's why she asked me to be home this morning, why she's not here now.
"We have Inge's permission to confiscate her computer." Paleface says.
I take the cops into Inge's room.
"That's her computer," I say. She has an old iMac, it's a lump of pastel blue on her desk.
"Where's the computer?" fake tan says.
"Right there, on the desk," I say.
He crouches like he's about to crawl under the desk. "No, the computer."
You've got to be fucking kidding me.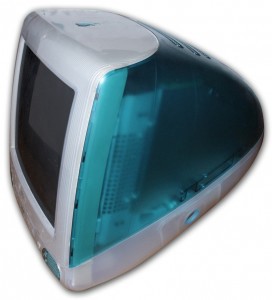 "That's the computer."
"That's the screen." He was using the voice for when you explain appliances to a four-year-old. Mr. Refrigerator makes things cooooooold. Mr. Oven makes them waaaaaarm.
"I'm looking for the compuuuuuter," he says. "Where the daaaaaata goes. Do you understand?"
"I know what a computer is." I say. I used mine to hack credit cards, remember? I think about saying but don't. "The computer is inside the monitor."
"They put it inside the monitor?" he says. This was February of 2008.
"Yes, it's all one unit," I say.
"New technology, huh?" he says. Paleface is nodding, impressed.
I blow the dust off the keyboard and hand it to him. "Do you mind if I get your badge numbers?"

They come back two weeks later.
Inge has been sleeping at her boyfriend's most nights. On the rare occasions when she's home, we make small talk like nothing happened. The weather, the laundry, how's work.
Seven a.m., the intercom buzzes again, and this time Inge's home. The two cops are at the door, holding our computers. I'm confident I'm not going to jail ("If you do, the European Court of Human Rights is going to hear about this" is a constant refrain at work), but I'm worried they'll find Ratatouille, as well as some, um other stuff I would rather not have to defend my possession of in open court.
"So you know I wasn't stealing credit cards?" I say in the doorway as paleface hands me my two laptops.
"The case is still open," fake tan says, putting Inge's iMac down on our welcome mat. "You're still a suspect."
"You know it wasn't Mike," Inge says in Danish. "You told me that earlier on the phone. It's my fault for not having a password on the Wi-Fi."
"We'll let you know when we close the case," fake tan says.
Me and Inge never talk about how she gave me up to the cops. I'm not even all that pissed off about it. She genuinely thought I was the only person with the password. I probably would have given me up too.
As I help her carry the iMac back into her room, I tell her the cops had never seen one before.
"Oh great," she says, "they should be solving this case any minute now." We never hear from them again.
Michael Hobbes lives in Berlin. He blogs at rottenindenmark.wordpress.com.
---
Support The Billfold
The Billfold continues to exist thanks to support from our readers. Help us continue to do our work by making a monthly pledge on Patreon or a one-time-only contribution through PayPal.