What's Your Fantasy?
by Logan Sachon and Lauren Rodrigue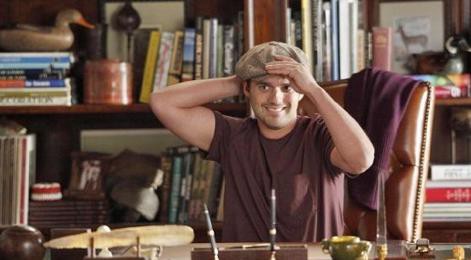 Logan Sachon:
The person I'm talking to in this bar is going to give me a job and I don't even have to apply and the job description is to do nothing and also it pays very very well.
The person I'm talking to in this bar is going to invite me to stay in a seaside villa.
When I'm making confirmation calls at work, one of the messages I leave will be for a voiceover agent who will recruit me for my raw talent.
When crossing the street I'll get hit by a car but not enough that I'll actually get hurt, just enough to sort of push me over dramatically, and a very rich person will be driving the car and that rich person will feel so bad and scared of lawsuits that he will give me a very large amount of money.
The next person I fall in love with will conveniently have a lot of money. Just loads of it.

Lauren Rodrigue:
I live a life of mild but loving housewifery. I've had a career, but don't want a career anymore. I want my career to be lemon cakes, draping clean sheets over the bed and admiring the little puff of air that gets stuck in the center because I have stretched the corners so tightly and so neatly. Preparing a new flower arrangement for the kitchen counter every 3–5 days, as needed. Yoga in the middle of the day when there's hardly anyone else there. Cooking him steaks. Watching him eat. Thinking about when I'll ovulate next. Spending long hours at the grocery store, and buying things in bulk. A career where the only shoes I'll ever have to wear are ones with soft soles, even though I can have a closet full of heels if I want it.
Something wonderful is waiting for me in the mailbox. (I have been unlocking the mailbox with such excitement these past couple of years, I don't know why. I really don't — I don't even get Vogue anymore, so I'm not sure what I'm expecting. But every time I think, free money inside! Job offer inside!) Once I got a letter from the New York Times and before I opened it (because I truly didn't know they sent subscription offers to people who aren't even on their mailing list) I spent no less than 10 full seconds thinking, "Well it must be that they want me to write for them, and this is their letter asking me to do so." Or, imagine I just open my mailbox on a regular day, and there are streamers and little helium balloons waiting for me in there, and a cocktail, and a new dress, and a little letter with an address written in cursive of where a party just for me is going to be held tonight.
I am at the deli. I am paying for my sandwich, and while the cashier is ringing it up she catches me fingering one of those chocolate pound cake slices, the ones that are tar-black and so moist-looking they stick to their cellophane wraps like a kid pressing his face against a window in winter. "Take it," she says, winking.
I am in Nordstrom Rack. There is a beautiful maroon bustier-and-knicker set. It is on sale for $10.
I am at a bar. I am alone, but it's ok, I'm ok with that. It's Tuesday or something. I have stopped into a bar on the way home from work because, what the hell, I thought. I'm reading and having a drink, and someone next to me starts talking to me, and we talk about what we both do, they are an editor somewhere wonderful, and I'm me, and while I'm in the ladies room fixing my hair, the person has Googled me, they have liked what they found.
(I guess I do want a career, after all.)
Lauren Rodrigue lives in Brooklyn.
---
Support The Billfold
The Billfold continues to exist thanks to support from our readers. Help us continue to do our work by making a monthly pledge on Patreon or a one-time-only contribution through PayPal.