How Two Friends Turned Their Online Shop Into a Brick and Mortar Store
by Beth Hillman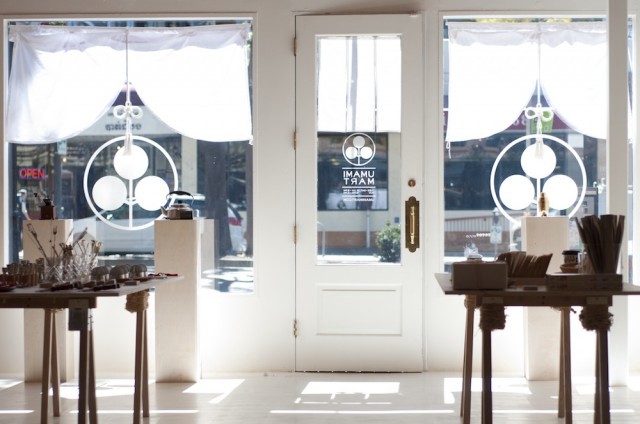 High school friends Yoko Kumano and Kayoko Akabori started Umami Mart as a food blog in 2007, mostly to tell each other about the delicious dishes they were eating in Tokyo and New York, their respective cities. In 2010, they decided to reunite in the San Francisco Bay Area, almost on a whim, with a vague idea about growing their website. They launched an online shop, and two years later, in a somewhat improbable space in Oakland with minimal foot traffic, they opened a brick-and-mortar shop. Their stylish Japanese cooking and cocktail goods store has generated a lot of buzz, glowing press and a growing business. About a month ago, they added a "conbini," (a Japanese convenience store) section to their shop.
I recently talked to Yoko about the process of transitioning from an online shop into a physical space.
Beth Hillman: How did you decide to add an online store to your blog?
Yoko Kumano: It was basically because we were paying minimal costs for the blog. So we thought, Why don't we import a few items from Japan? And hopefully in the process be able to sustain the blog.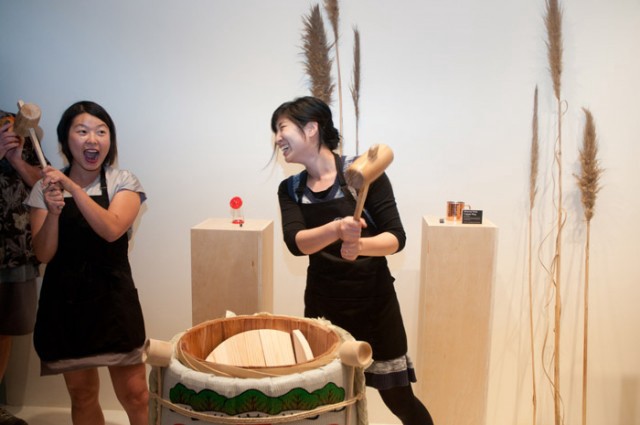 Kayoko Akabori and Yoko Kumano at the opening of their store.
BH: So you started with only a few products. How did it grow from there?
YK: We happened to start importing cocktail ware when no one else had honed in on the quality of Japanese cocktail ware. It was good timing, it was luck, it was our ability to work with manufacturers there directly. And to work with Japanese people took convincing initially — it took a while for us to convince them that this was a viable, stable market. We launched in 2010 before the holidays, and by the holiday season 2011, it was taking over, if not completely my life, at least my apartment. There was bubble wrap everywhere, boxes everywhere. It started to take on a life of its own.
BH: So when did you decide to start the brick-and-mortar store?
YK: In March of 2012, we did a pop-up in a little gift shop around the corner. That kind of got us thinking, Maybe we should have a store? Being in a physical environment was really exciting. But I was still doing freelance work and Kayoko was bartending and it was hard to make the leap. But there was a program called the Popuphood here in Oakland, which allows entrepreneurs to move into a space for six months rent free, and, if it works out, stay there permanently. This space came along and we were like, it's not a high-traffic area, it's not a retail area, but let's try it because it's totally risk free. So we opened on August 3, 2012, a year ago.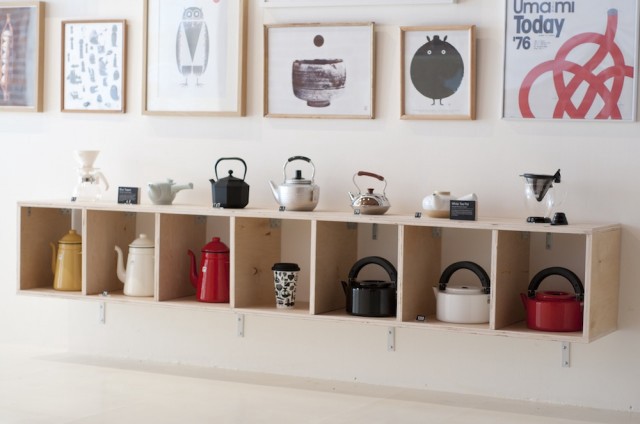 BH: So you were able to go in rent-free. But how did you pay other costs to launch the store? Did you save up? Get a loan?
YK: We had a lot of inventory because we already had the online store, so we didn't have to worry about the product. We established a build-out budget, which was $10K, and that came out of our pockets. But that's really low! We used a lot of family and friends to help us get started. We went to Home Depot and bought plywood and built those [tables]. So this was only attainable in Oakland and with all of our friends.
BH: Were you still doing other jobs at that time?
YK: Yes!
BH: So how long did it take to reach the point where this was your only job?
YK: That was something we thought about before starting this business. We went to a program of the small business administration called Score, through which retired executives give you consulting for free and talk with you about your business idea. So we sat down with this guy who used to import. And one of the best pieces of advice that he gave us was, "You need to pay yourselves. Even if you are going to go into debt, at least put a timeline for when your livelihood is dependent on that business." To expect the business to pay you, your mindset changes. In the first six months, we paid ourselves very, very little and we still took odd jobs. But as of spring of this year, we started paying ourselves a better wage. And getting the six months rent-free was great, but six months later, you have to pay that. So it was hard when we started paying ourselves and paying rent. But it's the reality.
BH: At what point did you decide you wanted to expand to a conbini?
YK: The back area was always going to be something we were going to build out once we thought we would be here permanently. That whole area was for storage; there was nothing there. We signed the lease in February, so we started wondering about that area, since it was just wasted space. A lot of people would call us and be like, "Umami Mart? Are you a Japanese food market?" So it made a lot of sense.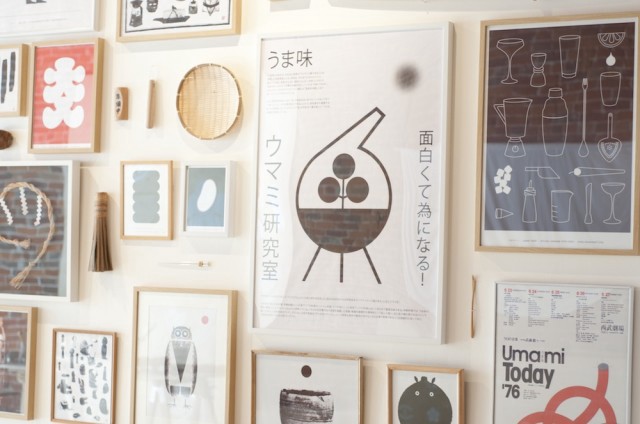 BH: How does selling food as opposed to non-perishable items change your business?
YK: We're still learning. It's only been a month. The only things that are perishable are bentos and onigiri [rice balls]. The bentos have been popular — we sell out every day. The onigiri is still… Well, you operate on a loss with some stuff. You want to offer it, but then you're losing money.
BH: I'm curious about this neighborhood. There's not a lot of foot traffic. There are not a lot of shops around here that look like your shop. How has that been?
YK: It's been kinda challenging. Our advantage is that we're a destination spot. A lot of readers come in. We do a lot of events. We've been here a year and the residents around here and the people who work in the office buildings come in all the time. It's nice to be able to see familiar faces. Had we been online the whole time we wouldn't be able to serve a local community, which has been really fun.
BH: What has been the reaction from the community?
YK: We've had generally really positive reactions. There have been very few instances where people are very skeptical. I think some people come in and they are very confused. They don't know what it is. I think by doing things like bento and free tasting events we've really come to know a lot of people. People who had never eaten a rice ball, now I see them every morning and we say hi. They didn't know what we are, but now they do. I think it goes both ways: people getting to know us, and us trying to respond to the needs of the community.
BH: How has it been going into business with a close friend? It seems like there could be potential issues.
YK: Another thing that the Score guy told us was that the main issue with partnerships is that you are going to be in a situation where someone will say, "I thought you were supposed to do that." "No, you said you would do that." And the relationship can fall apart. So he said a good way to think about your business and if you can work together is to write down all the things that you would like to do for the company, that you think that you would enjoy. So after we made our lists, we compared them and agreed on what we would do, roughly. We delegated enough fun stuff and enough non-fun stuff to each other and we went from there.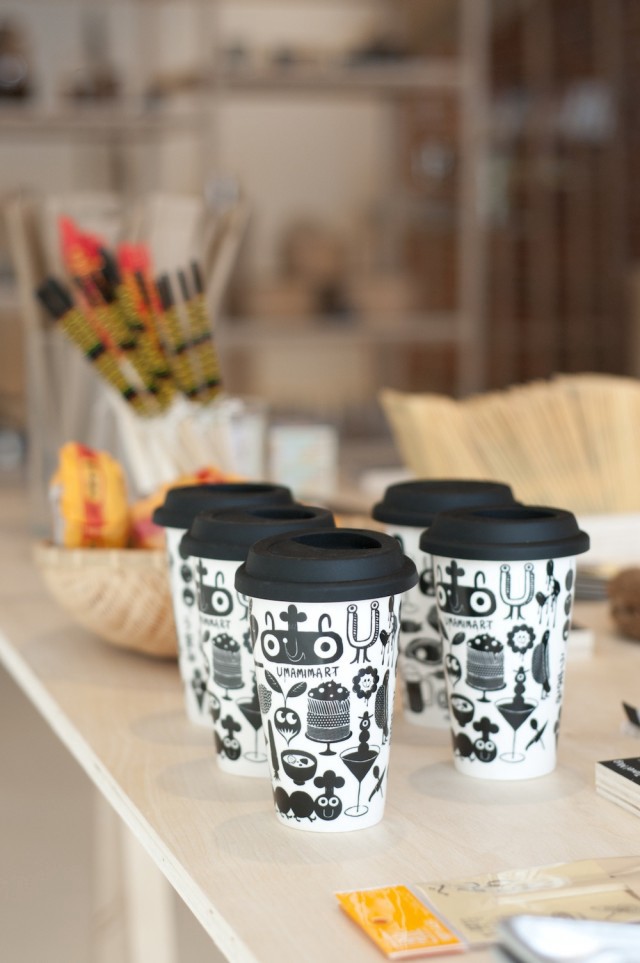 BH: What about other aspects of your life? Does owning a shop kill your personal life, or do you have a good work-life balance?
YK: That's something we're totally working on. Because we really enjoy doing this, you can't stop. It's like playing a game. But it can take a toll on friendships, relationships. One thing we are doing to recognize that issue is: We recently hired a new employee. It's been a year, so we thought, I think it's time.
BH: Is there anything looking back that you wish you would have known?
YK: To just try, just go for it. To not be afraid of your ideas and not get caught up in being totally realistic.
Beth Hillman is an editor and freelance journalist living in San Francisco.
Photos by Erin Gleeson
---
Support The Billfold
The Billfold continues to exist thanks to support from our readers. Help us continue to do our work by making a monthly pledge on Patreon or a one-time-only contribution through PayPal.