Student Loans Are a Drag on the Economy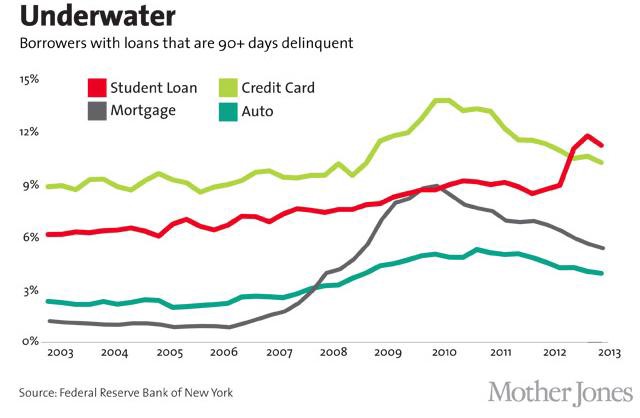 Maggie Severns, an editorial fellow at Mother Jones examined the student debt crisis in nine charts. More than any other type of debt, student loans are now more likely to be delinquent. Interest rates on federally subsidized Stafford student loans doubled today to 6.8 percent, but Congress still has a small window to lower interest rates before students begin taking out loans for school in August.
Students who leave college with unmanageable levels of student debt payments can't participate in the U.S. economy in any significant way. Lower interest rates are critical at a time when students are being forced to borrow more money as states cut their budgets for education. When I enrolled in college as a freshman at UC-Irvine, tuition and fees for the academic school year were $4,555 a year. Those costs have skyrocketed for students now attending about a decade later — tuition and fees for the last academic school at UCI were $14,046 (take a look at how much tuition has grown at your school — it's incredible). The one thing we can do for students now while the cost of college skyrockets every year is maintain low interest rates on student loans. Average mortgage and car loan rates are below 5 percent, and there's no reason student loans can't be below that as well.