Considering Culinary School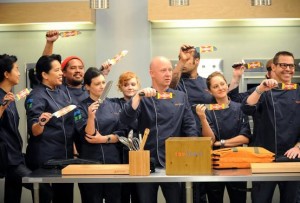 I think many people have the perception that if you're going to cook in a kitchen, you go to culinary school and then you do it. So I went to talk to an admissions adviser at the Art Institute of Philadelphia and saw the price tag. I think that's really when it set in even more. And all the while I was taking the approach of casting a wide net, talking to a bunch of people within the food/hospitality/cooking world.
That's when people gave me the idea that you don't necessarily need to follow that route if you're willing to just get thrown into the deep end. If you don't come in with a background, there's a lot more discomfort, just being unsure a lot more of the time of what you're doing. But for someone who shows they're willing to learn and willing to do whatever tasks, people like you and they teach you. And so I had a friend who managed front of house here. I talked to him and said, "Hey do you think I could talk to the Chef there?" That was Brad and he said, Okay come in on Saturday. So I came in and worked one Saturday for free for most of the afternoon and through all of service. And then he said to come back one time next week. I worked for two months, two days a week, full days each time until there was a point where Brad was willing to hire me.
Eater has a very good overview of whether or not it's worth it to go to culinary school, which costs $35,000 to $54,000 for a two-year associate's degree and up to $109,000 for a bachelor's. Graduates typically start earning around $9 an hour after they graduate, so paying student loans — and just having money to pay bills in general — is quite difficult.
The quote above is from Sam Brennan, a line cook who decided to forgo the culinary school route (he already had student loan debt from attending a liberal arts school) by finagling his way into a restaurant and working his way up, though he says he's lucky because the kitchen he worked in was open to giving him on-the-job training — really basic things like how to hold a knife when you're walking around with it in the kitchen.
Some culinary school graduates thrive, but the life of a chef is mostly hard. My brother confirms all of this for me: He finished culinary school with a debt load of more than $50,000 and has struggled to find work and pay his bills (I've mentioned a little bit about that here).
---
Support The Billfold
The Billfold continues to exist thanks to support from our readers. Help us continue to do our work by making a monthly pledge on Patreon or a one-time-only contribution through PayPal.