Jobs I Had Before Getting My Novel Published
by Cassie Alexander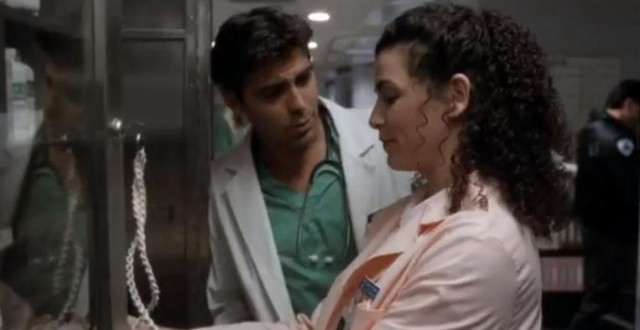 The hardest part of being a writer isn't the writing itself — it's the long slog while waiting for other people to agree to pay you for the pleasure. I always knew I wanted to write, but a childhood of watching my schoolteacher mother have to go on strikes every summer to keep funding made me gun-shy of getting a degree where my only fallback seemed to be teaching. So I opted for the Michael Crichton plan: I'd become a doctor, get rich, and then write. I then went through three years of getting a microbiology degree before getting sidetracked and moving across the country with no job skills.
Here's a list of the (mostly crappy) jobs I had while writing nine novels before the tenth book I worked on got sold.
Monterey Bay Aquarium Research Institute temp ($7 an hour, full-time, six weeks, no health insurance)
In retrospect, temping at the Monterey Bay Aquarium Research Institute set the cool bar for future employment impossibly high. They had a massive videotape library — this was back in the early '00s, I'm sure they've modernized since then — and my job was to rewind all of their tapes after scientists watched them to count fish numbers. All of the tapes were labeled, which meant that I had access to all the amazing things that the Pacific Ocean had to offer. The best tape of all time was getting to watch an remotely operated vehicle follow a vampire squid. Unfortunately, videotapes were finite, as was this job.
Accounts Payable/Receptionist, ($9 an hour, part-time 1.5 years, no health insurance, wrote three books while here)
I got this job because of my ability to type at speed and my commitment to quality alphabetization. I would have stayed there longer if they'd been able to make me full-time — I think by now I was a little in debt due to going to writing conventions to try to get ahead in my writing career. Luckily I learned a lot of skills that were transferable, including lying to people on the phone after our CEO started having an affair.
Takeout Driving service, ($7 an hour, part-time, overlapping with the above job, also no health insurance)
This job ran simultaneously with the above job. My job was to answer phones for people who wanted takeout delivered to them at their dorm or home for an outrageous surcharge. It was good because I got to work with the woman who'd go on to become my best friend, and write between phone calls, although it did mean working three nights a week including weekends.
Accounts Payable, ($9 an hour, full-time two years, health insurance, two books and a screenplay)
You know how some jobs crop up repeatedly on Craigslist like bad mold? This was one of those. I was happy to get full-time employment, but once I was there I realized the high turnover was directly related to the worst case of good-cop-bad-cop boss I've ever seen. The good boss was amazing and sweet and everything you could ever dream of in a boss, and totally powerless to enact any change. The bad-cop boss would go away to conferences and come back with bon mots such as "If you're not at-ease, you're dis-ease," and encouraged systemic hazing of new employees. I would frequently come back from lunch to find that things on my desk had been rifled through, complete with fingerprints on them in the exact shade of foundation bad-cop boss would wear. I considered taking up smoking so that their aggressive anti-smoking policy would get me fired so I could collect unemployment.
Needing the money so badly and feeling trapped spurred me to look into other employment — and a friend of mine had just graduated nursing school and loved it. I became enamored with the thought of having a job where I could work part-time, afford to live in the Bay Area, and still have time to write. Because my current job offered me some hourly flexibility, I stuck with it until I was able to finish the two prerequisite classes I needed to get on the waitlist for nursing school by coming in to work on Saturdays (read: write while getting paid) for a full year.
This was also the first job I ever quit.
Computer warranty sales ($15 an hour, full-time, plus occasional commissions, health insurance, two years, two books)
A friend hooked me up with this job, which was why I could quit the one before. This job was just calling people up to ask them if they wanted a warranty for a computer they'd recently bought. It was sales-ish, but not too bad since people were generally nice on the phone. I enjoyed this job and the people who worked with me, so technically it wasn't a crappy job — until they decided to transfer the whole operation to Austin. They announced layoffs by taking everyone outside the building and then directing us to certain rooms when we came back in. I got sent into the room where the first slide of the PowerPoint presentation said, "Transitions" in large italicized font.
Accounts Payable, ($13 an hour, full-time, no commissions, less than two weeks.)
Did not realize they didn't have health insurance until you'd worked for them for six weeks. Husband at the time rode motorcycle. Begged friends for leads which lead to me quitting and getting a job as a …
Travel Agent, ($12 an hour, full-time, some commissions — half upfront, half when the trip was taken, health insurance, 1.5 years, one book)
This job involved selling vacations to expensive rental villas in Cabo San Lucas, sight unseen by me at least. But they had an excellent photo-filled website and they took the time to train me well, so I knew what beaches you could safely swim at, etc., and could talk authoritatively on the phone. I was nervous about steering people wrong but we rarely got complaints, and we had several famous clients whose travel agents would book through us repeatedly. Some of the homes we rented went for a few grand a night, but I was so poor at this time that when one of our famous clients did something not so fabulous to a home, I called up the National Enquirer to see if they'd pay me to hear about it. (Answer: No, unless I could produce a corroborating dry cleaning receipt.)
This job I got to quit — losing all of my pending commissions — for nursing school.
Nursing school (no money, just student loans, two years, one book)
Elderly Caregiver ($9 an hour, two weeks, paying for health insurance with student loans)
I did work during my first nursing school summer off for one of those "helping angel" places that send in under-qualified people to care for elderly clients. I worked for two weeks for a lovely woman who was very upset that the caregiver before me had hurt her back while moving her 200-pound late-stage Alzheimers husband. The former caregiver dropped by one day to check in and say hi, and she was an older woman with three kids in her car. She explained her symptoms to me and I guessed (with my whopping one semester of nursing school knowledge) that she had sciatica. I wrote it down for her so she could look it up later, and felt sick to my stomach wondering what she was going to do about it, now that she couldn't work and probably didn't have health insurance, and with three kids to feed. I realized I could have been her so easily, if things hadn't gone my way. I also realized that I needed to save my back for actual nursing, and quit.
After two years of nursing school (during which I divorced my then husband and got by on student loans cosigned by my parents) I finally became a…
Registered Nurse ($50 an hour + shift differential, part-time, really good health insurance, deferred comp, retirement benefits, five years and counting, five books and counting)
I love love love being a nurse. I love getting to use my brain, helping people, the pressure, my coworkers, my bosses, my patients. I work nights, and really that's the only thing I'd change if I could: It would be nice to see more sun. I wrote my tenth book my first year as a nurse, and then it took me a whole year to find an agent and sell it. I've written roughly two books a year after that. I'm having to hustle a lot to work nights and write as much as I do, but finally getting paid to write is as great an incentive as I'd imagined it would be all this time. (It's worth noting here though that even with five books under contract at very reasonable-for-my-publication-genre sums, there's no way the incremental payments of the writing-lifestyle would ever pay me as much as my job does, especially when you calculate in all of the benefits…yet. Yet!)
If I worked more as a nurse I'd probably get burnt out, and I did wind up hurting my back and being out on worker's comp for two months last year. I think about that any time the writing cash looks lean and I'm tempted to go full-time. Nursing is for now, but writing has been and always will be for the long haul.
Cassie Alexander is an active registered nurse and the author of the Edie Spence urban fantasy series, Nightshifted, Moonshifted, and Shapeshifted out now from St. Martin's Press. You can find her on Twitter, or on her website.
---
Support The Billfold
The Billfold continues to exist thanks to support from our readers. Help us continue to do our work by making a monthly pledge on Patreon or a one-time-only contribution through PayPal.