An Interview with "The King of Pops"
by Amanda Tomas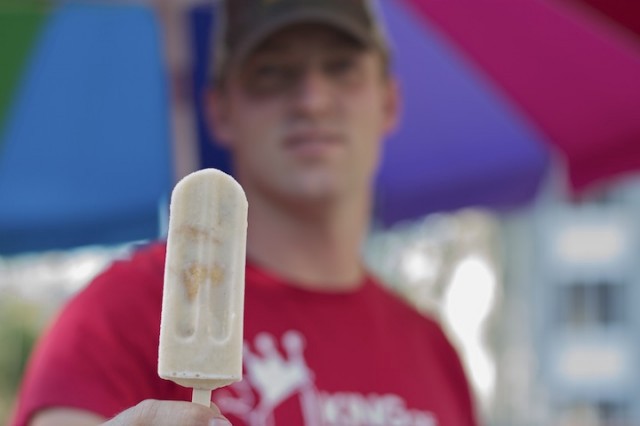 I stopped by the King of Pops stand on the corner of North Avenue and North Highland Avenue in Atlanta, Ga. one weekend to talk with entrepreneur and popsicle-slinger Steven Carse about how he began his now-thriving business. Inspired by Mexican paletas, King of Pops uses local, seasonal, and organic ingredients to create their pops, which include flavors like Banana Puddin, Chocolate Sea Salt, Key Lime Pie, Tangerine Basil, and Blackberry Ginger Lemonade, plus dozens more.
Amanda Tomas: You started King of Pops after you were laid off. Can you talk about that a little bit?
Steven Carse: In 2009 I lost my job at AIG where I was an analyst. It was heading into the winter and I had been thinking about this idea [to start King of Pops] for a few years, coming up with new ideas and stuff, but it was kind of scary to quit my job since I was making good money. When I lost my job, it made the decision easier.
AT: Why did you decide to do this instead of get another regular job?
SC: I felt like the timing was right. I didn't necessarily love what I was doing and I didn't have a lot of responsibilities, like a wife or family or kids or anything. I could stay on my brother's couch and didn't need to worry about how much money I was making.
AT: How did you get started?
SC: My original idea was to rent a small space [in the building] here on the corner in the Highlands but it was going to require a lot more investment than I had. Like, for some reason I was going to have to get a grease trap even though I wasn't going to produce any grease, which is expensive. All of this stuff was starting to build up and in April I needed to start doing something. So I talked with the landlord and said how about, while I'm working on all that, I just set up a cart out here, and now our business is pretty much all carts so it worked out well.
AT: How much investment did the initial start-up costs require?
SC: Not much. I had probably I'd say $10,000 and that was enough to live on for a few months and start the company.
AT: So you lived with your brother and made a bunch of popsicles?
SC: Yeah, I rented the place I was living in because I couldn't really afford it, then moved in with my brother. We did well pretty quickly. I knew if I sold 200 in a week, I could make enough money to live so that wasn't really that hard.
AT: Two hundred popsicles per week?
SC: That was my goal when I started, and then I quickly surpassed that. Now we've got probably 20 of these carts around town and have done a lot better than that. This [corner] used to be by far the best location, but now we do all the farmers markets and a bunch of festivals and catering.
AT: You have a deal with Whole Foods, right?
SC: Yeah, we're in Whole Foods. We sell in 25 different retail places in Atlanta and we also have friends who are doing the same thing in Richmond, Charlotte, Charleston, Athens, and Chattanooga. We have a kitchen here and there are also kitchens in Richmond and Charlotte that operate on their own.
AT: How long did it take for business to pick up to where you could survive on the income?
SC: Pretty quick. I mean, "survive" is pretty easy, but for it to be like a good job, maybe after about three or four months it got to be too much for just me to handle. That's when I told my brother I had to hire someone and since it was kind of our idea together to begin with, I said, "I can hire someone, or else you can quit your job and do this." We needed more people — I was just selling out and running out everywhere.
AT: So your brother quit his job?
SC: Yeah, he was a lawyer and he quit his job.
AT: How many employees do you have now?
SC: We have 10 full-time people and between 15–20 part-time people. Some of the part-time people work once every two weeks, some of them work like 30 hours a week.
AT: So business is booming now?
SC: Yeah, it's really good. This is the beginning of our good season. We have 20 events including catering events today. Saturdays are big.
AT: What are your plans for the future?
SC: Our model for slow expansion has worked well. We've been finding people who want to sell [popsicles] here, and then if they want to go to a different city we help them make that happen. I think we want to stay in the region but maybe add a few more cities. We don't really know other than that. Another option is picking up a distributor and doing a lot more wholesale stuff, but if you want to get into that big time, you have to lower your price, and if you start doing that, you have to lower you quality, and I'm not sure we want to go down that road. We definitely don't want to lose our quality so we don't know if we want to go down the wholesale route aggressively.
AT: Speaking of quality, I hear you use ingredients from local farms?
SC: For sure. We have a lot of people at different farmers' markets and we use a lot of stuff, whatever we can. Peaches are all from here. We get our milk from a local dairy. We get our honey from here, too.
AT: …Total profits?
SC: Uh, I can't really talk about that. Good, though! We sold over probably 400,000 popsicles last year.
AT: Do you have any advice for other people who'd want to do something like this?
SC: I think the hardest thing is just starting. I got a kick in the butt from losing my job. And then also, setting a start date was good because for me it was easy, since [April is] when the season begins. But I think if you try to get everything perfect forever, you're never going to start.
AT: So just get in there?
SC: Yeah. Give yourself a reasonable amount of time to get everything set up, but also don't spend forever getting ready. But I don't really know, we're just getting started!
If you live in Atlanta and want real-time popsicle updates, you can follow King of Pops on Twitter @theKingofPops. Amanda Tomas also writes the "Betting on Love" series. Photo: kingofpops
---
Support The Billfold
The Billfold continues to exist thanks to support from our readers. Help us continue to do our work by making a monthly pledge on Patreon or a one-time-only contribution through PayPal.