Rich Man Lives Minimal Life (But Still Rich)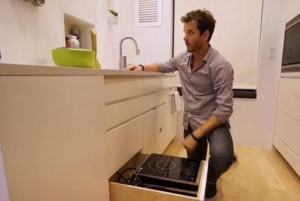 It got worse. Soon after we sold our company, I moved east to work in Bowne's office in New York, where I rented a 1,900-square-foot SoHo loft that befit my station as a tech entrepreneur. The new pad needed furniture, housewares, electronics, etc. — which took more time and energy to manage.
AND because the place was so big, I felt obliged to get roommates — who required more time, more energy, to manage. I still had the Seattle house, so I found myself worrying about two homes. When I decided to stay in New York, it cost a fortune and took months of cross-country trips — and big headaches — to close on the Seattle house and get rid of the all of the things inside.
Graham Hill, the founder of TreeHugger and a person who sold his Internet consultancy company in 1998 for "more money than I thought I'd earn in a lifetime" had a piece in the Times Sunday Review this weekend about learning to embrace minimalism after getting tired of living large and owning everything he wanted to put his hands on. Good for him, but I do think living minimally is so much easier when you have the cash to totally customize your apartment — the apartment that is located in the very fashionable and expensive neighborhood of SoHo in Manhattan — and I wish he admitted this as much. I could totally live his minimal life too — I just can't afford it.
---
Support The Billfold
The Billfold continues to exist thanks to support from our readers. Help us continue to do our work by making a monthly pledge on Patreon or a one-time-only contribution through PayPal.