Places I've Lived: Spiral Staircases, Sublets, and a Nightmare Landlord
by Rebecca Rindler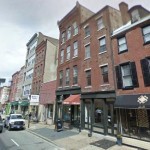 Old City, Philadelphia, Pa., August 2003 — July 2005, $1,450/month (split with a roommate)
My college roommate found our first adult apartment, an unbelievable duplex, in Center City. It was perfect in many ways — dishwasher, washer/dryer in the bathroom, elegant spiral staircase, directly above an independent bookstore. The building was actually two buildings that had been oddly fused together, so my bedroom had a long hallway inside of it with windows you could see into from the stairwell (my then-boyfriend did not find it as charming as I did). Since we were in Philly's historic district, public transportation was abundant and I often passed Ben Franklin on my way to work. Later, the Real World Philadelphia would move in down the street.
The downside was that Old City was not a developed residential neighborhood, and it lacked a grocery store, dry cleaners, and other residential amenities. In the two years I lived there, I managed to fracture my foot twice, which made the spiral staircase a massive annoyance. My roommate left after the first year, and I found a random guy on a roommate website to take her place. He was in Philly for a nine-month master's program, and we got along pretty well considering he wasn't the cleanest. Nor was he the most considerate: He sublet his room for the summer, then disappeared and told his subletter to throw out his furniture at the end of the lease. He stopped responding to my emails and calls asking for his share of the utilities, then sent me a message via Friendster six months later that simply said, "How R U?"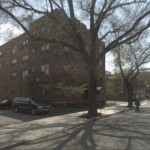 Howe Street, New Haven, Conn., August 2005 — January 2007, $600–625/month
I moved to New Haven to be a poor, broke grad student, and found just the apartment for it: a tiny box of a studio just two blocks from school. This was my first experience living alone, which I prepared for by watching a ton of Law & Order: SVU. This show left me so terrified that I slept with the lights on for a full week. How I managed for almost two years with nothing but a dorm fridge is still a mystery. The best thing about this apartment was the walk-in closet. The worst was when I heard my classmate, with whom I shared a wall, get in a loud screaming and sobbing match with his girlfriend — and then seeing him in school the next day.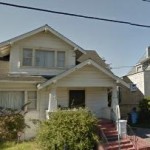 Tyler Street, Berkeley, Calif., February 2007 — May 2007, $800/month
Grad school sent me to Berkeley for a semester-long internship, though I had to find my own housing. I rented a room in a house from a laid-back couple in their thirties with a two-year-old daughter and two dogs. It was the full Berkeley experience, and I loved it. I ate pizza from Arizmendi, chard from the backyard, and tamales from the farmers' market. Sundays my landlords/roommates often pushed their speakers into the window for musical accompaniment while we all read and played in the backyard. I referred to this arrangement as "Reggae Sunday" after I overhead this conversation between one of the parents and the two-year-old:
"Ask me if I like reggae."
"Do you like reggae?"
"No, I don't like reggae… I love it!"
I learned a lot about the Bay area, travel, reggae, and parenting from this experience. Had I designed my perfect living arrangement, it probably would have looked a lot more like a tiny studio apartment, but I wouldn't have changed this setup for the world.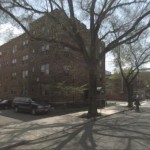 Howe Street, New Haven, Conn., May — July 2007, $625/month
I returned to New Haven for my last summer before starting business school. I knew I was moving out of this apartment and into a bigger one on the other side of campus, so these few months were spent packing, acquiring more furniture, and figuring out where exactly my subletter had stored my teaspoons while I was gone.
Eld Street, New Haven, Conn., August 2007 — June 2008, $800–850/month
This is one of my all-time favorite apartments. The old house looked haunted from the outside, but had been beautifully renovated by a university staff member and his students. It had lots of fun quirks, like a hallway behind my bedroom and an old-fashioned call box. My apartment was technically a junior one-bedroom, with French doors separating the bedroom and the rest of the apartment.
There were five apartments in the house, and everyone knew each other — apartments were handed down from friend to friend. We had a massive backyard that I once used to throw a party for my entire business school class. My friend on the first floor had my extra keys, and one time when I locked myself out, he instructed me over the phone to climb into his kitchen window by standing on a garbage can, and remove my keys from the pegboard in his kitchen, which was in plain sight of the window. It's amazing that we didn't get robbed more often.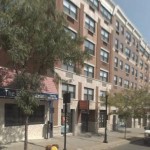 Morristown, N.J., June 2008 — August 2008, $0/month
My summer internship gave me free corporate housing. Everything about it was so sterile — white sheets, beige couch, tan blinds — that when I walked in for the first time, I burst into tears. Morristown itself was equally boring and bland, save for the Century 21 down the street. I tried to spend as little time in New Jersey as possible, driving to Philadelphia nearly every weekend. I bought some plants to liven up the apartment, which I became fond of and later delivered to my then-boyfriend's house. He let the plants die, then tried to dispose of them without me noticing. Our relationship followed a similar trajectory. Never was I so relieved to return to New Haven.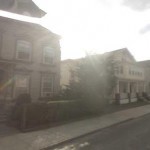 Eld Street, New Haven, Conn., August 2008 — July 2009, $850/month
My friend moved into the other apartment on my floor, which was wonderful for late night gab sessions, and she let me use her dishwasher when I entertained. I spent my last year of grad school here, then graduated and sublet my place to an incoming student for the summer. I came up to grab a few things in the middle of her tenancy and found that she was using every available horizontal surface for storage. Her clothes, makeup, hair barrettes — everything was out on a countertop or dresser or table. She stored nothing in the cabinets or drawers, and instead had opened up the ironing board for more surface space. This behavior puzzled me, but aside from that, she was a great tenant!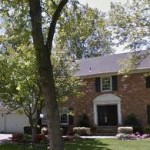 Potomac, Md., July 2009 — September 2009, $0/month
I graduated, travelled for a month, sold all my furniture in New Haven, and moved in with my aunt and uncle in Potomac. They were incredibly generous and let me stay in their basement bedroom with my own bathroom. I hung out at the pool club down the street, had dinner with the family, and commuted to my job in northern Virginia. And oh, the snacks! There were two teenage boys and a multitude of salty and sugary treats in the house at all times. But then school started, and my 15-year-old cousin suddenly had better things to do than go to the movies with me on Friday nights. It was time to move to D.C. and find my own place.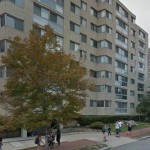 Foggy Bottom, Washington, DC, October 2009 — October 2010, $1600/month
This gigantic one-bedroom was where I learned the nuances of D.C. tenant law. My landlord was a condo owner posted with the State Department in Ethiopia, but assured me that her brother-in-law managed the apartment and would tend to any concerns. It was a learning experience for both of us; I did not know that I could send so many emails with the words "I spoke to a lawyer at the Office of the DC Tenant Advocate," and she apparently did not know that landlords must pay to have refrigerators, garbage disposals, dishwashers, and toilets in proper working order.
The location, right next to the Metro, was ideal for commuting, and adjacent to lovely biking and running trails. I tried to remember that when dealing with the horrendous, erratic noise coming from either the fraternity next door or the backup generator next to my bedroom window (and sometimes both!).
I left after a series of tense emails, including one in which my landlord wrote, "feel free to take legal action against me." I lost many tearful nights to the stress of fighting with her, although in the end I got almost all of my security deposit back. Special shout out to the D.C. Office of the Tenant Advocate for being awesome, helpful, and responsive. I highly recommend you contact them if your landlord is being shady and/or threatens to sue you for libel.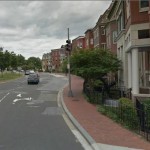 Logan Circle, DC, October 2010 — present
I'm very happy in my current apartment. I only pursued listings from management companies to get this one.
Rebecca Rindler would like to have a dishwasher again.
---
Support The Billfold
The Billfold continues to exist thanks to support from our readers. Help us continue to do our work by making a monthly pledge on Patreon or a one-time-only contribution through PayPal.