Places I've Lived: Power Crystals, Mice, and the Unknown World
by Bowen Close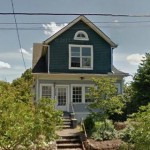 Portland, Ore. $200/mo.
After my sophomore year of college, I drove up to Portland to spend the summer in the house where my boyfriend was already living with three roommates. It was the first time I lived anywhere but my parents' house or the dorms, and I was ecstatic. The house was owned by a man who flipped big farmhouses in Portland's worst neighborhoods, and since this house was only about half-flipped and the neighborhood was particularly bad, the rent was crazy cheap. But despite living in a 75 percent constructed house and on a block that loved to host gunfights, the roommates were really the most notable part. One time they decided to make homemade dog food for their monstrously large and entirely untrained dogs, and let the stock pot full of blood- and oatmeal-based concoction simmer and boil over on the stove for a couple of days. One of the roommates could barely pay his share of the bills, but would spend hundreds of dollars each month on "power crystals" (oh, Portland). Another time we discovered (by finding the photographic evidence on the house computer) that one of the roommates was starring in pornography in which she dressed like a clown and smeared food all over her body, and that she had volunteered our basement as the set. And those are only a few examples. I only lived here for three months, but these roommates have given me cocktail party stories for life.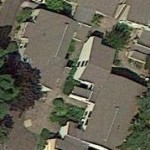 Corvallis, Ore. $325/mo. (my half)
The next summer I joined my boyfriend in the university town where he grew up, and we rented a one-bedroom apartment in a "garden complex" otherwise filled almost entirely with senior citizens. We bought a fake engagement ring and told the would-be landlord we were getting married in the hopes that would help us get an apartment, which it did. Neither of us had a real job (I had a grant from my college for independent research), and I knew not a single person in town other than my boyfriend, so we spent the first month of the summer happily playing house. Unfortunately, playing house covered up that we were desperately hanging onto the final threads of our relationship, and the other two months of the summer we lived in the tiny apartment post-breakup, me mainly teary and he mainly somewhere other than the apartment. There was a video rental place down the street that rented entire seasons of TV shows for the same price as a movie, and I spent those final two months burning through a depressing number of TV series, the memories of which I have now mostly repressed (one time I was shocked — like really shocked — to remember I've seen every episode ever made of Will and Grace). When I drove away at the end of the summer to go back to Southern California for my senior year of college, I listened to Destiny's Child's "Survivor" on repeat for 30 minutes but didn't shed a single tear.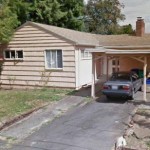 Portland, Ore. $150/mo. (my half)
The summer after graduating from college, my new boyfriend and I rented a room in a house occupied by some friends of mine from Lewis and Clark. It was a perfect mid-Century modern home, complete with a picture-perfect bar setup in the walk-out basement, but it hadn't been maintained well and at least a decade of college student renters left the entire house run-down and impossible to keep clean. We packed the house with enough people that the rent of each of us was ridiculously cheap. My boyfriend and I slept on a mattress that I realize now may have been picked up off the side of a road by one of the housemates, but I was a college graduate about to start graduate school, and my life was too awesome to worry about things like that. These housemates were far, far less crazy than my previous ones. One of them liked to use pseudonyms and kept a list of them by the front door to make sure we didn't throw away his mail, but that was just kind of funny.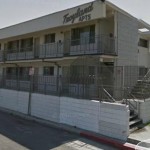 Los Angeles, Calif. $1,395/mo.
My first year in graduate school I chose university housing for some unknown reason, and ended up in the midst of one of LA's worst neighborhoods. We received email notifications from the university that people were being mugged and attacked on the streets outside my building on a weekly basis, all times of day, even on the major streets. I never once left my apartment building on foot after dark, which required a somewhat complex system of volunteer drivers to bring me to and from night classes, even though campus was a mere half-mile from my apartment. Halfway through fall semester, construction on the sewers in the neighborhood drove hundreds of mice into my building, and I started storing all my food and clothes in large plastic bins. At its worst, I caught more than 12 mice in my apartment over a two-week period. The university refused to adjust my rent, and I refused to renew my lease for the second year.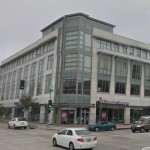 Pasadena, Calif. $748 (my half)
When my boyfriend graduated from college a year after I did, we looked for apartments together. I desperately needed out of LA (see previous apartment) but still needed to be close enough to campus, so we moved to Pasadena. We ended up in a very fancy but incredibly small studio loft condo on the top floor of a mixed-use building, which we never thought we would get and immediately fell absolutely in love with (despite its one and only operable window). We furnished the entire apartment with one trip to Ikea and every day climbed up and down the ladder into the loft, which was just big enough for our bed. The building had a concierge, a fitness room, and units full of much older, fairly wealthy condo owners in the middle of a battle to keep renters out of the building. This battle ended in a variety of ridiculous renters' fees, which raised our rent after one year and forced us out.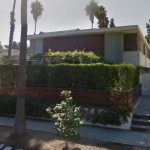 Pasadena, Calif. $750 (my half)
Our second apartment in Pasadena was across the highway and thus firmly on the outside edge of Pasadena's nice area, but we had two bedrooms, two bathrooms, a balcony, and plenty of windows. Sometimes we'd go to the bathroom at the same time just because we could. We put the TV in the second bedroom instead of the living room, creating a TV room like fancy people and real adults, and spent hours and hours sitting on the balcony staring wistfully at the pool in the apartment complex next-door, which we saw used only twice despite countless hot days and a building full of families with children.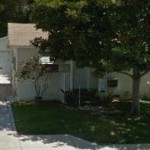 Claremont, Calif. $825/mo. (my half)
Right before our wedding we moved back to our college town to be closer to work and to have a yard, and ended up staying for three years. Our house had otherwise only ever been occupied by the man who built it, sometime in the 1930s we're guessing, who appeared to have used a random collection of materials and fixtures and to have built the house one room at a time. Our landlords had added laminate floors and new light switches, but most of the windows didn't close, the walls contained absolutely zero insulation, and the floors were hilariously sloped such that we had to be careful about placing our rolling desk chair. We lived in the midst of "downtown" Claremont, which was convenient, sure, but after a while just meant we were within walking distance of over a few dozen incredibly boring restaurants and shops. We had two shady yards, though, along with a double-car garage to fill with stuff (which we did, over and over again), and plenty of room to host friends who came into town for Alumni Weekend every year.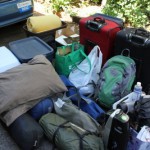 The World $?/mo.
A few months ago my now-husband and I packed up what we still wanted from our house in Claremont and departed for 14 months of travel in North America and abroad. My in-laws are graciously storing what stuff we wanted to keep, so I guess we kind of halfway live there, and that's free. So far on this trip we've camped, Couchsurfed, rented rooms, and stayed with friends and family, so otherwise I guess we live in "The World," at massively varying amounts of rent.
Bowen Close writes about food at Bowen Appetit.
---
Support The Billfold
The Billfold continues to exist thanks to support from our readers. Help us continue to do our work by making a monthly pledge on Patreon or a one-time-only contribution through PayPal.