Betting on Love, Leveling Up and Leaving Atlanta (Part II)
by Amanda Tomas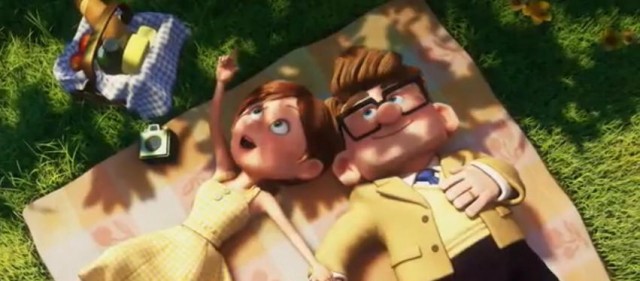 Last month, Adam and I embarked on a journey to save up $10,000 by the time our lease ends next May so we can finally fulfill our longstanding dream of moving away from Atlanta.
We want to exchange the conservative politics, the hot, sticky summers and snowless winters, the sprawling, traffic-clogged, chain-store-dominated suburban metropolis that is Atlanta for a more liberal, walkable/bikeable city filled with parks, culture, mom & pop shops, farmers markets, great bars and tiny bistros in the wintery, bustling, rife-with-opportunity environs of Up North.
So, how are we doing?
In the month of September, our goal was to spend $20 per day on groceries for a total of $600 for the month — instead we spent on average $25.76 per day on groceries, for a grand total of a little over $1,000. That total includes non-consumable items like cleaning supplies, toiletries, paper goods, and even a few grocery-related gifts, such as a little luxurious assortment of chocolate, cheeses, jams, and cured sausages for my mom's birthday. Our budget for optional expenses was originally $300 for the month, but if you include the $400 overage on groceries, plus the $400 or so charged to my credit card for non-utilities-related expenses (which I already paid off in full), and to Adam's debit card for incidentals, that means we blew past our budget by $500. Our main goal was to save 100 percent of Adam's income, but we wound up using his paychecks to absorb that extra $500.
However, we were still able to put $1,100 into our savings account — pretty much on target!
For $1,100, we could buy:
• An international round-trip flight
• One month's rent and utilities in our current apartment
• A really nice laptop (I do not have one)
• Boxes, a dolly, movers for two hours of work, and a rental truck to move all of our belongings from Atlanta to Montreal
Recently, Adam and I have been lightly batting around a few far-fetched ideas about the kind of life we would like to pursue. We are toying with the idea of moving to another country for a while, or maybe permanently, maybe somewhere in Canada or even South America. We thought about New Zealand or Australia — I could participate in the work holiday program since I am 23, but Adam is 31 and above the age cutoff, so that may not be a possibility.
If we stay in North America, we can't decide if we want to live on the West Coast or the East Coast. Sometimes Adam and I talk about owning a goat farm, chickens, and a huge vegetable garden. Sometimes we want to buy a tiny vineyard in Chile or Argentina, and make and export our own organic wine. We joke about opening our own hole-in-the-wall late-night tapas bar. We would love to have jobs we could work with just an internet connection so we could float around the globe. Other times we just want luxurious Sunday mornings in a café with an espresso and the newspaper, tucked away into a sunny nook in the midst of a vast city.
A lot of those ideas are complete fantasies at this point and would require a lot more than $10,000 to get started with. More realistically, we will probably move to a city that has good graduate school options, live and work in that city until we obtain residency, pay off our undergrad debts, then I would like to apply for and hopefully complete a master's degree in a heretofore undecided subject. We would love to do this in Canada, but the immigration process requires that we must have jobs lined up ahead of time, which seems like an intimidating hurdle at this point. If we enter Canada on a student visa we cannot work full-time, so that would not be very feasible. Adam and I both speak Spanish fluently, so South America is on the table as a viable option, but what would we do there? How can we get there? Could we make a living for ourselves there? The easiest, safest, and most boring option is to move to another city in the US and this is probably the option we will ultimately settle on.
We will almost certainly attempt to visit my little sister before we initiate The Great Move. She is spending a year abroad in Germany on scholarship. We want to stay with her for a few days, then buy either a four-country Eurail pass ($433 per person) or book a few Ryanair flights (Dusseldorf-Marseille: $40/person in November) and travel around the continent for a little while.
We have to take action and save money now to realistically entertain all of these ideas and move them from the realm of wishful thinking into concrete completion. With enough of a monetary safety net, we will be able to have the freedom to explore the world we live in.
It is encouraging for me to see what we can do with our savings so far. I am also discovering that if we kept putting away a little over a thousand dollars a month for, let's say four years, we could easily have $50,000. That seems like real money to me. We could use that to pay for a master's degree in full, or even make a significant down payment on a smallish house somewhere. If we keep plugging away at our goals, many things that we never imagined would be within our reach can become open to us — or at least, we could be able to do a lot of things without miring ourselves deeply into debt.
In October, I would like to save even more than we did in September, although it might be hard to continue stowing away giant chunks of cash when the holidays come around. Maybe I will just make everyone pumpkin gingersnap mini cheesecakes and call it a day.
Amanda Tomas likes to bake.
---
Support The Billfold
The Billfold continues to exist thanks to support from our readers. Help us continue to do our work by making a monthly pledge on Patreon or a one-time-only contribution through PayPal.