The Top 10 Mugs I Ever Bought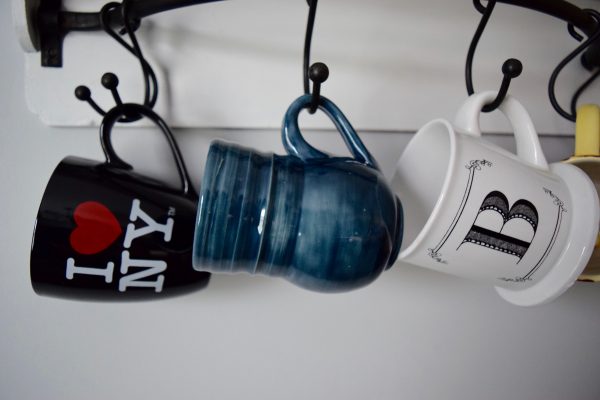 Not too long after we started dating, my boyfriend took a look at my kitchen and said, "For a single woman, you sure have a lot of mugs."
And, taking stock of my kitchen cabinets, I realized I did, in fact, have a lot of mugs. Mugs actually outnumbered my regular drinking glasses about 5:1, and it's not even like I was a huge fan of hot drinks. I used them as regular cups, sometimes as bowls. I found them versatile, and my collection has only grown since Josh initially pointed out my ceramic treasure trove.
Where did these mugs come from? I was certainly gifted many of them: the set of four Correlle mugs that match a plate set from my parents, a colorful mug a friend brought back from India, a mug my friend made where the outside is chalkboard and you can write on it, a crossword-themed mug from a Secret Santa with my coworkers at the bookstore, and on and on. But I have also very much become a purchaser of mugs, not only buying them for myself and my household, but also gifting mugs to other people, becoming an evangelist of the handled-beverage-holder gospel. Rather than resist my mug affinity, I have since leaned into it and relish both my own mug collection and the opportunity to give mugs as gifts when the perfect specimen comes along.
Here are my top 10 favorite mugs I have purchased over the last five years:
10. Unicorn Mug ($8.99) from Modcloth — a friend of mine loves unicorns and I am always happy to enable her.
9. Mr. and Mrs. Mugs ($4.99 each) from World Market — bought for a friend-couple that had recently started living together. I thought it might be a cheesy gift, but it made her Instagram, so I considered that a win.
8. Elephant Mug ($9.99) from TJ Maxx — a friend loves elephants, so this elephant head-shaped mug, seemed like a no-brainer, especially because it looked like it was in the same style as…
7. Fox Mug (About $9 with employee discount) from Barnes & Noble — Josh really loved this mug in the shape of a fox when it showed up at the bookstore where we both worked, so we bought it immediately. There were a couple other woodland creatures that we could've gotten so I could have had a matched mug, but I didn't feel especially connected to any of the other animals. Then, a few years later, I found…
6. Pig Mug ($9.99) from TJ Maxx — a mug in the shape of a pig head, which reminded me of my little avatar on my PS4 account. SOLD.
5. Cat Mom Mug ($13.99) from Amazon — gave this to Josh's mom, who has 4 cats.
4. Mr. Rogers Mug ($15.20 with shipping) from Forbidden Planet — for my coworker's birthday, in celebration for us working together on a bestselling book about Mr. Rogers. His blazer changes to a sweater when you pour hot liquid in it.
3. George Washington Mug ($22.34 with shipping) from eBay — this vintage mug is from the 1939 World's Fair was bought during the phase when Hamilton made us fanatical about founding fathers.
2. Custom Mugs for Josh's Mom ($25.66) from Collage.com — after a running joke that we should make Josh's mom into a cartoon character (a Brooklyn version of Hallmark's Maxine, if you will) I decided to create the first merchandise for this character by gifting Josh's mom with two mugs with her cartoon face on it for Christmas. While we have yet to take this brand globally, it's nice to see these mugs in use when we visit.
1. Disappearing Photo Mug (about $10 with Living Social Deal) from Printer Pix — as a joke Christmas gift, I ordered a mug for Josh where, when hot water is poured in, a photo of him sleeping would appear. He was not amused. I use that mug often.
Kimberly Lew loves it when her gifts make people Instagram.
Photo by Chris Scott on Unsplash.
---
Support The Billfold
The Billfold continues to exist thanks to support from our readers. Help us continue to do our work by making a monthly pledge on Patreon or a one-time-only contribution through PayPal.