How Two Retired Ghostbusters Do Money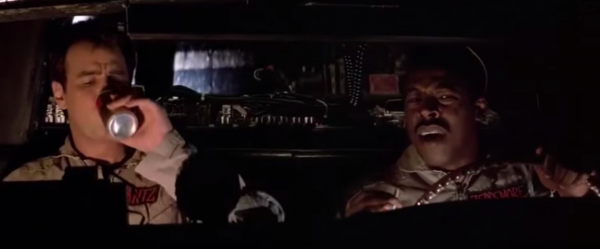 Winston Zeddemore and Ray Stantz are two members of the Ghostbusters, the famous paranormal investigation and elimination business which ran from 1984 to 2010. They are both now retired and live in New York. People remember the Ghostbusters as the wise-cracking heroes who saved their city, not once but twice, from malevolent supernatural forces.
But Ghostbusters was, from its conception, intended to be a profitable commercial enterprise. The company's mission was not only to offer a vital and lucrative ghosthunting/catching service to its home city, but also to exploit any potentially gainful opportunities (e.g. merchandising) related to that service.
So, how much money do you make?
Winston: Between my IRA and my 401(k)s from the Ghostbusters and my funeral home business, I get around $70,000 a year. You need a lot of money to retire comfortably in New York, but I put the money aside whenever I could. I still own 20 percent of my old business and I've got investments I don't touch. It's for my kids and my church when I'm gone. I tell them I'll come back and haunt them if they do something stupid with it. And they know I mean it.
Ray: I run my bookstore, which brings me a small income, and I started claiming Social Security when I hit 62. I don't know exactly what it adds up to monthly. I also have a small IRA Winston made me set up, back in '88.  Seemed a crazy idea at the time, I was dealing with all the Ghostbusters lawsuits. But it makes a difference now.
Ray, can you give me a little background on how you initially financed the company with Peter Venkman and Egon Spengler?
Ray: Egon, Peter, and I set up the Ghostbusters business together but none of us had the money to fund it. I got the capital we needed, $70,000 [Editor's note: this would be around $170,000 now], from a mortgage on my parents' house. Actually, a third mortgage — our university grant didn't cover everything we needed for research, so I'd already loaned the team enough to cover the materials for our detection equipment. Yeah, it was a scary decision — I was born in that house. I had a lot to lose if, or when, it all went wrong.
What were your initial set-up costs?
Ray: Like I said, I'd already paid for a lot of the research kit, which we had to get back after Dean Yeager confiscated it. But we still needed to replace what belonged to Columbia, and to build the proton packs and storage containment system. That was not cheap. Incorporating the company was way more expensive than I expected. There was the car, the rent on the firehouse. Then there was the computer equipment and the salaries for Janine and Winston. Peter spent a fortune on TV ads. Me, Spengler and Venkman lived off savings until we started getting paid for jobs and we lived in the firehouse to save money. And because it was awesome.
That sounds expensive. But your fees were pretty high — was this a market pricing decision, like, we're the only people offering this service so we can charge higher rates, or was it to cover your operational costs?
Ray: To be honest, no thought had gone into pricing before we got Slimer at the Sedgewick. We didn't even know if we could catch a ghost. Egon did the math on the spot. I think it was $4K for that job, $1K for storage…
Winston: That was a yearly fee.
Peter Venkman used to say "no job is too big, no fee is too big."
Ray: We only charged the big fees for the big venues. You go round someone's house, catch a Class II Free Repeater that just knocks over garbage cans to wake up the neighborhood at 4 a.m.? You're helping someone. They were a lot cheaper.
Winston: I never saw the numbers the first time round, but once I bought in the company in 1990, I looked into it. The finances were all over the place. Ghostbusters' running costs were nuts. The cost of electricity alone for the containment unit was insane. We had to get the busting suits cleaned weekly because of the slime and the smell. And if Spengler wanted to build some new kit, he'd just order whatever he needed. So we had to charge a lot. And we had to sell merchandise. But when business was busy, business was good.
I understand that it was the lawsuits brought against the Ghostbusters that made you close the business down in 1987. How did that affect you financially?
Ray: It was not a good time for me. The Ghostbusters couldn't get insurance. We couldn't afford to defend ourselves against the lawsuits, so we had to settle. I was still liable for the mortgage but I couldn't afford it so I lost my house. My family stopped talking to me. We couldn't pay the lease for the firehouse so I was homeless. Columbia wouldn't take me back. Winston ended up taking me in for a while.
But it eventually got better.
Ray: I started working with Winston doing entertainment at kids' parties and work celebrations. I did vehicle repairs. Eventually, my great-aunt died. She must have forgotten to change her will, so I inherited enough to pay off my debts and set up my bookstore, Ray's Occult Books.
How about you, Winston?
Winston: I was on a salary, $11,500, minimal benefits. Not great, considering the work I was doing…
Ray: Sorry, man. I never thought…
Winston: …but it meant the lawsuits didn't affect me that much directly. I still got paid until the guys had to let me go in '86. That was hard. But it pushed me to make some decisions.
That's when you bought the funeral home business?
Winston: With my brother, yeah. Joining the Ghostbusters was more risky than I expected, and it opened my eyes, and not just to the afterlife. It made me realize I had the skills, I had the talent to run my own business. I didn't want to go back to working for some guy in construction. I had savings. I was working with Ray, which covered some of my costs, and my family helped where they could. I took another risk and it worked out, with a lot of hard work.
Then 1989 happened.
Ray: When Dana visited Egon, I don't think reuniting was on anyone's mind. We were just doing a favor for a friend. But then we found the river of slime, and the Scoleri brothers showed up at our trial! I know we were a business but, really, I'd have done it for free. The Ghostbusters were back!
Did you get sued again by the city?
Ray: There was a lot less damage that time. Once the slime receded back into the spectral plane, the Museum of Art was fine. And it was New Year's Eve, so it was harder for them to tell the difference between our mess and everyone else's.
Winston: Getting the Lady cleaned up and back in place was the main problem.
But you weren't held responsible.
Ray: Luckily, the positive after-effects of the "mood slime" lasted quite a while. Someone started an appeal and the great people of New York raised all the money to cover the costs for damages. Then the major got voted out and the new guy blamed Dr. Janosz Poha for everything. Got him deported. Poor guy.
Winston, second time around, you become one of the company directors.  You didn't see it as a risk for you financially, considering what happened last time? And you already had a business.
Winston: I loved being a Ghostbuster, I wanted to go back. But if I was going to be involved, we all needed to be on an equal footing. And they needed me. They did the science, I looked after the admin. It took me and Louis six months to sort all the expenses. We had two categories for the worst stuff — if it was for fancy restaurants, it was probably Venkman, if it was from some weird European occult hardware store, it was Spengler's.
Is that Louis Tully?
Winston: Yeah, he was a terrible attorney but a pretty good accountant. And since we saved his life, he didn't charge us much.
What happened with your business?
Winston: My brother took over a lot of my responsibilities and his son started working for us. The Ghostbusters publicity got us more customers, so that kept them happy.
Ghostbusters, the company, kept going till 2010.
Ray: We had steady work. There's a normal level of supernatural activity at all times, like background radiation. Even when there's not a superpowerful malignant entity channeling horrific powers as part of a plan to take over the world, you still get a low level of hauntings, vapors, that kind of thing.
Winston: There's still the lower-level nasties — they don't want to rule the world, just drive all the residents out of their old apartment block, or have unfinished business with their boss.
Ray: And there are seasonal fluctuations — Christmas, Halloween, of course. And people with grudges die all the time. It just got harder to keep up with. The Ghostbusters wound down when Egon got ill. Venkman lost interest once his Spook Central YouTube channel started making him more money than we did. At the end, it was more of a research facility. We hadn't actually caught a ghost in five years.
So there are still ghosts out there now that need busting?
Ray: Definitely. We're too old to bust ghosts now. But I hear there's some new set-up, a group of women — I've got their book in stock. Its pretty good.
Winston, why did you leave the Ghostbusters in 2000?
Winston: Part of it was a timing thing. I love working with these guys but I was getting tired of all the running and screaming. And my funeral business was doing really well. All sorts of people want to be buried by a Ghostbuster. You wouldn't believe some of the requests we got. And no, I never had to bust any of them later. You bury someone properly, respectfully, they don't come back.
But it wasn't just that. The most successful times the Ghostbusters had, when we were working flat-out 24/7, were when we were fighting a rising evil. Our money came from fighting monsters. I didn't have a problem with that, it's what we should have been doing. But when the business slowed down, it became all about the mugs, the lunch boxes, promoting ghosts. It bothered me. Almost like we wanted wickedness to rise to get more business. So, after the millennium, I sold my shares back to the guys and used the money to pay off my mortgage.
Was the turn of the millennium a significant time for the Ghostbusters?
Winston: This guy thought it was going to be.
Ray: Yeah, that was my bad. All the signs pointed to something really big and really bad coming. Biblical proportions. Milton Angland came out of retirement with a prophecy — tentacles, ectoplasm, the works.
Winston: I turned down all those party invitations… my wife was pissed.
Ray: Egon's spore collection went crazy for a few hours but that was it.
You are both from different backgrounds — how did your upbringing affect the way you interacted with money?
Winston: My parents both worked really hard, they were a good team. We had enough money to live, but it could be tough. They would go through the bills and receipts together every Friday night. Showed me how important a steady paycheck was.
Ray: I never thought about it as a kid, really. My family had money, paid for college. I worked at the local auto shop in the summer vacations because I wanted to. I didn't need the money.
You did work as a commodity broker after college though?
Ray: For a year after I graduated, my uncle got me the job. I hated it. So I went back to Columbia first chance I got. We didn't earn much as researchers, but I loved what we did.
So establishing the Ghostbusters was really the first time you really had to deal with money?
Ray: I understood the math, I just didn't fully understand the potential consequences. Believe me, I would not let Peter negotiate a mortgage for me now.
Do either of you have debts?
Winston: I hate being in debt. I paid off my mortgage soon as I could. I've never had a credit card.
Ray: I had a lot of debt in the late '80s, but my inheritance paid that off. I've been lucky. Something always turns up.
What mistakes have you made with money?
Winston: Not asking for a higher salary after Gozer. It was a crazy time — finding out ghosts were real, nearly getting killed by a 100-foot marshmallow man — that messes with your head. But I should have done it.
Ray: Mistakes? How long have you got?
Can you pick one?
Ray: Getting a third mortgage at 19 percent? Letting Peter have uncontrolled access to the petty cash?  
Now you're both retired, do you have any long-term goals for your money?
Ray: When Spengler died, all the Ghostbusters kit ended up at Ray's Occult Books. I used my savings to buy the rest of the building and I'm going to convert the higher floors into an interactive learning centre for kids.
Winston: Not too interactive, though. You did get rid of the nuclear accelerators, right?
What do you spend your money on?
Ray: Most of my money goes to research materials and traveling to Sites of Special Supernatural Interest. I have good connections with a lot of the occult communities so they help out with airfare and I host events for them at the bookstore. I live in my bookstore in Manhattan so I can't afford to spend on a lot else.
Winston: I like to eat out and treat my family. We take Ray with us sometimes. That's where most of my discretionary money goes. Otherwise, it's the usual expenses. Healthcare costs around $500 a month — that keeps going up as I age but I get the best I can afford.
Do you donate to charity?
Ray: I donate regularly to Paranormal Investigators in Distress, the Tobin Research Trust, a couple of local covens and SETI.
Winston: I help out with community projects in my area. How I see it, the happier people are when they're alive, the happier they'll be when they're dead.
Do you think there's finance in the ghostworld/afterlife? Do ghosts do money?
Ray: There's not a lot about this in the literature but Egon and I did speculate that there might be a rudimentary system where lower-level spooks receive a benefit in kind for supporting more ambitious malevolent entities. Sadly, Egon passed away before we could take it further.
Winston: Seeing as most grudges that last beyond the grave seem to be about money — I'd say no. You can't take it with you!
What financial (or ghostbusting) advice do you have for Billfold readers?
Winston: Always check out the specifics of a job before you take it.
Ray: Take a risk and it might just work out. Follow your dreams, maybe even your nightmares. Oh, and if someone asks you if you're a god…
Winston: …you say YES!
Louisa Bhaer (not her real name) works in marketing and spends far more time with spreadsheets than is probably healthy. She ain't afraid of no ghosts.
If you'd like to be part of a future Doing Money interview, email nicole@thebillfold.com.
This story is part of The Billfold's Spooky Money series.
---
Support The Billfold
The Billfold continues to exist thanks to support from our readers. Help us continue to do our work by making a monthly pledge on Patreon or a one-time-only contribution through PayPal.