The Unsettlers: A Billfold Book Review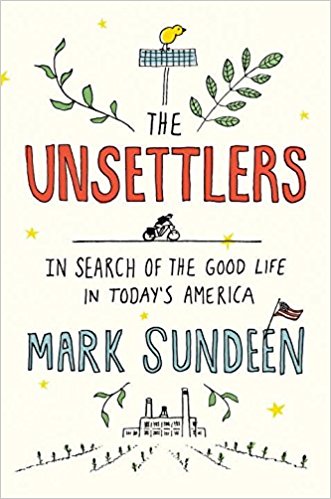 I read Mark Sundeen's The Unsettlers: In Search of the Good Life in Today's America specifically because Riverhead Books did a 2018 Book Horoscope post and listed it as a good pick for Scorpios:
Your lucky book for 2018 is about a group of people who decide to embark upon the adventure of a lifetime, and leave behind a way of existence that most people never consider doing without. All in search of a simpler, more ethical life. Sound impossible? Think again. Keep this close by when you start to doubt yourself: you can handle more than you may believe.
The book follows three families who have chosen to live off the land in three different parts of the country: Missoula, Montana; Detroit, Michigan; and La Plata, Missouri. As Sundeen meets with each of these families and learns more about why they chose to "unsettle" their lives, he asks himself whether he and his wife should make a similar choice.
The Detroit section is by far the most interesting, and in some ways the most relevant; the families in Missoula and La Plata are able to find and farm big chunks of land outside of their respective towns, and live outside of "settled" town life (though not necessarily without help; Sundeen makes it clear that farming takes a lot of labor, and the La Plata family in particular works with a rotating crew of interns, campers, and guests to keep their farm running).
The couple in Detroit is, by default, part of a community. They're farming out of a backyard, and dealing with all the benefits and drawbacks of neighbors, city government, and so on. They also have to deal with racism, both in terms of external forces and differing life experiences; the husband is white and the wife is black, and the disparity between their perspectives of whether their community is safe enough for the children they hope to have someday is worth noting.
But I want to write about the La Plata family, because I grew up in a small Missouri town very near La Plata. Our marching bands were in the same parades; they played us in basketball. When our high school bussed us to the district music contest in Kirksville, the La Plata kids were there too — and that's the point at where my experience of living in this particular corner of Missouri starts to differ from Sundeen's, because he mentions Kirksville as being the nearest big town but fails to explain that it's home to Truman State University, a selective, top-rated liberal arts school that often gets described as "the Harvard of the Midwest." (The only reason I didn't attend was because it was too close to home.)
Writing about Kirksville in the context of Truman State might have changed the narrative a little bit; the family that moves from Oregon to Missouri in hopes of living both off the land and off the grid also values arts and culture, and Sundeen keeps emphasizing that there isn't a lot of that in the Midwest. (They would have been happier in Oregon, he theorizes, except land was too expensive there.)
But I grew up surrounded by arts and culture. Truman State has a symphony and Kirksville has a community orchestra. I performed in the Quincy Area Children's Chorus, the Quincy Area Youth Orchestra, and, when I was older, the Quincy Symphony Choir. I also performed with the Muddy River Opera Company, which needs to be mentioned because the woman who moved to La Plata is a former professional opera singer, and Sundeen incorrectly tells his readers that there is no opera in northeast Missouri.
The catch, of course, is that all of these opportunities are a 20–60 minute drive from La Plata, and this family has given up both cars and the internet. If you don't have access to a tool that tells you where the opera is, you might eventually learn of it through word-of-mouth — but you still wouldn't be able to get there.
The other catch is that farming is a full-time job and then some.
When you read The Unsettlers — and it is a good read, well-paced and both informative and entertaining — you'll probably ask yourself the same questions Sundeen does: what am I willing to give up in order to fully pursue my core values? If you want to live an environmentally sustainable life but you also want to sing in the opera, which value wins out?
The Unsettlers suggests that following our core values exclusively is very difficult, though part of this is because the book focuses on three families who have chosen farming; a story of people who valued teaching or ministry or art would also be about forging a difficult path in a world that does not value singular focus, but it might not involve as much hard physical labor.
The Unsettlers also asks us to consider that what we say we value might not actually be what we value, which is, well, unsettling.
Consider it Billfold-recommended.
---
Support The Billfold
The Billfold continues to exist thanks to support from our readers. Help us continue to do our work by making a monthly pledge on Patreon or a one-time-only contribution through PayPal.