Side Hustle: A Billfold Book Review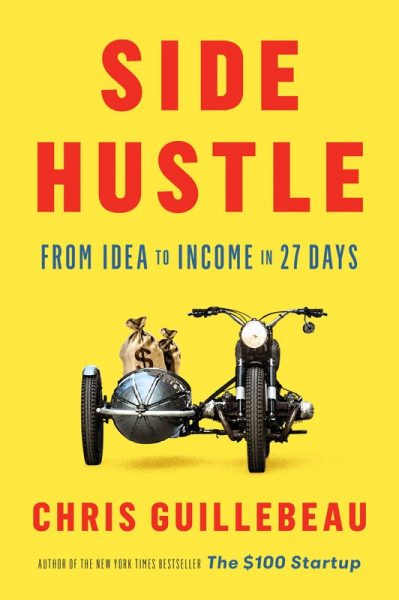 Chris Guillebeau's newest book, Side Hustle: From Idea to Income in 27 Days, releases today. I was lucky enough to receive an advance reader copy, and here's my review: 
I've been a Chris Guillebeau fan since the "time I tried to be an indie musician" days, and even though I told you yesterday not to look up my old YouTube videos, I will note that I did an entire YouTube series analyzing Guillebeau's 2012 book The $100 Startup:
(You can see, like, the prototype of where I am today in this video. The music part was actually the only part that wasn't working.)
The $100 Startup: Reinvent the Way You Make a Living, Do What You Love, and Create a New Future was based on the idea that anyone could create a sustainable business for just $100, and if Side Hustle: From Idea to Income in 27 Days sets its expectations a bit lower, well… should we even go into the fact that one of Guillebeau's first big projects was called The Empire Building Kit, which I bought back in 2010?
Which means that in seven years we've gone from "building an business empire" to "earning extra cash from a side hustle?"
But if you do want to earn that extra cash, Side Hustle will help you figure out what to do and how to get started.

Although Side Hustle includes a few examples of people who just went ahead and signed up for Uber, the majority of case studies are about people who created their own side hustles: wedding photographer, tutor, custom Valentine candy designer.
If you do choose the "just sign up for Uber" path, Guillebeau offers suggestions on how to stand out from other Uber drivers, Rover dogsitters, or Airbnb hosts. He notes that you can either make your profile/service better than everyone else's (more photos, better photos, more comfortable bedding, etc.) or you can offer additional value outside of the service, like teaching new Uber drivers how to earn more money as Uber drivers—which, yes, I know, sounds exactly like the "telemarketing trainer" plan I pitched to my manager all those years ago, but the thing about Uber is you don't have to pitch that kind of thing to a manager, and Guillebeau has an example of a guy who made it work.
The problem, of course, is scale. There can only be so many Uber trainers. The more photos you add to your Rover profile, the more photos everyone else adds. To build a really effective side hustle, you need to find something that:
You do really well
Everyone wants
Nobody has (yet)
Which might not be possible for everybody. We might have to settle for being the best Uber driver we can be and making a few extra bucks on the side.

The best parts of Side Hustle aren't actually about the side hustles. Guillebeau includes several key business tips that can apply to anyone who's in the workforce, including:
Grow what works, let go of what doesn't.
Spend 10 percent more time on the most important tasks.
If you're just "breaking even," you're actually losing money.
The book is full of these catchy, helpful tips that reminded me of all the ways I could be optimizing my own work. I want to go back and read through Side Hustle again so I can make a list of the tips I need to take action on. (What are the most important tasks related to promoting my novel, and what would happen if I spent more time on them?)
Guillebeau is also honest about how much time a really profitable side hustle takes; his 27-day plan assumes you'll be able to work on your side hustle every day, and although he has some advice for people who aren't able to do that, he makes it clear that earning money takes time—both the time it takes to do the hustle itself, and the time it takes to do the administrative and promotional work surrounding the hustle.
And yeah, maybe it's unfortunate that we're now expected to start all of these super-effective side businesses in addition to our day jobs, the same way that we're supposed to pay our mortgages by signing up with a service that contracts us into becoming full-time Airbnb hosts. Why don't our employers just pay us enough to live our lives? (I realize the answer to that question is very complicated, and I look forward to your discussion in the comments.)

Do I recommend Side Hustle? Sure. I think it's a good read for people who want to get serious about starting a small business, whether they plan to keep it at side-hustle-size or, like many of Guillebeau's case studies, expand it into a full-time job. I also think a few of the chapters are really great for people who want to earn extra money through a service like Airbnb or Uber.
I do wish it had a different title, though. People who want to start businesses might see it and think it isn't for them, and people who just want to TaskRabbit or drive for Uber might not think it was for them either.
But do read the book, if you're interested—and now I'll let y'all continue the discussion of side hustles, small businesses, and why so many people need an extra hustle to earn enough money these days.
---
Support The Billfold
The Billfold continues to exist thanks to support from our readers. Help us continue to do our work by making a monthly pledge on Patreon or a one-time-only contribution through PayPal.