The Time I Splurged on a Solo Trip to Birmingham, Alabama
10/10 would do it again.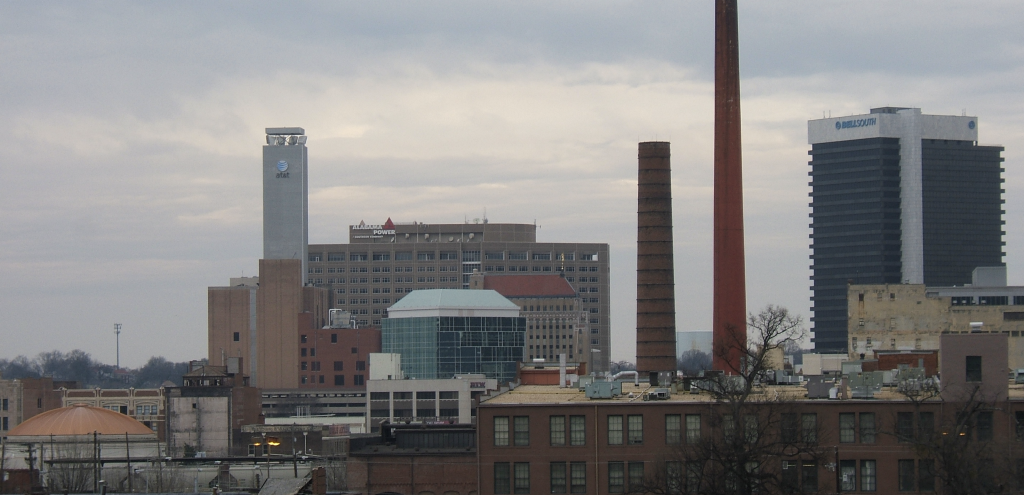 "Hey guys, not feeling great," I typed in our team's Slack channel. "Just a heads up — think I'm gonna work from home tomorrow."
It was 7:30 p.m. on a Thursday (in February of last year), and I was not sick. I was sitting cross-legged in bed with a glass of cheap wine, scrolling through next-day flights on my MacBook. I'd been in a sad, restless phase for awhile and needed to get away, shake things up for a day or two — and thanks to a few hundred bucks I had recently stashed away, some modest splurging was actually feasible.
(On splurging, I do have an important disclosure: My husband Zach works in aviation, and we both fly standby for free on certain airlines. I'm super thankful for this and realize it's a perk not available to most people.)
I booked a standby seat on the first open flight I found, which happened to be bound for Birmingham, Alabama the next morning. After 15 minutes and a quick online search, I'd also reserved one night at a run-of-the-mill hotel near the BHM airport ($105) and purchased an overpriced ticket on StubHub ($108) to see one of my favorite bands play a sold-out show at a venue called Iron City.
I pulled a duffel bag from the back of my closet and started packing.
The hotel was not fantastic. The Wi-Fi, which I needed in order to "work from home" as I'd promised, was spotty to the point of being almost useless. The water in the toilet ran so loudly that I eventually got fed up and turned it off altogether. Downstairs in the lobby, a breakfast buffet table that should have been stocked — with cereal cups or stale muffins or some other prepackaged sustenance, at least — stood empty. And there wasn't a vending machine in sight.
Individually, any of these annoyances would be forgivable. But sitting in my hotel room, stomach growling, muttering profanities at my laptop's slow-loading browser tabs, I definitely started to doubt the wisdom of my impulsiveness. I certainly didn't expect luxury, but I had hoped to work without interruption in a quiet, standard room — with access to snacks, any snacks — before a night out in a new town. So far, it wasn't looking hopeful.
Around noon, I decided to find some food. I could have ordered something pizza-y, but according to Google there was a Burger King half a mile away, and I wanted to save most of my remaining cash for later. So I walked. On my way back, I stopped at a gas station and bought a bottle of water and a single tallboy, for after work. (Lunch + water + beer = $12.)
At 4:00 CT, I started getting ready for the evening.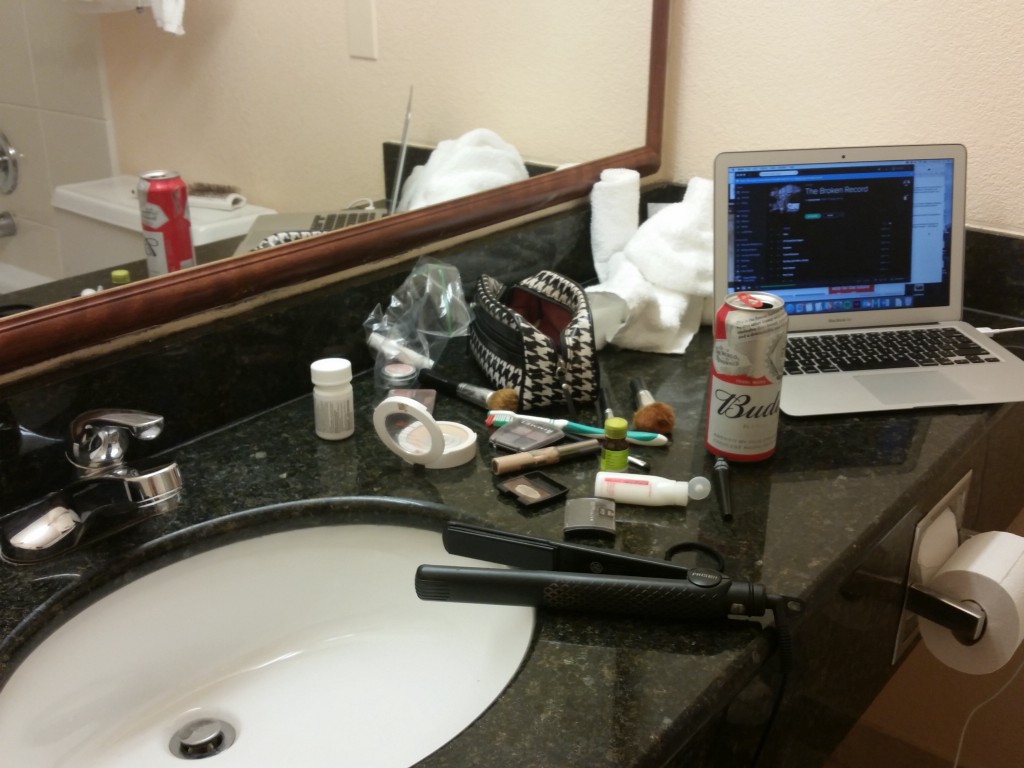 I took an Uber to Five Points, a downtown neighborhood that had been recommended to me earlier that day by a helpful airport employee. Once there, I wandered the streets for awhile before settling on a dimly lit pub. I sat at the bar. They were playing old country music, which made me happy. I ordered a Bulleit & Seven and a plate of nachos, chatted with the bartender, and then took another Uber to the venue. (Rides + dinner = $41.)
The line at Iron City stretched around the block. On the sidewalk, I observed my fellow concertgoers: The ladies, with few exceptions, wore cowboy boots with dresses or floral peasant blouses. The men donned plaid or pastel-colored button-down shirts with jeans and work boots. And I, the obvious out-of-towner, had worn Vans, a plain tee, jeans, and a leather jacket.
Although I grew up listening almost exclusively to country music, it had been years since I'd been to an actual country show, and I felt suddenly and unexpectedly out of place. My discomfort was validated by a bouncer who made no attempt to hide a frown as he eyed me with distrust.
Inside, I ordered a beer and bought two t-shirts from the merch table (drink + merch = $51), then claimed a couple square feet of standing room next to the stage. It was the perfect spot, and I was excited to make friends with a couple of girls nearby. At one point, I was even sure that the guitarist and I (gasp!) shared a moment of eye contact. The show was terrific.
And sure, the whole trip wasn't perfect, but the night had turned out to be a success overall. As the house lights rose and the audience herded toward the exits, I pulled out my phone and opened the Uber app, ready to call it a night.
Then, I noticed a familiar face near me in the crowd. The guitarist.
"Hey!" he shouted above the hubbub. "Where are you going?"
I swiveled around, certain he was talking to someone else. "Oh, hey! Um. Nowhere really? I flew in for the show, so I'm going back to my hotel."
"What? You flew here just to see us? From where?"
"Orlando."
He raised his eyebrows and started laughing. "That's awesome! Do you want to stick around for a drink?"
We took shots at the bar and introduced ourselves while the staff mopped the floors around us. I told him about writing and my love of country music and how my husband is also a guitarist. He told me about life on the road and what's good and bad and new in Nashville. He was funny and a gentleman. I asked why he'd wanted to talk to me. It was because I was watching the show, he said.
"I mean. Wasn't everyone… watching the show?"
"No. People are having conversations, they're starting fights, they're looking at their phones the whole time. You were paying attention. Plus," he laughed, "you kind of stuck out. There was like, a little empty space around you in the crowd."
The bartenders eventually (but politely) kicked us out, and we retreated to the parking lot behind the building where someone (a staff member, I think) had built a fire in a metal trash can. As I warmed my hands over the flames, giddy from a mixture of adrenaline and bourbon, I laughed at the spontaneity and swiftness of it all. I concluded then that it was indeed a perfect trip, worth every cent.
We carried on with our conversation outside for another hour. At around 1:00 a.m., I announced that I'd need to get some sleep if I expected to catch my red-eye back to Orlando the next morning. We exchanged info, hugged goodbye, and I caught a ride back to the hotel.
($15.)
Alison Datko is an Orlando-based writer. You can follow her on Twitter or Instagram, or check out more of her work at voyagess.com.
This story is part of The Billfold's Vacation Series.
---
Support The Billfold
The Billfold continues to exist thanks to support from our readers. Help us continue to do our work by making a monthly pledge on Patreon or a one-time-only contribution through PayPal.