I Can Meal Plan, So Why Can't I Household-Goods Plan?
Why am I always running out of dish soap and toilet paper?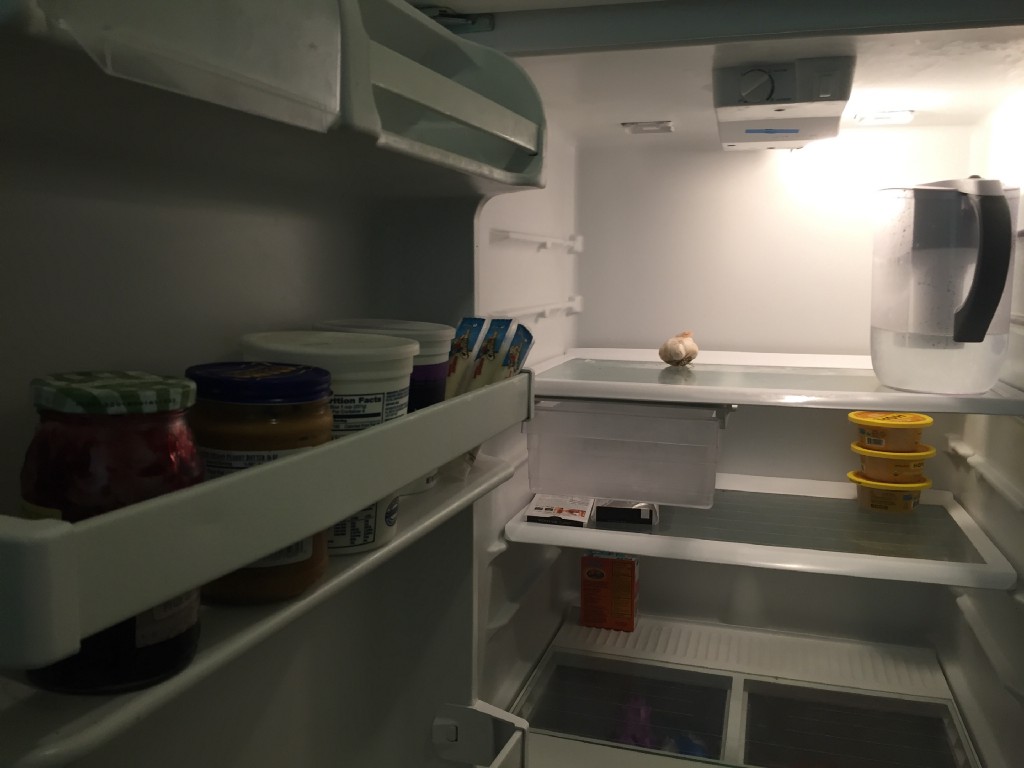 So once again I have demonstrated that I can meal plan to the point where I can go on a six-day trip and leave neither a leftover nor a fruit-or-vegetable behind. (Those three things of hummus in the back are unopened, and will keep.)
My freezer is full of bread and tortillas, and I've got some dry lentils in the cupboard that I'll put in the slow cooker when I return, and like I mentioned earlier, I'll need to go to the grocery store one more time before the end of the month to get more fruits and vegetables.
And, probably, more toilet paper.
And body wash.
And laundry detergent.
I can meal plan to literal perfection and I have not yet figured out how to keep track of the other household supplies that make up my grocery bill—that in fact make up the majority of my grocery bill these days.
I've started to think that there are two factors at work here:
I can't track servings of toilet paper or laundry detergent.
How long does a roll of toilet paper last in my apartment? Depending on the time of the month, anywhere between three days and a week. How long does an economy-sized jug of Arm & Hammer Oxy-Clean detergent last? I have no idea. Should I be counting? Do people count these things? Do they look at the number of loads printed on the bottle and make little tally marks every time they run their laundry?
I mean, I look at the number of slices in a loaf of bread and say "okay, this will get me ten lunches." I've been doing that for years. So why am I not looking at my jug of Arm & Hammer and saying "if you have 70 loads in you, I shouldn't need to buy laundry detergent for another 35 weeks?"
Stuff like shampoo and body wash get even more complicated, because it's not like the bottles say how many washes they include, and I bloop out a different amount of gloop every time, and sometimes there's an air bubble and a whole glop of product comes out by mistake.
But I could still be tracking, like, averages. If I wanted to. And then using what I learn to save money, in the "what if I used one fewer square of toilet paper every time" sense. Or "what if I made sure to only squeeze out a quarter-sized dollop of Aveeno Positively Nourishing Hydrating Body Wash?"
Which brings me to the other factor:
With food, cheaper is often better. With household goods, cheaper is often worse.
Cooking my own lentil soup is less expensive and healthier than buying canned soup. Buying apples and carrots is less expensive and (maybe) healthier than buying rock-hard peaches or asparagus. There's a range of cheapness that I want to stay within—I buy Adams 100% Natural peanut butter, not store brand—but food costs scale down really nicely if you have the time and capacity to do food prep and meal planning.
You don't get the same scale with household goods. Aveeno Positively Nourishing Hydrating Body Wash does make my skin feel softer than some of the less-expensive body washes I've tried, to the point where I use much less moisturizer afterwards. But there's no "bag of lentils" version of Aveeno. You have to pay what it costs, and it usually costs more than your other options.
So here I am with my bottles of body wash and shampoo and conditioner and the three different hair products that I put in my hair every day, plus the extra shiny hair product that I put in my hair on special occasions, plus the hand soap and dish soap and facial tissues and disinfecting wipes and everything else that I buy every month, that somehow costs more than all of my food combined.
And I do cut back where I can. I buy Value Corner facial tissues, not Kleenex. I buy Scott toilet paper. (You all are probably hearing much more about my toilet paper than you want to, today.)
I'm going to be spending a huge chunk of next week trying to pull some information out of the stack of grocery receipts I've been collecting, in the hopes that I might find a pattern that will allow me to bring these household costs down.
But I might not be able to. This stuff might just cost what it costs, and if I really want to save money I'll have to think about larger-scale strategies like buying in bulk.
How do you track non-food grocery shopping? Do you have any system for knowing when you're going to run out of laundry detergent, besides picking up the bottle every week and suddenly thinking "wow, this feels light?"
---
Support The Billfold
The Billfold continues to exist thanks to support from our readers. Help us continue to do our work by making a monthly pledge on Patreon or a one-time-only contribution through PayPal.