Why You Should Sell Your Clothes to Buffalo Exchange By Mail
Sell Your Clothes to Buffalo Exchange by Mail
It's much less stressful than selling in person.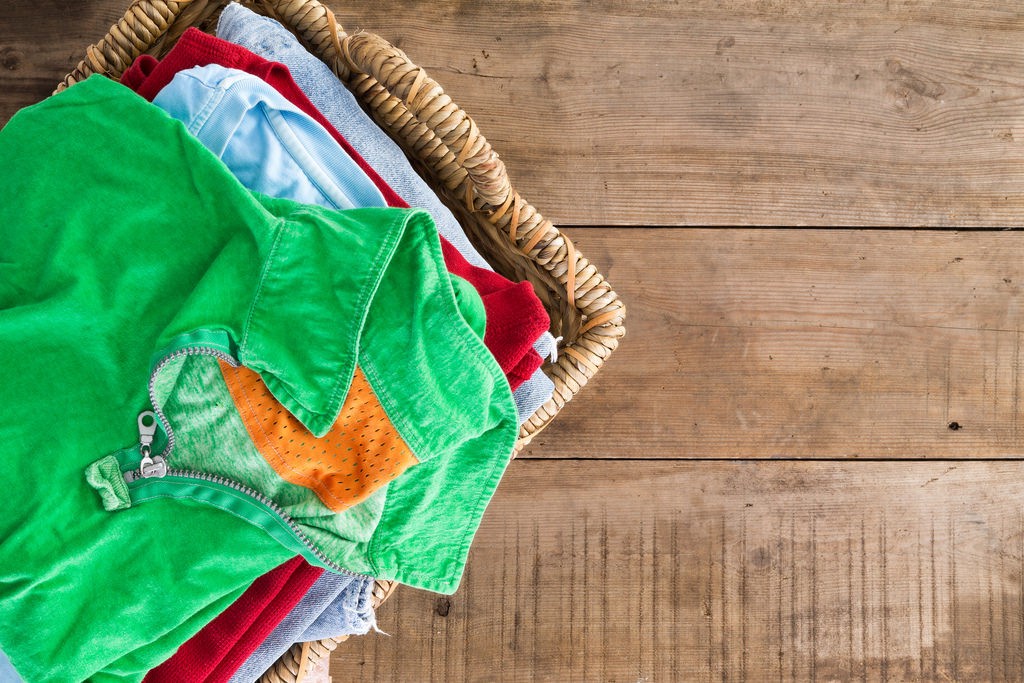 Now that I've sold to Buffalo Exchange by mail, I will never go back. I will never again be one of those sad, tired people standing on line for an hour with two giant, overflowing bags of clothes, only to have all of it rejected by a rude, judgmental, and hip cashier.
I started selling to Buffalo Exchange and its fellow buy/sell/trade store Crossroads Trading Co. about five years ago. It was one of my "how to make money ASAP" tricks, but I would only make about $5–15 per trip, and that might be from taking a stack of clothes to Buffalo Exchange, Crossroads, and maybe also Beacon's Closet in the same outing. Sometimes all my clothes would get rejected and I would make nothing.
The Guide to Making Money ASAP
I always knew that Buffalo Exchange and Crossroads Trading Co. had sell by mail programs, but I never wanted to try them. There is an ominous warning on Buffalo Exchange's website that reads: "Are you near a Buffalo Exchange? If so, we suggest selling in person to your local Buffalo Exchange." It goes on to present a very one-sided argument for selling in person, listing all of the pros but none of the cons—but when I started selling, I thought: if this is their official advice, shouldn't I take it?
The sell by mail process is simple: you request a bag online, they mail it to you, you fill it with clothes, and you send it back with prepaid shipping. Then they decide which of your clothing is worth anything and send you the money you made. Crossroads pays via check and Buffalo Exchange lets you choose between check and PayPal; as always, you can also opt for a store gift card. If they don't want your clothes, Buffalo Exchange and Crossroads will either donate them to charity or return them to you for a fee.
However, selling by mail means losing money on every piece these stores accept. Buffalo pays 25 percent of the selling price by mail and 30 percent cash in store. Crossroads pays 30 percent of the selling price by mail and 33 percent cash in store.
Plus, both stores are very selective about what they buy and it always seemed to help for me to be there in person. I can arrange my clothing on the counter in folded stacks so it looks presentable, since these stores don't want wrinkled or rumpled clothing. How could I prevent the clothing from getting rumpled up if I shipped it in a bag?
I also wanted to be there to answer questions about my clothes, even though I've only ever been asked a question once. I was selling Halloween costumes in October, and one of my items was a find from my college's free store: a blue chiffon American Apparel skirt that someone had carefully spray-painted gold stars onto with stencils. The guy behind the counter paused with interest, asking "Did you DIY this?" "I didn't, but somebody did," I said. "I found it at a free store." I probably should have lied and just said "Yup!" He called another employee over for his opinion and the two of them deliberated for a very long time… and then rejected it.
These sorts of interactions were why, after five years, I was tired of it all. I already made so little money when I sold to Buffalo Exchange and Crossroads that I didn't care about maybe earning a lower percentage or possibly hurting my chances by not being there to watch the buyers go through my stuff. Last July, I finally said "fuck it" and ordered a Crossroads bag.
I filled it up with the kind of stuff I usually sell to them. After a few weeks, I got an email informing me that they didn't buy anything.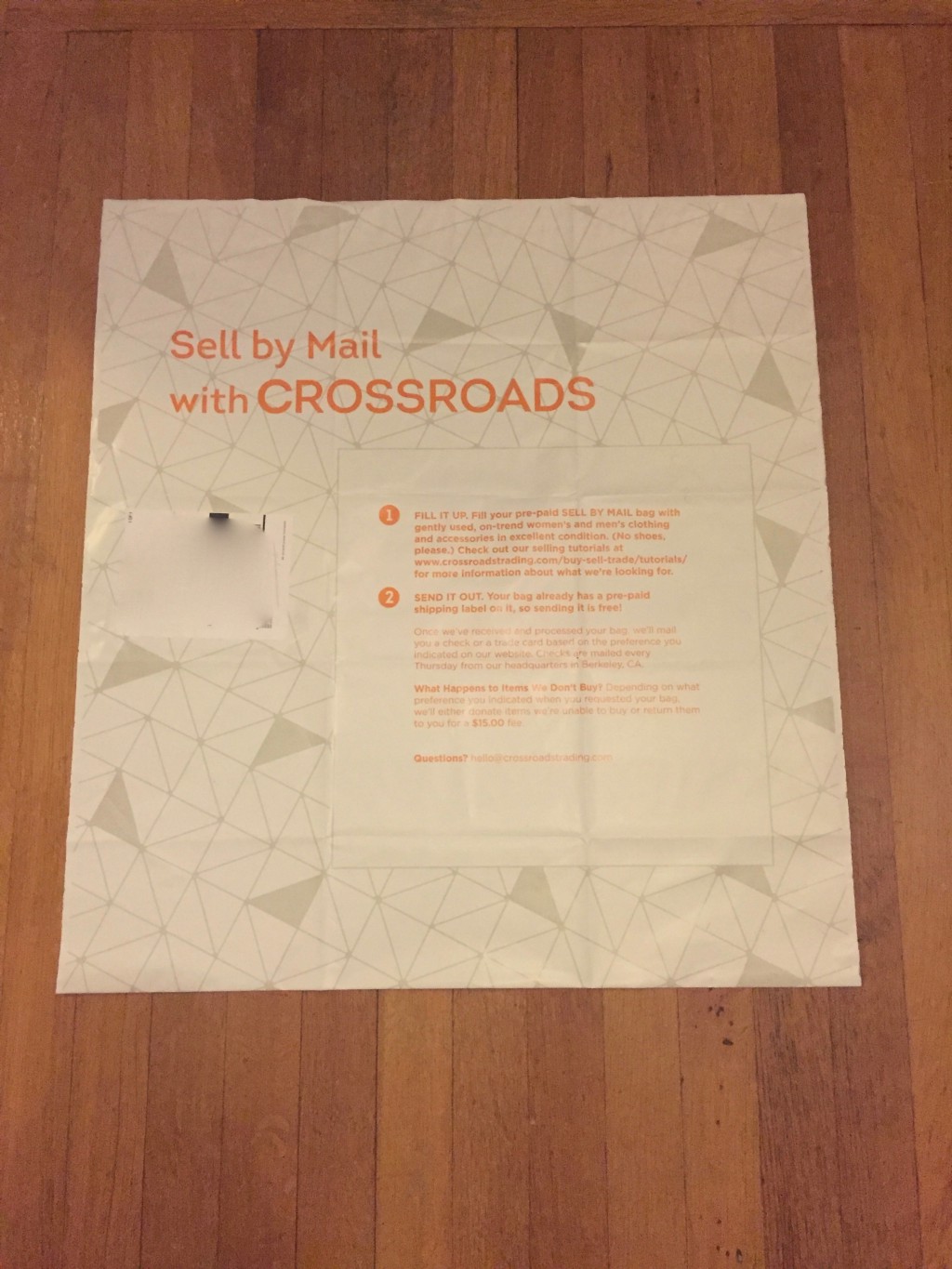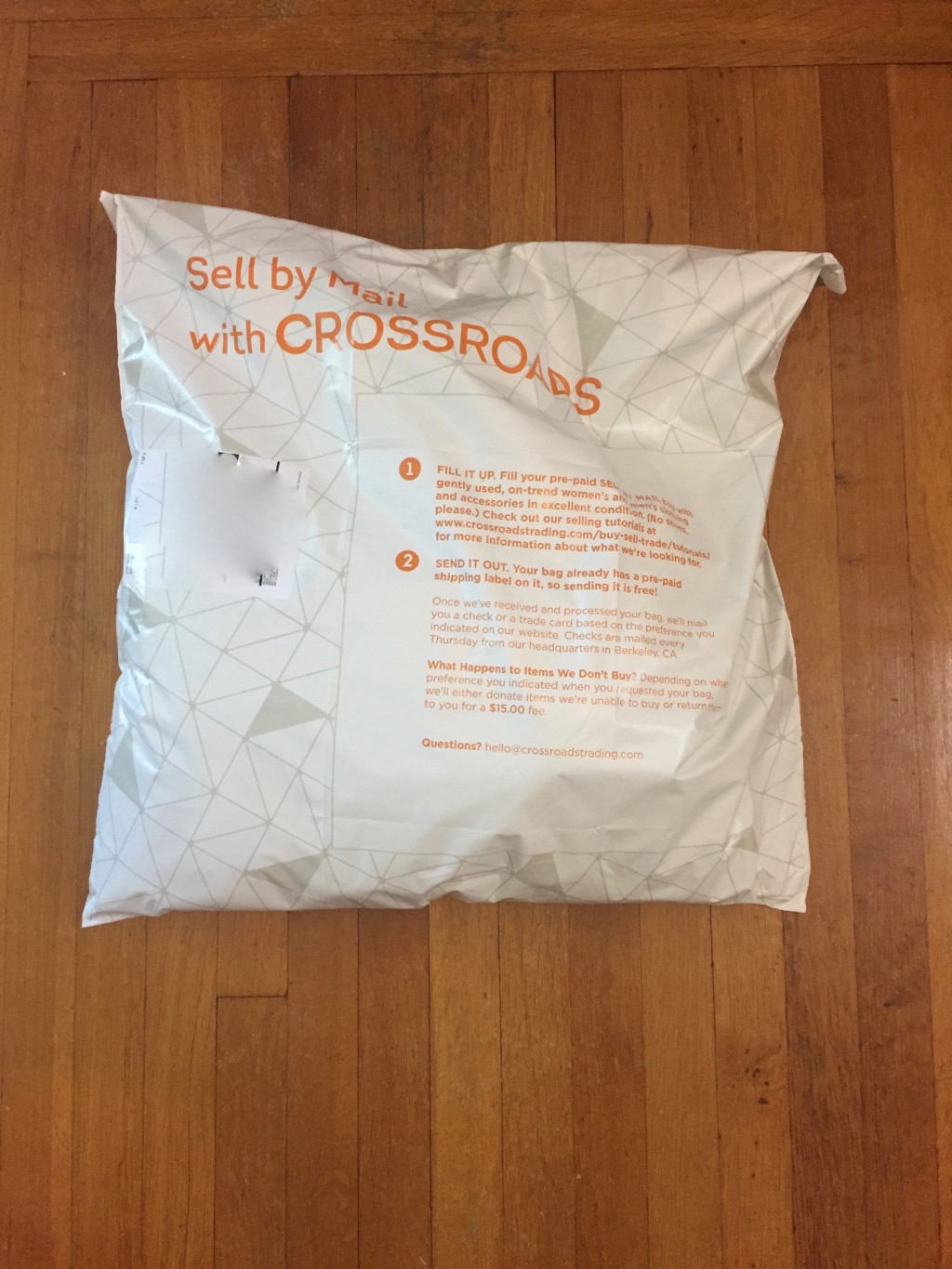 I couldn't help but wonder if it was because I wasn't there to advocate for my outfits, or if my clothes got wrinkled in the mail. But I wasn't going to give up on selling by mail yet. I brushed off this failure and tried again, this time with Buffalo Exchange. In April, I had finally accumulated enough wares to fill a bag. And boy, did I fill it. It was bursting at the seams.
This time, I succeeded: I earned $13.38. This was roughly what I made selling at Buffalo Exchange in person! That was all the evidence I needed. Unless I need my money the same day, I will never sell in person again.
Selling by mail is much less stressful. It's like selling to Buffalo and Crossroads minus everything that's annoying about selling to Buffalo and Crossroads. You don't have to schlep your clothes on the subway or wait on line forever. You don't have to deal with the patronizing employees. Yes, you still have to lug the bag to a UPS location, but odds are that you're closer to a UPS location than to one of these stores.
I'm also ready to give Crossroads-by-mail another try. Unlike Crossroads' in-store selling, Crossroads-by-mail accepts clothing for all seasons, year-round. There are a few items that you can't sell by mail: Crossroads doesn't accept shoes, and Buffalo doesn't accept shoes and jewelry, although I'm here to tell you that that's a LIE because I didn't know about the rule, put a pair of shoes in the bag, and they bought them.
I know that there are buy/sell/trade companies that sell exclusively by mail like thredUP, but they all have shipping and handling fees, which is a dealbreaker for me. (It should also be mentioned that Crossroads has an option to drop off your clothes and come back for your money, but that has many of the same problems as selling in person.)
So, if you're a regular clothing reseller who spends hours dragging your old outfits to secondhand stores, heed my advice. Give up (in a good way)! Sell from the comfort of your home! Don't put yourself through hell selling in person if you can make around the same amount selling by mail.
Madeline Raynor is a New York City-based writer. She writes for Slate and has written for The Hairpin, New York Magazine, Splitsider, Electric Literature, and more. She loves all things Tina Fey. Her first name rhymes with "rain or shine." Follow her on Twitter @madelineraynor_. Her website is madelineraynor.wordpress.com
---
Support The Billfold
The Billfold continues to exist thanks to support from our readers. Help us continue to do our work by making a monthly pledge on Patreon or a one-time-only contribution through PayPal.