The Best Free Gift With Cereal of All Time
Sometimes, good things come in boring packages.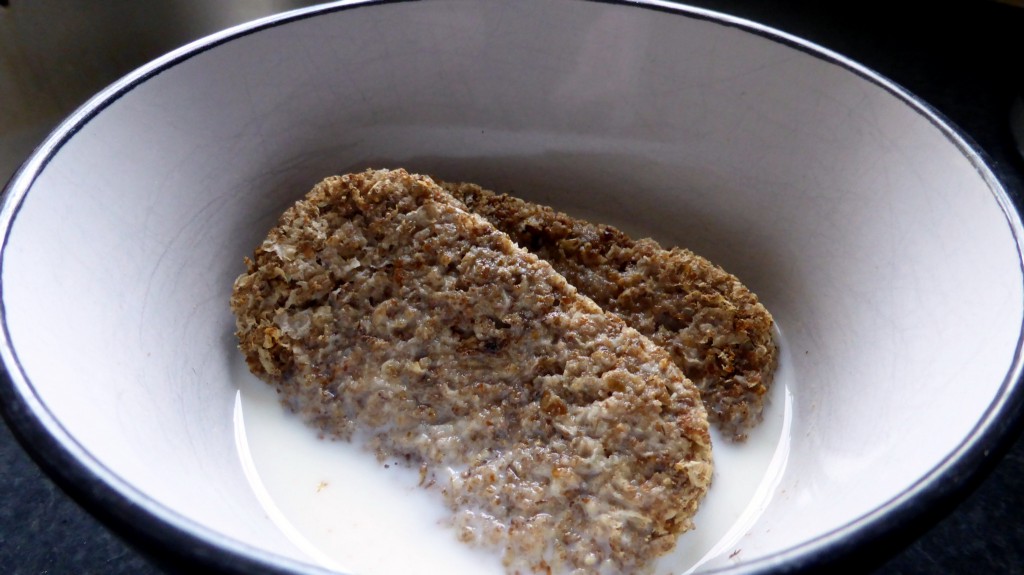 I grew up in the U.K., where cereal box prizes were as unimpressive as they were ubiquitous (a plastic spoon here, a couple of stickers there). But at some point in the mid-to-late '80s, after we moved to a new house but before my parents split up, Weetabix offered the best free gift of all time: a mix tape.
Actually, several mix tapes. The Top Trax Collection.
At the time, the brand's marketing centered on five 'bix-shaped characters, Brian, Brains, Dixie, Crunch, and Dunk, all of whom had a 'distinct' trait (one wore glasses, one was female). Each Top Trax tape comprised four songs that had supposedly been curated by one of these characters.
In retrospect, these mix tapes were just a step up from cassingles. There were two songs on either side, and the trax weren't new; some songs were two or three years old. But they were my first "albums;" the start of a music collection. (Previously, my favorite tape had been an audio recording of The Owl Who Was Afraid of the Dark.)
To get a tape, you had to collect tokens from the boxes and then send them away with a self-addressed stamped envelope. (I'm not fully sure if there was a payment involved, but I remember the Trax being free.) Weeks later, when you'd almost forgotten about it entirely, a tape would arrive.
The first one we got was also the best: Brian's. It came one morning just after breakfast and my mum and I danced around the kitchen to Nik Kershaw's "I Won't Let the Sun Go Down on Me," which is about nuclear war but seemed like it could be about how the kids at your new school didn't like you now but one day they might.
The other songs on the tape were also excellent: "Fantastic Day" by Haircut One Hundred, "Young at Heart" by The Bluebells, and "Candy Girl" by New Edition. I was also a fan of Dunk's Top Trax: "Doctor! Doctor!" by Thompson Twins, "Shout" by Tears for Fears, "Come On Eileen" by Dexy's Midnight Runners, and "There's A Guy Works Down The Chip Shop Swears He's Elvis" by Kirsty MacColl. I didn't love every song on the other tapes, but they introduced me to Bananarama (my immediate obsession), Billy Ocean, The Jam, and ABC. It was like a a crash course in '80s pop hits.
I'm still not sure what compelled my mother, a woman with an extensive record collection and a hatred of "messing about" (which meant anything involving paint, glue or scissors) to painstakingly cut out the tokens on box after box after box after box. Maybe she liked the songs. Maybe she wanted to inculcate a love of music in me. Maybe she just wanted a valid reason to cut holes in something my dad owned.
Because he was the one who liked Weetabix. He ate two every morning and then left for work before my mum and I got up. I imagine he thought it was hearty, healthy, the kind of sensible breakfast a disciplined person should eat. (When he discovered last year that it contains sugar, he immediately stopped eating it.) I preferred cornflakes, and could never believe the most exciting free gift I could imagine came from the most boring cereal. But maybe that was the idea.
Weetabix couldn't sell their product on the magic of Snap, Crackle, and Pop or the promise made to us by Coco Pops, the British version of Cocoa Krispies: "it even turns the milk brown." (For some reason, this was considered an advantage rather than an aberration.) All Weetabix did was taste like cardboard and change into a gray slop if you let it sit in milk too long. But they made up for it in gifts. Among the usual boring recipes, wall charts, and Doctor Who postcards, you could also collect a children's encyclopedia, a Sindy doll, matchbook cars, T-shirts, and (hopefully not aimed at children) a carving knife.
They also had a passion for distributing music. In the 1960s, they gave away both a "Party Mood LP" and a "Sing-Along Party record." In the early '80s, you could collect tokens to pay for a Weetagang radio. In the 1990s, they did a series of four tapes in conjunction with Top of the Pops, an iconic weekly chart TV show that ran from 1964–2006.
Not long after Top Trax, they released Top Trax II. The redeeming feature of this sequel was "System Addict" by Five Star, a group of British siblings who wanted to be the new Jacksons but flamed out in a whirl of bankruptcy rumors, a public indecency prosecution and a self-produced album that prompted a teenager to call them "fucking crap" on live TV. For the most part, though, these tapes featured deep cuts from acts like Big Country and Bronski Beat rather than the mainstream pop hits the original Trax had provided.
In 1988, when I was nine, my dad moved out and took his Weetabix with him. There were no more tapes from Brian, Brains, Dixie, Crunch, and Dunk after that (because they stopped making them, not because of my parents' divorce) and cereal box prizes became increasingly drab. But I'll never forget the way Top Trax expanded my world, allowed me to form my own musical taste, and showed me that however sad, or defiant, or joyful I was, someone else had once felt the same way. Not bad for some stamps and a few pieces of cardboard.
Diane Shipley just learned that Dexy's Midnight Runners is a drug reference. She tweets @dianeshipley.
---
Support The Billfold
The Billfold continues to exist thanks to support from our readers. Help us continue to do our work by making a monthly pledge on Patreon or a one-time-only contribution through PayPal.