What We Gain When We're Broke
A list of the things I wanted — and what I got while struggling to afford them.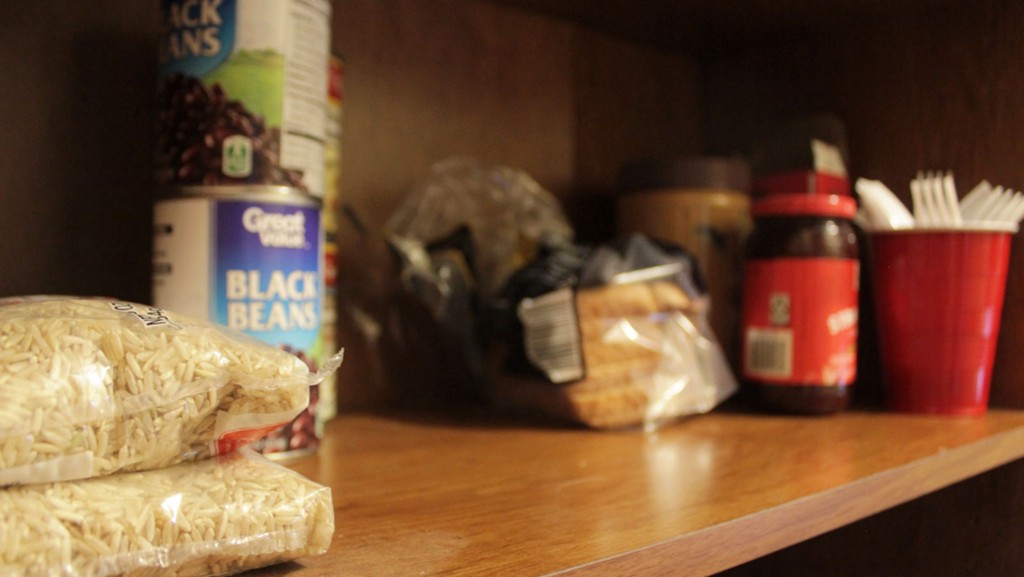 My husband and I signed a mortgage last year. "Our first home," that's how people describe it. Sure, it's the first time we've owned a house. And yes, I'm still over the moon about it!
But it's not our first home.
The first home we shared was a carpeted 1/1 in an apartment complex with fading yellow siding. Seven years ago. It was on the southeast side of Orlando, on a busy street near the airport. The night after Zach and I signed the lease, we slept on an air mattress — the only furniture in our possession at the time. We dined on a pack of instant rice and beans and took turns taking bites with the same spoon, our only utensil, which now that I think about it may have been left over from the previous tenant. We entertained ourselves by playing an indoor game of fetch with my dog Jager, who'd ridden shotgun in my purple Mustang the whole way from South Carolina to our new little Florida abode.
It wasn't just my first time venturing out on my own, away from my parents' safe and spacious houses; it was Jager's, too, and I often wondered how the whole transition looked from his perspective. From puppyhood, he'd been accustomed to a cozy style of living that I, now 527 miles from my familial safety net, could no longer provide.
Zach had a steady job. Eleven bucks an hour plus (a lot of) overtime, and benefits just for himself, since we weren't yet married — not for another five years, as it turned out. I hopped between various minimum-wage gigs and was home more often than he was. I spent plenty of time alone, had plenty of no-plan mornings during which I'd pack his lunch, send him off with a kiss, then sip coffee and observe all the empty spaces around me: two of our four pantry shelves, the spot where a coffee table would've been if we could afford one, a long row of unused hangers in the closet. Plenty of time to sit in silence (no internet for awhile, and no TV either) and think about wants.
It wasn't unbearable though. The sun shines even when you're broke, you still notice funny things that make you snort-laugh, and you even start rejoicing in subtle, everyday wins you never noticed before. Those little wins are what keep you going. At least, they're what kept me going. I like to look back on them now and reminisce — and remind myself not only to be thankful for what we've earned since those days, but also to maintain a fluid perception of what it means to win or lose.
Here are a few of the things I wanted back then, along with what I gained while I was struggling to afford them.
Home decor: My decorating wish list consisted of carefully mismatched blankets and pillows, stringed lights, collages of vintage picture frames, an accent rug, a bookshelf.
What I gained instead: A big ol' piece of cardboard, torn from a moving box propped up next to a dumpster near our apartment. Bored to death with our barren white walls, I brought it home one day and Zach and I painted it together, then hung it in our living room. We still have it, and always will.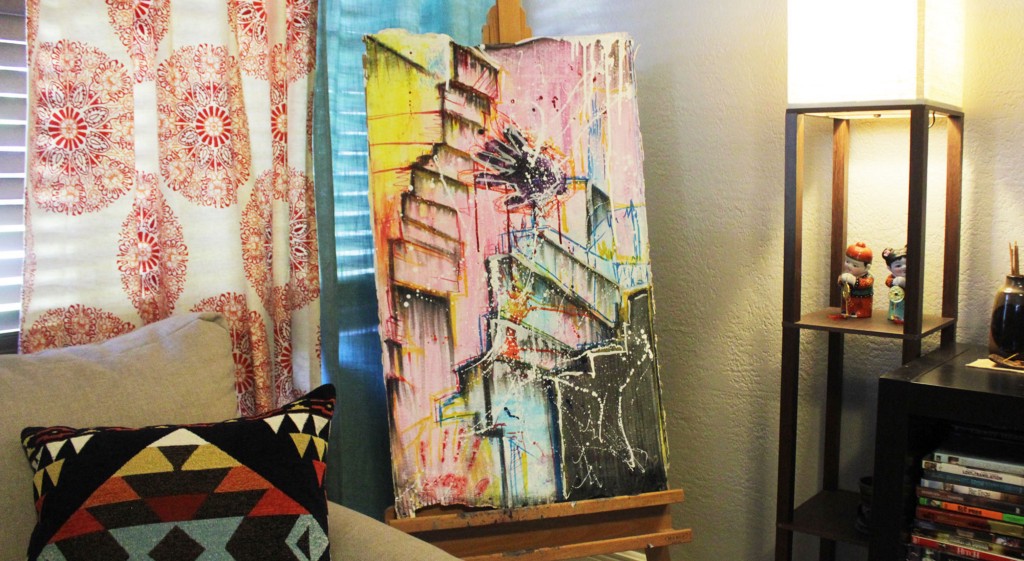 Medicine for Jager: Maybe it was anxiety or the change of climate, but after we moved to Florida, Jager turned into an obsessively itchy pup. The poor thing would scratch until his belly turned bright red. I really, really wanted to take him to the emergency vet. But I simply couldn't afford it.
What I gained instead: Through trial and error, I discovered a successful (and inexpensive!) recipe for homemade dog food that he still eats today: brown rice, sweet potatoes, gizzards, eggs, and greens. It cured his woes, and I never had to pay for meds or a consultation after all.
More groceries: At first, I was delighted by the "playing-house" aspect of grocery budgeting. However, that feeling faded quickly when I realized our budget granted us a rather meager regimen: canned beans, rice, spaghetti, ramen noodles, PB&Js. I craved fruits and veggies, herbs, fresh bread, sandwiches that contained lunchmeat.
What I gained instead: Recipes and friends. To this day, How to Cook Good Food on the Cheap is my very favorite topic of conversation. At work, Zach and I swapped family recipes with our (similarly strapped) coworkers and jotted down tips about where to get the best deals on Sunny D or hot dog buns. I shared my recipes for southern collards and Slovak chicken paprikash; in exchange, I learned how to make Moros y Cristianos (Cuban black beans and rice), arroz con gandules (Puerto Rican rice with pork and pigeon peas), and Jamaican coconut rice with callaloo. I learned that a jar of Sofrito is a delicious substitute for fresh tomatoes and garlic, and that you can add Sazón to anything and it'll taste better.
Date nights: When your significant other is working overtime five nights a week and you're rotating opening and closing shifts at a retail job to make ends meet, date nights on the town are out of the question. For a long time, we just couldn't swing it. At all.
What I gained instead: An affinity for homemade entertainment. Did you know you can make your own living-room version of skee-ball with a cardboard box (dumpster again) and a tennis ball? Did you also know that building a blanket fort in your bedroom is a little-known yet wildly effective method for transforming your worries into laughter (at least for a few hours)?
Television: We lasted for about four years without any kind of television service. We convinced ourselves we were happier without it, but in the long run we ended up paying for Apple TV and a Netflix subscription as soon as we could realistically afford it, which says something, I think.
What I gained instead: A love for NPR. While home by myself, I'd listen to CDs or turn on my alarm clock radio and dial in the clearest channel I could find. Eventually I discovered NPR — I'd never heard of it before that — and fell head over heels for its commentary. I'd stand in the kitchen cooking spaghetti again, or rice and beans again, listening to Tom Ashbrook, host of On Point, every weeknight at 8:00 p.m. on our local station. His voice kept me company, and prevented spontaneous bouts of depression, more consistently than probably anyone else during that time.
A/C for my car: It was summer — in Florida! — when it went out. An unexpected expense for which we hadn't allocated any funds.
What I gained instead: Nothing at all, except perhaps a better understanding of why so many Florida drivers have such horrible fucking road rage. What a sweaty, sticky nightmare. It was months before we got it fixed.
Hey, not all wants have silver-lined counterparts.
But most do.
Alison Datko is an Orlando-based writer. You can follow her on Twitter or Instagram, or check out more of her work at voyagess.com.
This story is part of The Billfold's I Want It Now series.
---
Support The Billfold
The Billfold continues to exist thanks to support from our readers. Help us continue to do our work by making a monthly pledge on Patreon or a one-time-only contribution through PayPal.