The Fine Line Between Free-Wheeling and Inappropriate
More troubling news for the period underpants company.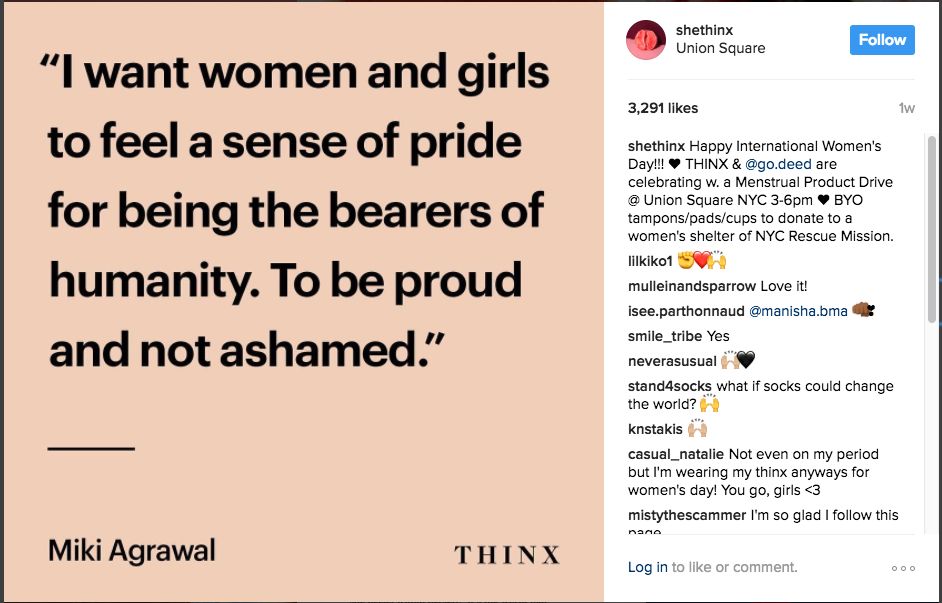 THINX, the company that makes products intended to disrupt your period, is experiencing yet another wave of controversy. Over at The Cut, Noreen Malone explores their most recent allegations against Miki Agrawal, beleaguered cofounder and recently ousted "SHE-E-O." This time, it's sexual harassment and a clearer picture of the dysfunction wrought by Agrawa's managment style.
Thinx Employee Accuses Miki Agrawal of Sexual Harassment
Any casual viewer of THINX's provocative, millennially-pink ad campaign has probably figured out that THINX prides itself on taboo. This lighthearted look at the unhinged empowerment rhetoric embodied by THINX's PR strategy would confirm those suspicions. As per The Cut, that attitude was evident in the way Agrawal conducted herself around her employees. Chelsea Leibow, the 26 year old former head of PR and author of the aforementioned PR blasts, brought a complaint against the company alleging that Agrawal's comfort around her employees often went too far.
According to a complaint filed late last week by a former employee (and echoed in interviews with multiple current and former employees), those things have included: the size and shape of her employees' breasts, an employee's nipple piercings, her own sexual exploits, her desire to experiment with polyamory, her interest in entering a sexual relationship with one of her employees, and the exact means by which she was brought to female ejaculation.
The, uh, "comfort" was not just verbal — it was also physical. Company founders often style themselves as "visionaries," looking to create a work environment diametrically opposed to staid, stuffy corporate America. Open offices and free cold-brew and occasionally generous leave policies are some of the benefits; taking a Skype meeting in the nude is not.
Per the detailed complaint, filed with the City of New York Commission on Human Rights, Agrawal also touched an employee's breasts and asked her to expose them, routinely changed clothes in front of employees, and conducted meetings via videoconference while in bed, apparently unclothed. (She also is said in the filing to have shared nude photos of herself and others — "including but not limited to her fiancé" — with staff.) At least once, she supposedly FaceTimed into a meeting from the toilet.
Leibow also details Agrawal's "obsession" with her breasts and how she would touch them in front of other employees and also while they were alone. This unwanted contact wasn't a come-on, though, but a way to assert dominance.
"I felt that Miki objectified my body when she declared that she was 'obsessed' with it and made very detailed comments about my breasts, and it also seemed like a way for Miki to assert her dominance over female employees by simply doing whatever she wanted to do without asking, and showing she could get away with it."
There's a lot more in here: fat-shaming; changing clothes in a glass-walled office; pointed discussions about polyamory, the Orgy Dome at Burning Man and orgasmic birth. A free-wheeling office culture where people are comfortable to discuss things that are normally uncomfortable can be welcome. But, that kind of freedom is only achievable when there are clear-cut boundaries in place.
Talking to co-workers that you consider your friends is an individual decision — once you've determined what the boundaries are for that relationship, sharing whatever it is you want to share is fine. Feeling forced to meet your boss at her level — or worse, act as captive audience to behavior that is decidedly inappropriate — is less so by a long-shot.
---
Support The Billfold
The Billfold continues to exist thanks to support from our readers. Help us continue to do our work by making a monthly pledge on Patreon or a one-time-only contribution through PayPal.