Inside the Cat Wine Wars
Well, "wine."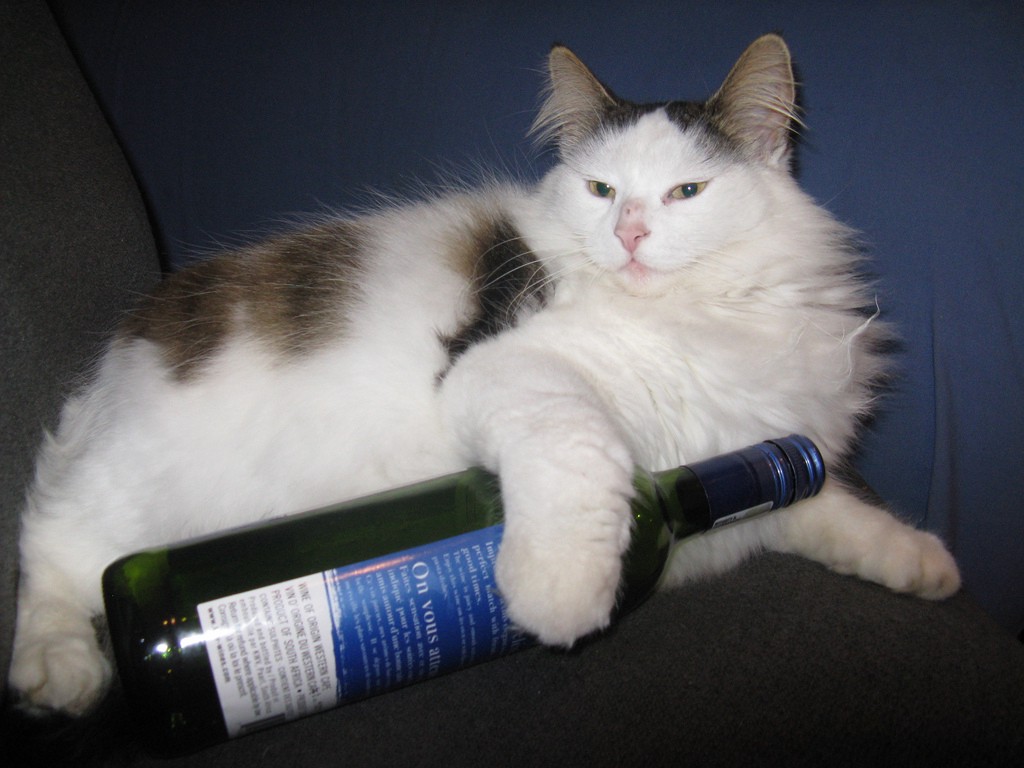 As a human being, if you want to sit down and have a glass of wine while watching a TV show or staring quietly into the middle distance at the end of the week, you can do that. If you're a human being who also happens to have a pet, I guess it makes sense to want to share that simple pleasure with your animal companion. That's the thinking behind these two start-ups that are making "cat wine" — catnip flavored water, dyed to look like wine — and their subsequent competition over who came up with the idea first is something else.
Something Else to Enjoy With Your Cat: Happy Hour
Apollo Peak, a "winery" for cats, is the brainchild of Brandon Zavala, who came up with the idea first, he says. "A pet is more like a friend, a roommate or a family member," he told the New York Times. "Why are we just feeding them water?" Great question, though I suspect the answer is "because they need water and I'm not sure they really want anything else." Regardless, he forged ahead with his idea and made what is essentially catnip infused water, dyed red with beets to look like wine. A clever rebranding that changed the product from "snack water" to "cat wine" plus an aggressive marketing campaign led to an astonishing success. The Times reports that the company made $500,000 last year, which is an awful lot of money for a product that, as the Times notes, isn't even enjoyed by its target audience.
But based on a wine tasting I conducted at a local cat cafe-slash-adoption center, the products are primarily catnip for the owners: The shelter cats did not like wines from either company — only two of them indulged — but the people visiting the tastings loved the concept.
But! People love cats. And wine. And wine for cats. That is probably why Cat Winery came about last summer, selling products that are very similar to that of Apollo Peak — wine for cats and dogs.
In July 2016, Taryn Nahm, 31, who previously sold advertising, and her boyfriend, Kai Pfretzschner, 37, a chemist, started a cat wine company which they now call Pet Winery. (Their tagline: "Original beverages for pets.") Their wines, also in tiny bottles, are sold online and in 40 stores; they are made in Mr. Pfretzschner's lab.
Mr. Zavala is not amused, but Ms. Nahm is unapologetic.
"Apollo Peak doesn't get to own the market," Ms. Nahm said. "We have our own viewpoints," she said, and their own recipes. "We did salmon oil with catnip," she said.
Mr. Zavala sees it a bit differently. "I don't mind competition," he said, "but they have cloned our products."
Are there any original ideas anymore? Does anyone have a thought that is truly new? Probably not and so I wanted to dismiss this outright as some petty bullshit, but then I looked at the websites for each company.
Here's Pet Winery's Meow & Chandon.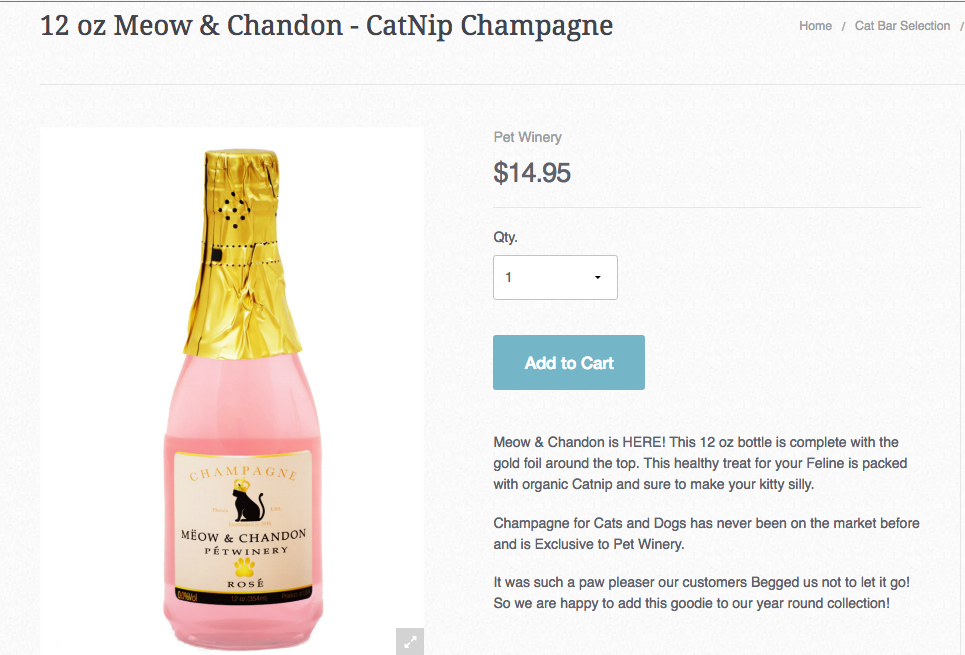 Here's Apollo Peak's Meowtini Cat Beverage.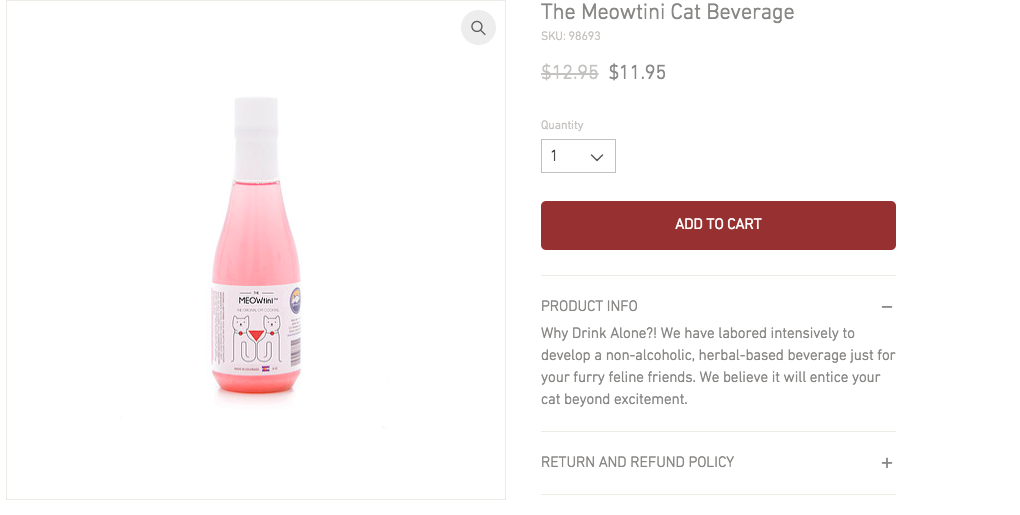 These look…very much the same to me. So much so that when I was grabbing the images for this very post, I had to check a couple of times to make sure that I was doing it right. If we're going to follow this thought all the way to its logical endpoint, you could say that maybe, Pet Winery got some light inspiration from the originator and made a pink cat wine that happens to look a lot like it. Technically, it is the same product — catnip + water+something extra. Maybe the dude has a point. Maybe this is more than just friendly competition.
Regardless, cat wine! $14.95 for catnip and water and "salmon oil," if you're feeling fancy. Do you want cat wine? Would you buy cat wine? Is this all just another way to trick you into spending money on a creature that looks good but just wants to sleep and be left alone?
---
Support The Billfold
The Billfold continues to exist thanks to support from our readers. Help us continue to do our work by making a monthly pledge on Patreon or a one-time-only contribution through PayPal.